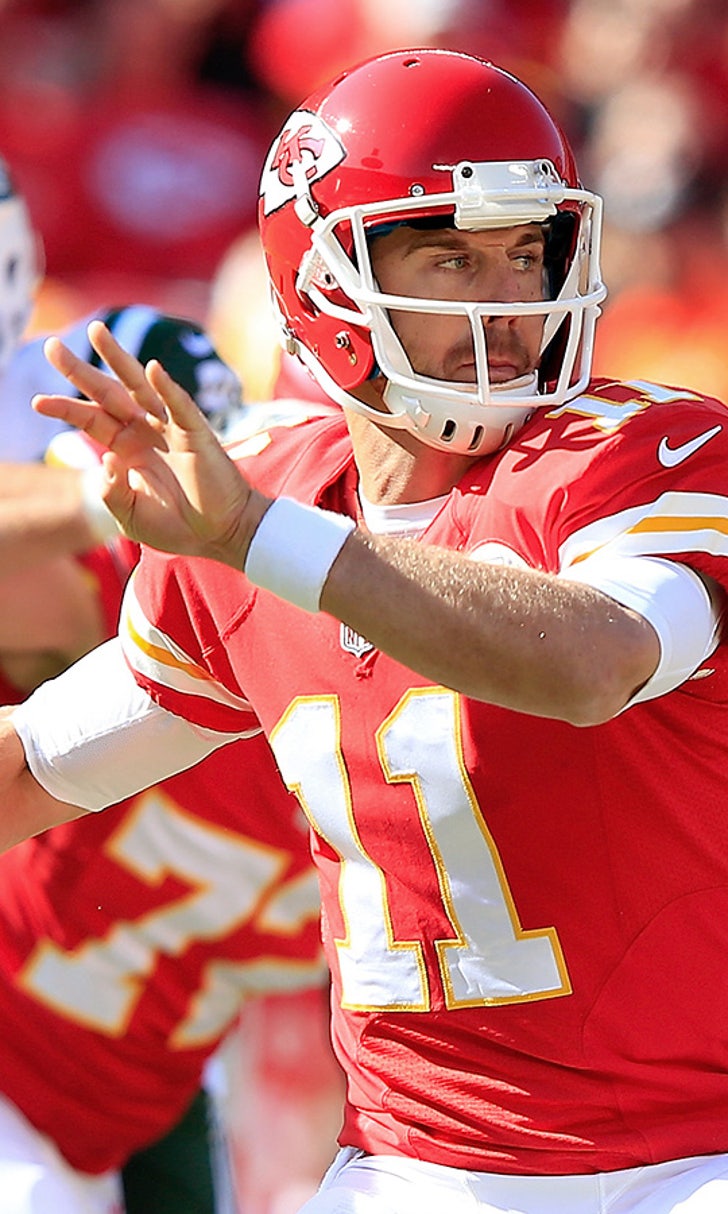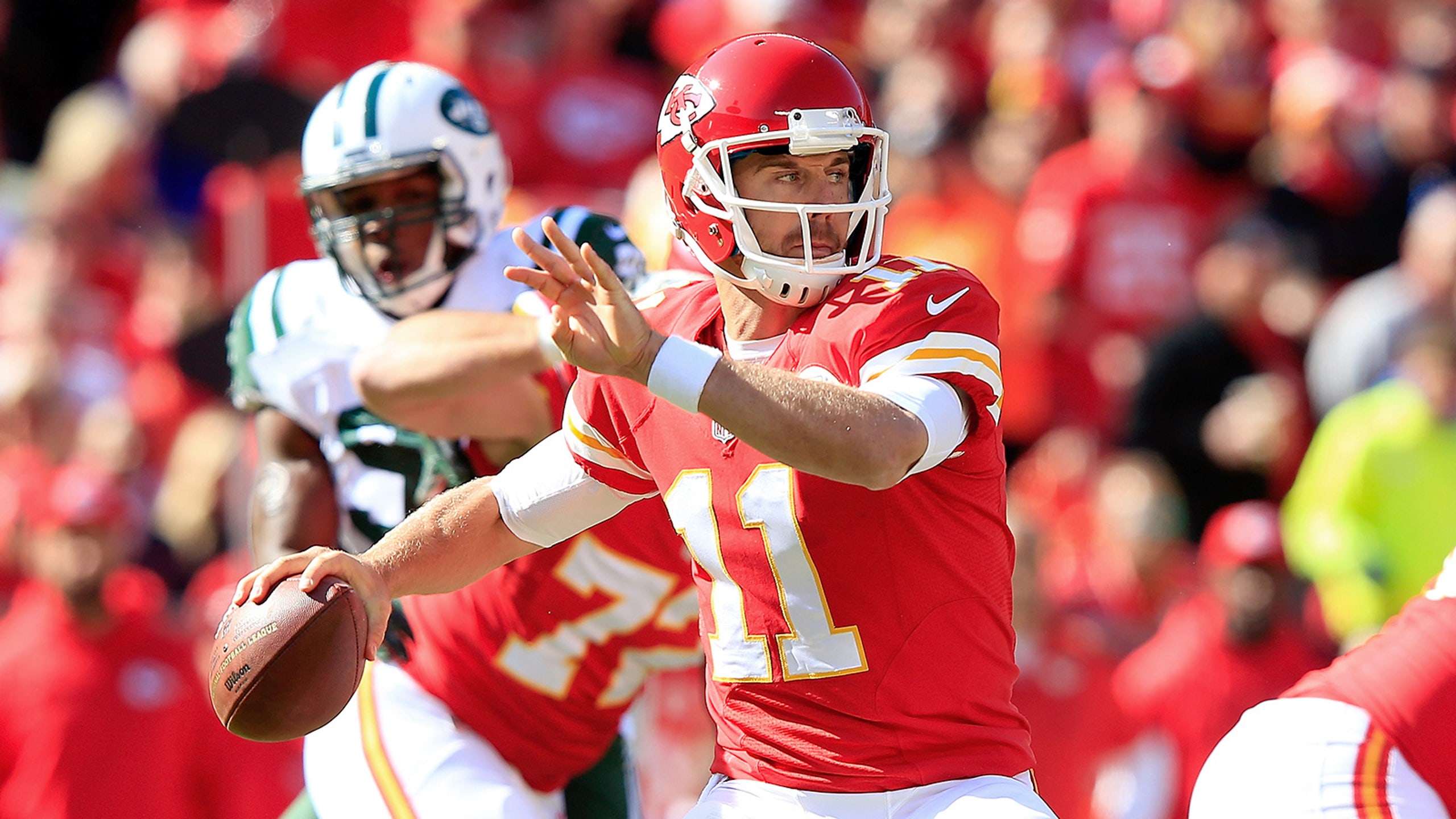 Alex Smith's two TD passes lead Chiefs past Mike Vick, Jets
BY foxsports • November 2, 2014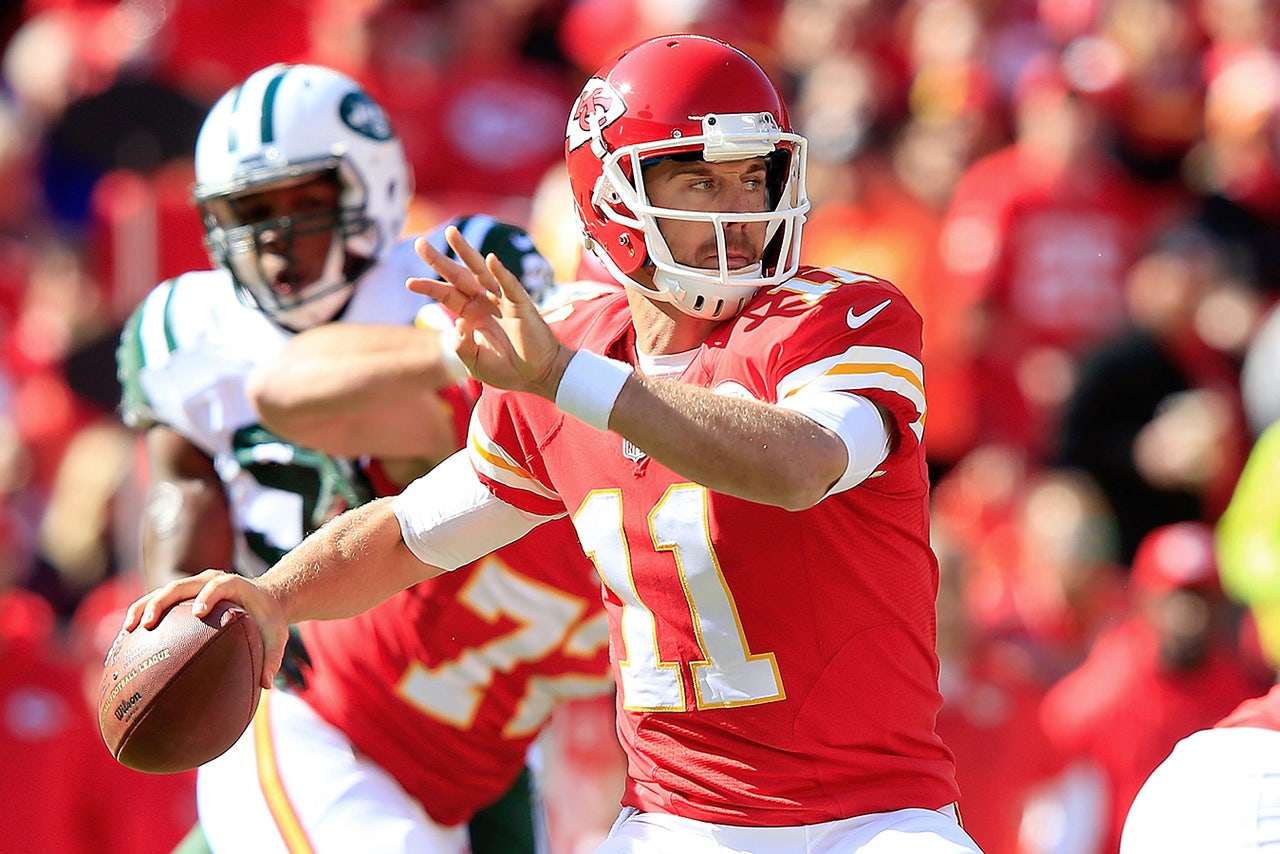 KANSAS CITY, Mo. (AP) -- Alex Smith insisted he was looking for Dwayne Bowe in the end zone, a rarity considering the Chiefs quarterback has yet to throw a touchdown pass to a wide receiver this season.
What happened next in their 24-10 victory over the Jets on Sunday was even rarer.
The pass was batted at the line of scrimmage by Jets linebacker Calvin Pace. It bounced right into the hands of tight end Anthony Fasano, who had been blocked to the ground, and he rolled over across the goal-line for a touchdown that extended the Chiefs' lead to two scores.
"I don't know what to say," Smith said, smiling. "A freaky play."
Just the kind of play that's been going Kansas City's way during a three-game win streak -- and the kind that has been going against New York during its eight-game skid.
The Jets' losing streak is their longest since 1996, when they went 1-15 in their final year under Rich Kotite. The franchise has never lost nine in a row, an embarrassment embattled coach Rex Ryan and his troops will try to avoid next Sunday against Pittsburgh.
"I thought it was typical of how this season's gone for us," Ryan said of the bizarre bounce that led to Fasano's touchdown. "That's what I thought."
Smith finished with 199 yards and two touchdowns passing, and Jamaal Charles ran for another score for the Chiefs (5-3), who won for the fifth time in six games on the same day that former running back Priest Holmes was inducted into their ring of honor.
Starting his first game with the Jets (1-8) in place of Geno Smith, Michael Vick threw for 196 yards and a touchdown. He briefly left early in the fourth quarter after taking a massive hit from the Chiefs' Josh Mauga and walking unsteadily off the field, but returned to finish.
Smith was inactive with a shoulder injury, so Matt Simms had to play one series.
"My head hit the ground, but it was cool," Vick said. "Initially, I was dinged for a minute. But I respect the NFL rules and the concussion protocol. I went through it. I took all the appropriate steps and I passed all the tests and I came back."
New York actually moved the ball well through gusty conditions, utilizing Percy Harvin in the running and passing games. But the Jets kept misfiring deep in Chiefs territory, settling for a field goal just before halftime and then turning it over on downs at the Kansas City 3 early in the fourth quarter -- Vick was injured on that fourth-down play.
In all, the Jets were stopped on fourth down three times in the fourth quarter.
"We had some opportunities and we didn't capitalize on them," said Vick, who will start next Sunday against Pittsburgh. "Whenever that happens, and the other team does capitalize on theirs, you don't finding yourself winning the game."
The Chiefs set the tempo from the opening drive, moving 81 yards in relative ease. Charles was the workhorse, carrying six times and capping the drive with a 1-yard TD plunge.
After the Chiefs forced three-and-out, it took them just seven more plays to score again -- this time on a play that encapsulated the way everything has been going right for Kansas City, and the way everything has been going wrong for New York.
With first-and-goal at the 2-yard line, Smith's pass was knocked down by Pace. But the nice defensive play sent the ball right to Fasano, who caught the inadvertent pass on his rump, rolled over the goal line and gave the Chiefs a stunning -- if not humorous -- touchdown for a 14-0 lead.
Meanwhile, the Chiefs' defense was getting after Vick every time he dropped to pass.
Justin Houston, who had 4 1/2 sacks of Vick when he faced the Eagles a year ago, had two more on the elusive quarterback Sunday. Defensive tackle Dontari Poe also tracked Vick down for a sack, all before Mauga knocked him from the game with his crushing blow in the fourth quarter.
The only bright spot for the Jets was the play of Harvin, who caught 11 passes for 129 yards in his second game since getting traded from Seattle. Harvin showed the speed and shiftiness that the Jets were hoping he would provide when they made the deal.
It was just far too little in a game dominated by Kansas City's defense.
"When we were 0-2, nobody really believed in us. We're 5-3 right now, and pretty sure nobody believes in us," Chiefs linebacker Tamba Hali said. "Our goal is to continue to believe in what we're doing and win games. That's all that matters around here.""
---
---