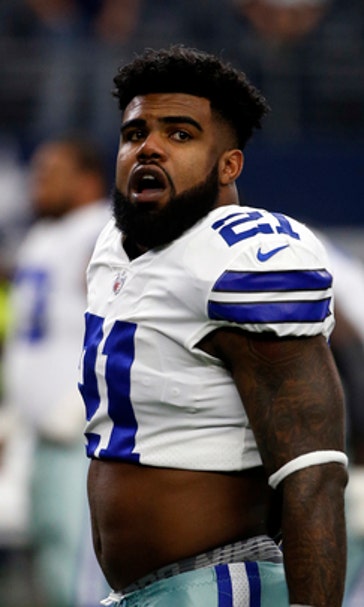 49ers make QB change; Cowboys get to keep Elliott active
October 19, 2017

SANTA CLARA, Calif. (AP) The San Francisco 49ers are making a change at quarterback, hoping that rookie C.J. Beathard can provide a needed spark against Dallas for a team that has opened the season with six straight losses.
The Cowboys feel fortunate they don't need to make a change at running back now that Ezekiel Elliott's six-game suspension over domestic violence allegations is on hold again after the star running back served a day of it waiting for another reprieve that eventually came.
Elliott and the Cowboys will try to spoil Beathard's starting debut when the Cowboys (2-3) visit the 49ers (0-6) on Sunday.
''Any chance we get with him in the backfield, we're going to take it,'' quarterback Dak Prescott said. ''We'll just take it one week at a time and that's kind of been the focus and I guess you can say the mindset with this team. If he's playing, obviously we're happy to have him ...''
Elliott led the NFL in rushing as a rookie a year ago and has 393 yards through five games this season. He ran for 138 yards against the 49ers last season and the Cowboys are hoping for a similar performance to help bounce back from consecutive losses before the bye.
''He's getting stronger as the year goes on,'' Prescott said. ''It's going to be unfortunate when the suspension comes or however that plays out. But he's definitely getting better each and every week. The benefit of having him out there is big.''
Elliott was granted his second temporary restraining order, this one from a New York judge, on Tuesday night, clearing him to play this week and probably next week at Washington. What happens after that remains to be seen.
The Niners are hoping Beathard will be there the rest of the season after a promising performance in relief of the ineffective Brian Hoyer in last week's 26-24 loss at Washington . Beathard led San Francisco back from a 17-0 deficit and nearly pulled out the comeback. He now gets a chance to start.
''I don't think it's too big for him,'' coach Kyle Shanahan said. ''I think he's used to having it and I think he's just going to go about it like he's gone about every other day throughout his career.''
Here are some other things to watch:
CLOSE CALLS: The Cowboys are stewing over two straight tight losses before the bye as a failed late drive led to a defeat against the Rams, and an inability to stop Aaron Rodgers down the stretch led to a loss to Green Bay . The 49ers have had it even worse, becoming the first team to lose five straight games by three or fewer points . San Francisco has been outscored by only 33 points this season, the best of any 0-6 team in NFL history.
HELP ON DEFENSE: Sean Lee returns after missing two games with a hamstring injury. The Cowboys need their All-Pro linebacker. Dallas hasn't forced a turnover in three full games and is tied for the second-fewest takeaways with four. With Anthony Hitchens set for his second game following a preseason knee injury, the Cowboys should be able to limit the snaps of Jaylon Smith. The former Notre Dame star missed all of his rookie season recovering from a college knee injury and has struggled in part because he's had to play too much.
DROPSIES: Shanahan sent his receivers back to the JUGS machine this week to work on their hands. The 49ers lead the NFL with 22 dropped passes and Shanahan believes the issue is more psychological than talent oriented.
''If you have good hands and you're having drops, it's a huge mental thing,'' he said. ''It doesn't get easier. The more you drop it, it gets harder to catch it because now you're starting to think about stuff.''
ANTHEM PROTESTS: The 49ers and Cowboys have been perhaps the most prominent teams when it comes to protests during the national anthem. It started last year in San Francisco when quarterback Colin Kaepernick sat during the anthem in protest of police brutality and racial inequality.
The topic became central earlier this season when President Donald Trump called on owners to fire anyone who didn't stand for the anthem. That led to widespread protests, including the entire Dallas team and ownership kneeling before the anthem in Arizona , then standing at the start of the song.
Owner Jerry Jones has threatened to punish players who knee in the future, while several 49ers have continued to kneel during the anthem.
''Nothing will change on my part going forward until we have a more concrete plan and I feel like I don't need to protest anymore because the NFL is providing a better platform,'' said 49ers safety Eric Reid, who took part in meetings with owners earlier this week.
---
AP Pro Football Writer Schuyler Dixon in Frisco, Texas, contributed to this report
---
For more NFL coverage: http://www.pro32.ap.org and http://www.twitter.com/AP-NFL
---
---