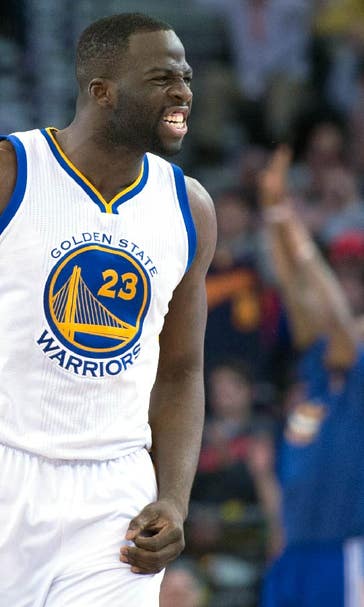 Warriors' Draymond Green proving to be Defensive Player of the Year
BY foxsports • March 25, 2015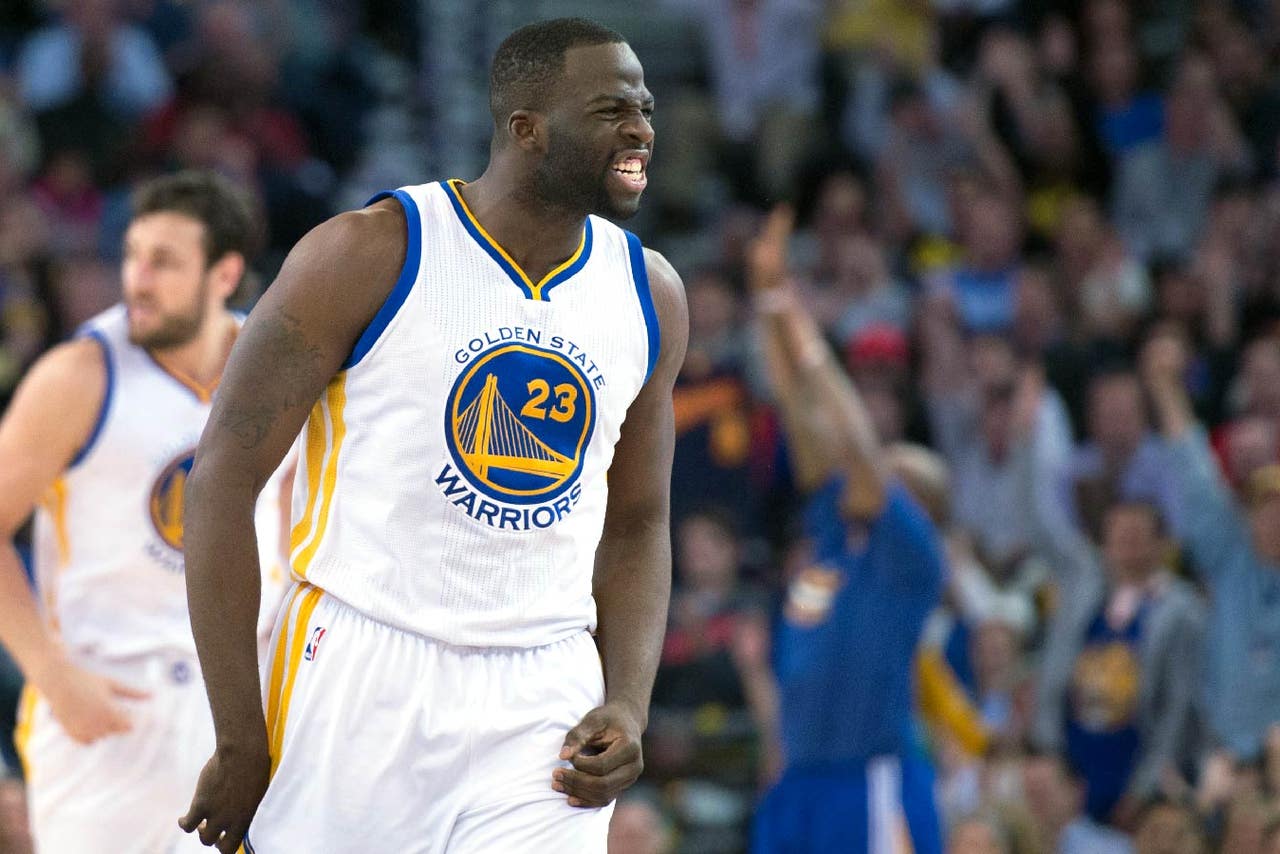 For the first time in years, no one has any clue who will win NBA Defensive Player of the Year.
Defensive awards tend to go to those who have already built a reputation as a stopper. That's why you don't see many out-of-nowhere Defensive Players of the Year, as you might an MVP or First-Team All-NBAer. There's buildup.
Tony Allen didn't receive a First-Team All-Defense nod until two years after he was already deserving. Voters didn't remove Kobe Bryant from those same ballots until a couple of seasons too late. It's all about reputation, which is why picking a favorite for this season's Defensive Player of the Year award is nearly impossible.
The usual candidates are all having (relative) down years.
Marc Gasol is in the midst of a tremendous season, but has taken a slight step back defensively as he's shouldered a greater load on the other end of the floor. Joakim Noah hasn't been as effective as he was when he was the best defender in the league a season ago. Roy Hibbert is having another solid season, but the 30-40 Pacers haven't garnered enough attention for the narrative to build. Serge Ibaka has missed games. So has Anthony Davis. So has Kawhi Leonard. For the most part, the NBA's publicly recognized upper-echelon defenders aren't getting the same attention in 2014-15 as they have before.
Reliable defensive statistics are still yet to hit every household, part of why so few know about the development of Rudy Gobert, who's been elite for most of this season and is now getting the playing time he deserves -- though he didn't receive enough playing time early in the season to turn himself into a serious Defensive Player of the Year candidate.
Even the "mainstream advanced stats" (like player efficiency rating) don't take real defense into consideration. So the average basketball observer, stuck with an award that has no narrative and, thus, no widely believed favorite, doesn't know where to turn. This is all the more reason why there are two specific guys who make the most sense to finish first and second in voting: Draymond Green, followed by Tim Duncan.
Isn't it almost unethical that Duncan is yet to win one of these? We're talking about the guy who is universally heralded as the best big man of his generation, maybe the greatest power forward of all time. Actually, he's so popularly believed to be the best power forward ever that the most common argument against his all-time greatness at the 4 is that he was actually just a center for most of his career. The No. 1 argument against him is a technicality.
At 38 years old, Duncan is still just as productive as he was a few years ago, and his defensive skills are imperative to the San Antonio Spurs' performance. Once again, Gregg Popovich is coaching a defense that ranks top-five in points allowed per possession, and Duncan has carried them there.
There's little doubt that Duncan's teammate Leonard is the best stopper in San Antonio, but the reigning Finals MVP has been sidelined for 18 games this season and hasn't been 100 percent during many of the games he's actually played. The Spurs' defensive prowess clearly skews to his presence in the lineup, but San Antonio opponents score even less while the Big Fundamental is on the floor.
It's essentially the opposite of the argument against popular Defensive Player of the Year candidate DeAndre Jordan, which takes his undesirable on/off numbers and spews them out to show that he doesn't affect the Clippers' defense as much as "the eye test" (or in this case, "the flash test") might prove.
Lifetime achievement is rarely a reason to hand someone an annual award (but it might be one to hand him a second-place vote). It's usually either a copout for someone who can't make up his mind or a misappropriated justification for a voter who desperately wants to find a reason to write down one particular name. But this time, both the copout and the Duncan bias would almost feel warranted. After all, he is Tim Duncan.
In a year without an overwhelming frontrunner in the public's eye, it wouldn't be insane to say Duncan is the guy. But even after another tremendous season, Defensive Player of the Year isn't Duncan's award to win. Spurs fans, start flipping over plants and sending your hate mail to Draymond Green.
Similarly to how Duncan has propped up the San Antonio D with Leonard out and banged up, Green has done the same for his team, except his Kawhi goes by the name of Andrew Bogut.
Bogut, who always has injury issues, was the possible favorite for Defensive Player of the Year early in the season until he missed a month from Dec. 8 through Jan. 7 with knee soreness. He's sat out 15 total games since. But even with one of the best defensive centers in the NBA out, even with the supposed anchor of the Warriors' stifling stoppers gone, the team didn't flinch.
Golden State's defense continued to dominate during the December/January period Bogut was out, posting a defensive efficiency that was a negligible 0.4 points per 100 possessions worse than the Portland Trail Blazers', who led the league over that stretch. Just when you think the Warriors are completely Bogut-dependent, it turns out they're not.
There's no doubt Bogut helps the Warriors' D. When he plays, Golden State gives up more than six points per 100 possessions fewer than when he doesn't. But Green shows an even greater statistical impact on his team. The defense is almost eight points per 100 possessions better when he plays.
There's a reason Golden State has the No. 1-ranked overall D. Of course, the roster is loaded with long, versatile defenders who can cover multiple positions, allowing the Warriors to switch everything late in games more seamlessly than any other team. Shaun Livingston, Klay Thompson and Andre Iguodala all fit that description, but Green is the epitome of it.
Day Day is the most versatile defender in the league, able to man the post and then the perimeter, sometimes even on the same possessions. His talent comes out most when he plays teams with dominant point guard-power forward combinations, like what you'll find with the Los Angeles Clippers or Trail Blazers. When the Warriors do all that switching and Green doesn't miss a beat, you know he's a special player, especially when you see him guard Chris Paul and Blake Griffin on back-to-back possessions.
As starting power forward, he gets away with living in the body of a 3-man because of those traits. He can defend post players not necessarily with height or length, but in a more unconventional way: with lower-body strength. No post defender is better at pushing bigs away from the paint as his assignment tries to receive an entry pass. By the time the opponent corrals the ball, he's already uncomfortably far from the hoop.
It's rare for a non-rim protector to win Defensive Player of the Year. Actually, since 1988, the only non-bigs (you can decide for yourself whether Green is a big or a wing) to win the award were Gary Payton and Ron Artest. That's two times in 27 years. Ouch.
This year, though, is different. There isn't that top-flight, obvious candidate, and the Warriors are the team du jour, leading the league in both offense and defense. Rim protectors are the most important layer of an NBA D, for sure. There's a reason we call them anchors. Without them, the ship can often float away ... unless it has a uniquely pristine captain.
Green is that guy. He rotates like a dreidel, and his versatility gives the NBA's stingiest defense its identity.
When in doubt, picking the best guy from the best team is one way to find a solution. When that player also happens to be the ideal team defender, you have your Defensive Player of the Year.
Follow Fred Katz on Twitter at @FredKatz.
---
---