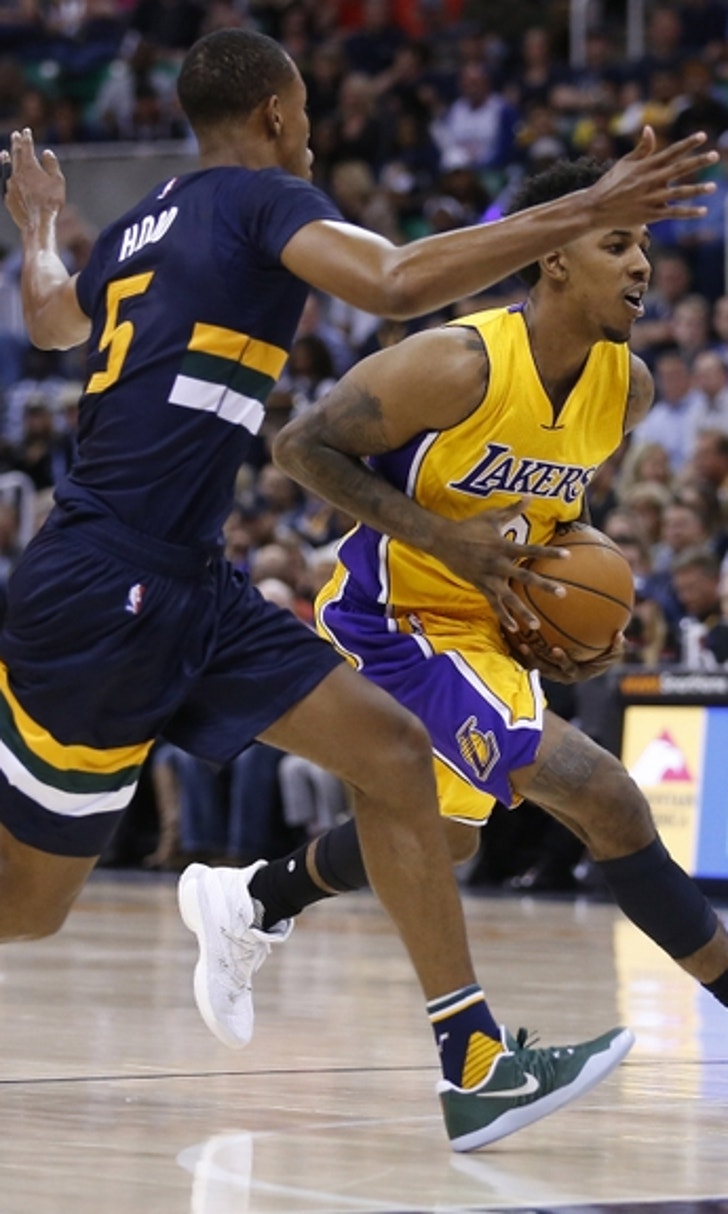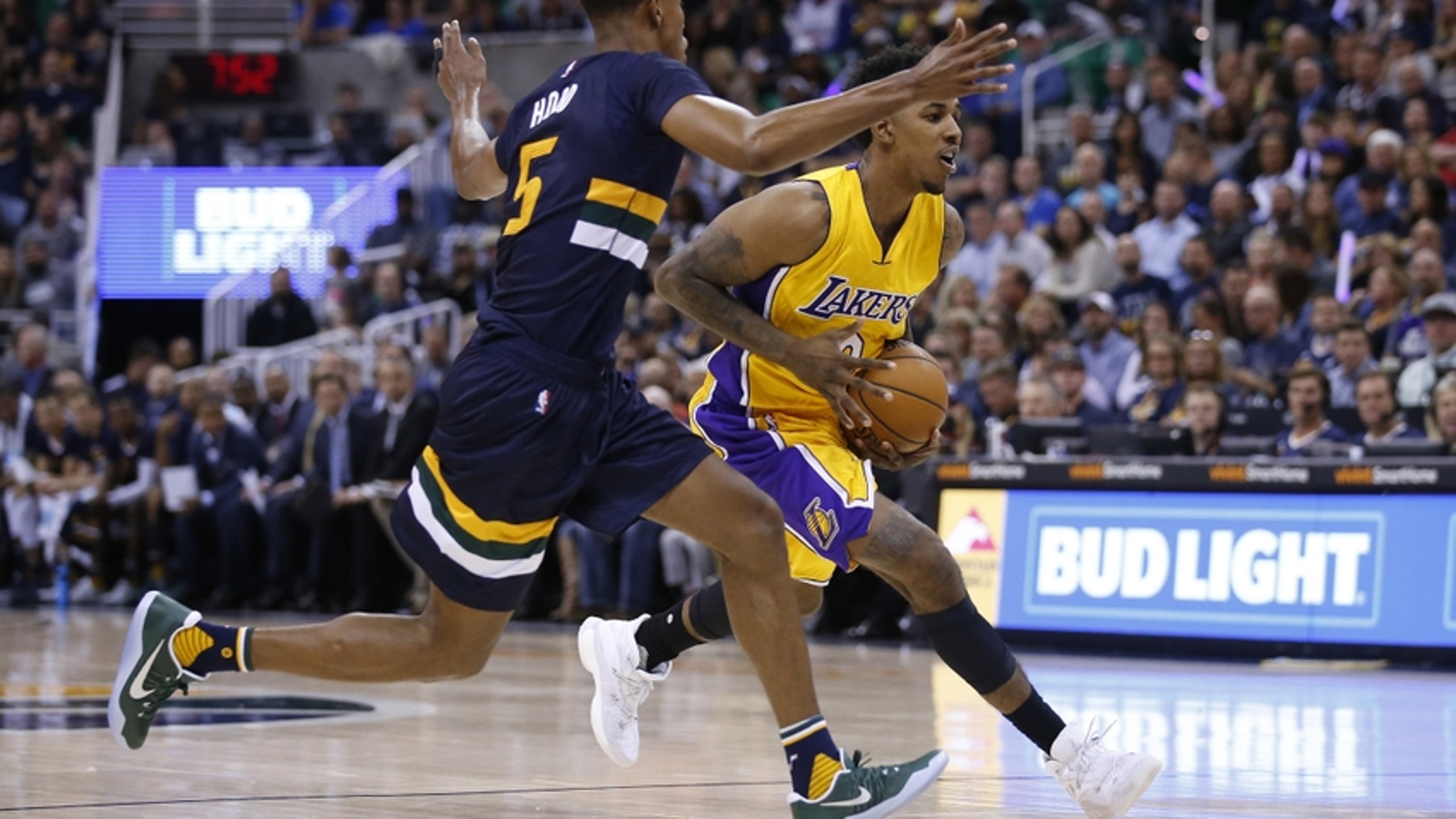 Utah Jazz at Los Angeles Lakers: Keys to the Game
BY foxsports • June 30, 2017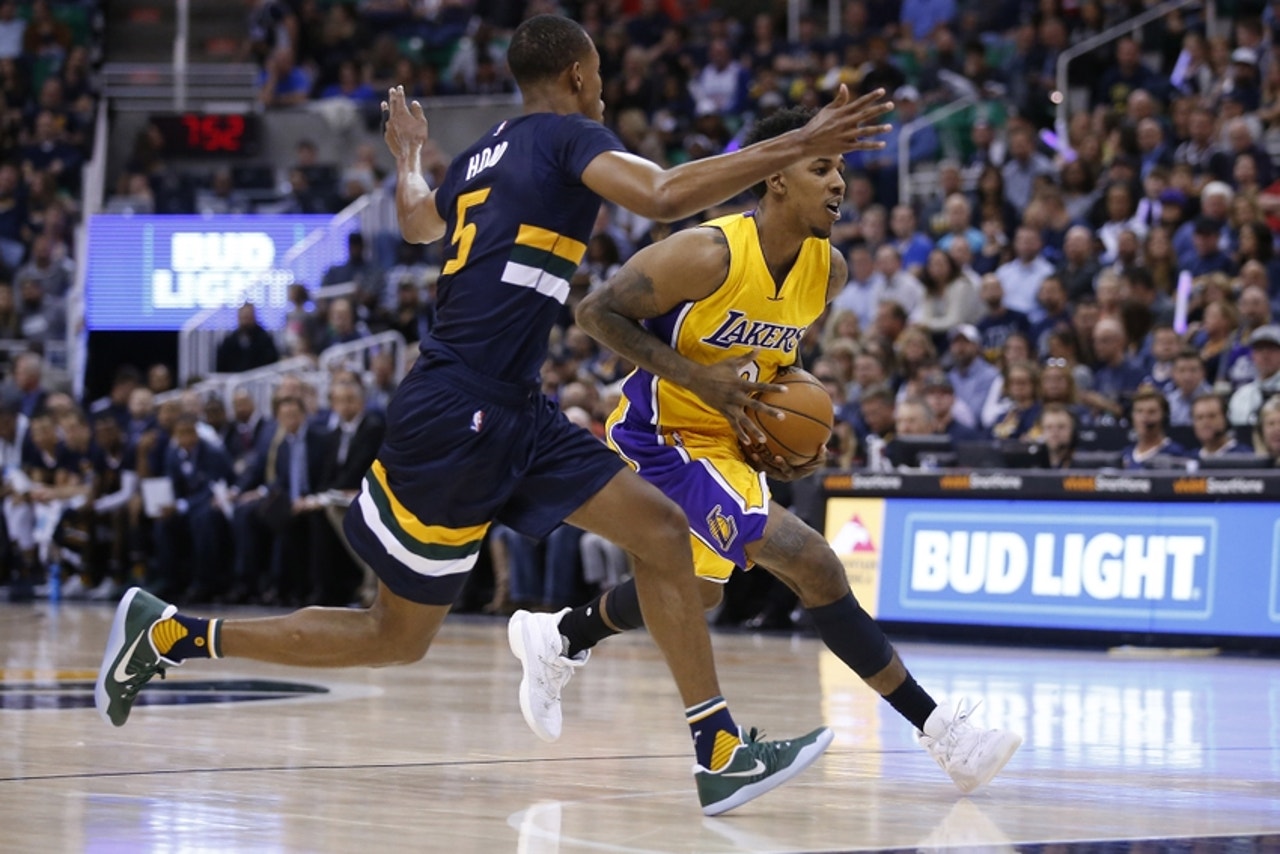 The Utah Jazz will have their work cut out for them against a dominant Los Angeles Lakers bench as the two teams hit the floor on Monday night at Staples Center.
It almost feels strange that the Utah Jazz will be playing outside of the friendly confines of Vivint Smart Home arena in Monday's contest against the Los Angeles Lakers as they are coming in to the game having played three straight contests at home (their longest such streak so far this season) and will play five in a row at home afterwards.
It's certainly been a nice change of pace after Utah had to play eight of their first 11 on the road.
This will be the second time that the Jazz and Lakers have met this season, as the two teams went head-to-head in Utah's second game of the year in what was a rare home contest during the beginning of the season. It was a hard-fought game that Utah managed to win 96-89 thanks largely to a monster performance by George Hill.
Unfortunately, the Jazz won't have the luxury of relying on Hill against the Lakers this time around in this road contest as it was announced that he will again sit out on Monday due to a sprained toe. There's optimism that Hill could be back for Tuesday's contest against the Suns and if not then, Jazz fans will be desperately hoping to have him for Thursday's game against Golden State.
So without Hill in the mix, his teammates will have to step up in a big way if they hope to overcome a Lakers team that has been surprisingly good this season with a roster of young energy guys that currently hold a respectable 10-12 record and have posted some very convincing wins over good teams on the season.
At the time of the first game the Jazz played against them, I was a bit disappointed in Utah's close victory over the Lakers. However, in hindsight given LA's improved play this season, that win was a bit more impressive than one might have imagined against Lakers teams of the previous few years.
Thus, especially with George Hill out, the Jazz will be in for a tough challenge as they hope to come away with a road win against the Lakers. If they are to arise victorious, there are several key areas where they will have to produce.
Key Match-up – Dante Exum and Lou Williams
It may seem strange to have a key match-up feature a player coming off the bench for the Lakers against the Jazz's starter, but in reality Lou Williams has been an absolute monster for this Los Angeles team as has their bench as a whole. Williams is without a doubt the veteran leader of that reserve group and he has been phenomenal this season.
Despite not starting a single game this year, he is the Lakers leading scorer at 17.5 points per game, a career high for him so far. He has been lights out from both the field and behind the arc and has thrived in a sixth man role that has allowed him to take advantage of opposing teams' second unit guards. He's also coming off a 40-point explosion in the Lakers' narrow loss to the Grizzlies on Saturday night.
Oct 28, 2016; Salt Lake City, UT, USA; Utah Jazz guard Dante Exum (11) and Los Angeles Lakers guard Louis Williams (23) chase a loose ball in the third quarter at Vivint Smart Home Arena. The Utah Jazz defeated the Los Angeles Lakers 96-89. Mandatory Credit: Jeff Swinger-USA TODAY Sports
By all rights Williams is a starter in this league, but so far it has worked very well for the Lakers to utilize him in the way they have. His production this year has allowed LA to have a sort of hockey-style "line change" where their second unit comes in and is as effective as their starters.
Thus Dante Exum and the other Jazz guards will have their work cut out for them if they hope to slow the Lakers' relentless attack. Exum has had his share of ups and downs this year as at times he's struggled to find minutes and has had a difficult time producing consistently. However, he had some bright moments in Utah's Saturday win over the Nuggets where he finished with 10 points on 42.9 percent shooting.
Nevertheless, Exum hasn't been able to find his shot from deep and hasn't been quite the lockdown defender that we came to expect of him during his rookie year. It's clear that Exum is still trying to adjust to the NBA game and his confidence and decision-making aren't quite where they need to be.
He still has plenty of time to improve and show what he's made of though, and he can continue that by having a big performance on Monday night. More than anything, Utah will need Exum to have a stellar defensive night to slow Lou Williams as well as Lakers starting point guard and second leading scorer D'Angelo Russell.
If he's able to do so and his teammates are able to pick up some of the offensive slack, it should put the Jazz in a great position to win.
Key Stat – Bench Points
As previously mentioned, the Los Angeles Lakers have boasted an absolutely stellar bench so far this season. At 52.3 bench points per game, they're the top-scoring reserve unit in the league by a wide margin (the second place Philadelphia 76ers bench puts up a whole 10.2 points less than LA's). The Laker bench contributes nearly half of the team's total points per game, an impressive figure.
And while Williams is the key guy on the Lakers bench, reserves such as Brandon Ingram, Jordan Clarkson, Larry Nance Jr. and Tarik Black have been absolutely phenomenal as well. In fact, two of LA's four leading scorers come off the bench.
Apr 10, 2016; Houston, TX, USA; Houston Rockets guard Patrick Beverley (2) passes the ball around Los Angeles Lakers guard Jordan Clarkson (6) and forward Larry Nance Jr. (7) during the first half at the Toyota Center. Mandatory Credit: Jerome Miron-USA TODAY Sports
The LA second unit has become a cohesive group that head coach Luke Walton has refused to break up even when his starting lineup has suffered injuries.
They're also solid defensively as the Lakers currently rank seventh in the league in opponent bench points, allowing just 32.9 per game. Thus the Utah reserves will have their work cut out for them, especially with significant injuries to starters.
On the year, the Jazz bench has left a lot to be desired. They're currently 22nd in the league at 30.6 points per game and even worse on the defensive end as Utah is giving up 38.2 bench points per contest, fourth worst in the league.
Thus, while it's unlikely that Utah's middling reserves will be able to full out beat the Lakers' prolific bench, if they can at least narrow the gap between the two groups, hopefully the Jazz starters will be able make up the difference and push the team to an important road victory.
Key Performer – Gordon Hayward
While it was George Hill who shined in these two teams' first meeting, Gordon Hayward was not available for that contest as he was battling with a fractured finger. Thus it will likely be he who steps up big for the Jazz. While Luol Deng is a good defender, the Lakers haven't been good defensively as a team and it's likely that Utah's star will find ample opportunities to make an impact.
He has been on a tear lately as he's scored upwards of 30 points in each of his previous three contests and is averaging more than 27 points over his last seven games. With injuries to starters Hill and Derrick Favors, Hayward has known he needs to step up and has done so in a big way.
What's perhaps most encouraging is that Gordon finally seems to be finding his three-point stroke as he has put in nine of his last 17 attempts, good for over 50 percent, and despite his slow start, has brought his season average up to 32.4 percent.
And with the Lakers boasting a high-scoring offense and a daunting bench, Hayward will have to continue to have a hot hand if the Jazz hope to come away with the win.
Prediction – Lakers 104, Jazz 102
Unfortunately, without George Hill in the mix, Utah has been a completely different team. Yes, they came away victorious without him in Saturday's contest against the Nuggets, but only after nearly suffering a fatal fourth quarter collapse.
And the Lakers are a much-improved team from last season and have a winning record on their home court. After having dropped two straight road games, I expect the Lakers to come out fired up to defend the Staples Center in Monday's bout.
If Hill were playing, I would pick the Jazz to win again and take a 2-0 series lead, but given that Utah's bench has struggled so far this year and considering how impressive the Lakers reserves have been, I'm predicting a narrow 104-102 win for the home team in this contest.
More from Purple and Blues
Utah certainly is capable of beating this team, but especially after seeing their mediocre performance against the Heat last week and due to the fact that Monday's game is on the road, I have a feeling that LA will come away with a narrow victory.
All stats courtesy of NBA.com and hoopsstats.com
This article originally appeared on
---
---