Kansas City Royals
Kansas City Royals
Royals' Yordano Ventura has a history of losing his temper on the mound
Published
Jun. 7, 2016 11:40 p.m. ET

No one can accuse Yordano Ventura of being intimidated by opposing hitters. The slender Kansas City Royals righty proved that yet again Tuesday, when he hit Orioles star Manny Machado with a pitch in the fifth inning, setting off a brawl between the two clubs.
This is far from the first time Ventura has lost his cool with hitters. The hard-throwing 25-year-old ignited incidents in three consecutive starts last season. Even more alarming was what set off Ventura in each episode.
The Royals were leading 7-1 in the sixth inning against the Angels. With Mike Trout at the plate on a 1-0 count, Ventura threw a fastball up and in that forced Trout to back away. Trout hit the next pitch back up the middle, past Ventura's outstretched glove.
Ventura began yelling at Trout as he ran toward first base. Trout appeared confused when he reached first, wondering why Ventura was so mad. Albert Pujols then came to the plate and hit a 2-1 pitch to left-center field, allowing Trout to score.
When Trout slid home, Ventura was behind home plate, backing up the play in case of an errant throw. The two began jawing at each other, and Royals catcher Salvador Perez pulled Ventura away from Trout.  
The benches emptied, but no punches were thrown. The Royals went on to win that game 9-2.
With the Athletics up 5-0 in the fourth inning, Ventura hit then-Oakland infielder Brett Lawrie with a 99-mph fastball. As Lawrie walked toward first base, Ventura walked off the mound and approached Lawrie, who had injured Royals shortstop Alcides Escobar during a questionable slide the night before. Perez walked toward Ventura to calm him down, but the home-plate umpire already had ejected the righty.
The benches eventually emptied, but no punches were thrown. The Royals lost 5-0.
With the score tied at 2, White Sox outfielder Adam Eaton hit a hard one-hopper back at Ventura, who fielded it emphatically then made a move toward Eaton. As Eaton ran toward first, he and Ventura began yelling at each other.
Eaton turned toward Ventura and began to approach him. The first-base umpire held Eaton as the home-plate umpire did the same with Ventura. Benches eventually emptied, words and shoves were exchanged, and just as it appeared cooler heads would prevail, the worst was yet to come.
Then-White Sox righty Jeff Samardzija made a move toward Lorenzo Cain, things got physical and an all-out brawl ensued.
The Royals would go on to win the game, 3-2.
The Royals eventually sent Ventura to the minors last July after he went 4-7 with a 5.19 ERA in 14 starts.
---
---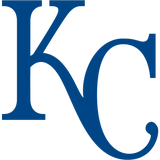 Get more from Kansas City Royals
Follow your favorites to get information about games, news and more
---