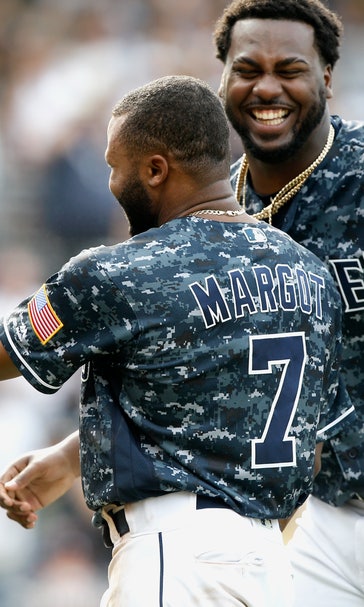 Hosmer, Padres stumble as rebuilding project drags on
October 1, 2018
SAN DIEGO (AP) — Eric Hosmer, San Diego's $144 million man, acknowledges he simply wasn't as good as he needed to be in what was supposed to be a steppingstone season for the rebuilding Padres.
The burst of energy provided by Hosmer's signing during spring training didn't last long. The Padres, who have had three waves of young talent come up since beginning their deep rebuild during the 2016 season, staggered through another dismal year, finishing last in the NL West at 66-96, five losses worse than in 2017.
Hosmer's average of .253 was down 65 points and his on-base percentage was his lowest in four seasons. His 18 homers and 65 RBIs were also his lowest in four seasons.
"Not where I want to be," said Hosmer, who was an All-Star and World Series champion while with Kansas City. "It was just a down year, definitely not the way I wanted to perform here the first year. Nothing I can do about it now. All I can do is go put in the work in the offseason and try to be ready to go next spring.
"There's no excuse for it, I just didn't perform the way I wanted to perform. I think if I performed the way I wanted to, it translates into more wins."
It certainly wasn't all Hosmer's fault, considering that the Padres continued to rank at the bottom of the majors in key offensive stats.
Also struggling was Wil Myers, whose $83 million, six-year extension had been the biggest contract in team history until Hosmer came along. Myers had yet another injury and struggled after being moved from the outfield to third base.
And in an oh-so-Padres moment, Myers was heard criticizing manager Andy Green during a livestream of the video game Fortnite with Carlos Asuaje, who had been optioned to Triple-A late in the season.
"The Padres are doing cutoff and relays tomorrow at 3 o'clock — in September, dude." Myers was heard saying. "Oh my God. It's so miserable, man. It's insane. Andy could not be any worse than he is right now."
Asuaje then said, "Dude, I'm streaming this."
Myers apologized to Green. Around that same time, he also committed three errors in a game.
Other things to know in the wake of the Padres' eighth straight losing season and 12th year out of the playoffs:
TIMETABLE
Ron Fowler, the executive chairman, had said he expected the Padres to be better this season than last, and to be .500 in 2019.
"I'm not going to throw out record stuff anymore," Fowler said. However, he heard general manager A.J. Preller say during a function for season ticketholders that gradual improvement will lead to a tipping point. "And I leaned over to him and said, 'I'm an old guy. Let's get to the tipping point sooner rather than later.' He laughed. He thinks we're closer than people think. Whether that means next year or sometime in 2020, I think we've got the talent."
BIG DECISIONS
With so much young talent in the farm system, particularly pitchers, the Padres have to decide who to protect on the 40-man roster before the Rule 5 draft. And with the big league roster, there are decisions to make at several positions. They need to figure out if they'll keep Myers at third, try to get him back into a crowded outfield or try to trade him, although his value is low. Outfielder Hunter Renfroe solidified his status by hitting 26 homers again and rookie Franmil Reyes hit 16 homers. Franchy Cordero is due back from elbow surgery.
FREDDY GALVIS
The Padres want to keep the shortstop, who is eligible for free agency but might want to move on with top prospect Fernando Tatis Jr. set to come up sometime next season. Galvis was acquired from Philadelphia for prospect Enyel De Los Santos and played in all 162 games, including 157 starts at shortstop and five at second base. Viewed as a placeholder for Tatis, Galvis solidified the position and was a mentor to several young Latino players.
TATIS JR.
He broke his left thumb sliding headfirst for Double-A San Antonio in July and has been cleared to play winter ball. While the Padres will certainly control his service-time clock, "Everybody in our baseball front office would be shocked if he wasn't up here somewhat early in the season," Fowler said.
WAVES OF YOUNG TALENT
Left-handed starters Joey Lucchesi and Eric Lauer, plus right-hander Jacob Nix made their big league debuts this year. Coming up late in the year were rookie second baseman Luis Urias, who showed nice flashes in the field and at the plate before injuring a hamstring. Also coming up was catcher Francisco Mejia, obtained from Cleveland for All-Star closer Brad Hand and reliever Adam Cimber. The Padres could try to find room for both Mejia and Austin Hedges, or trade one of them.
---
---