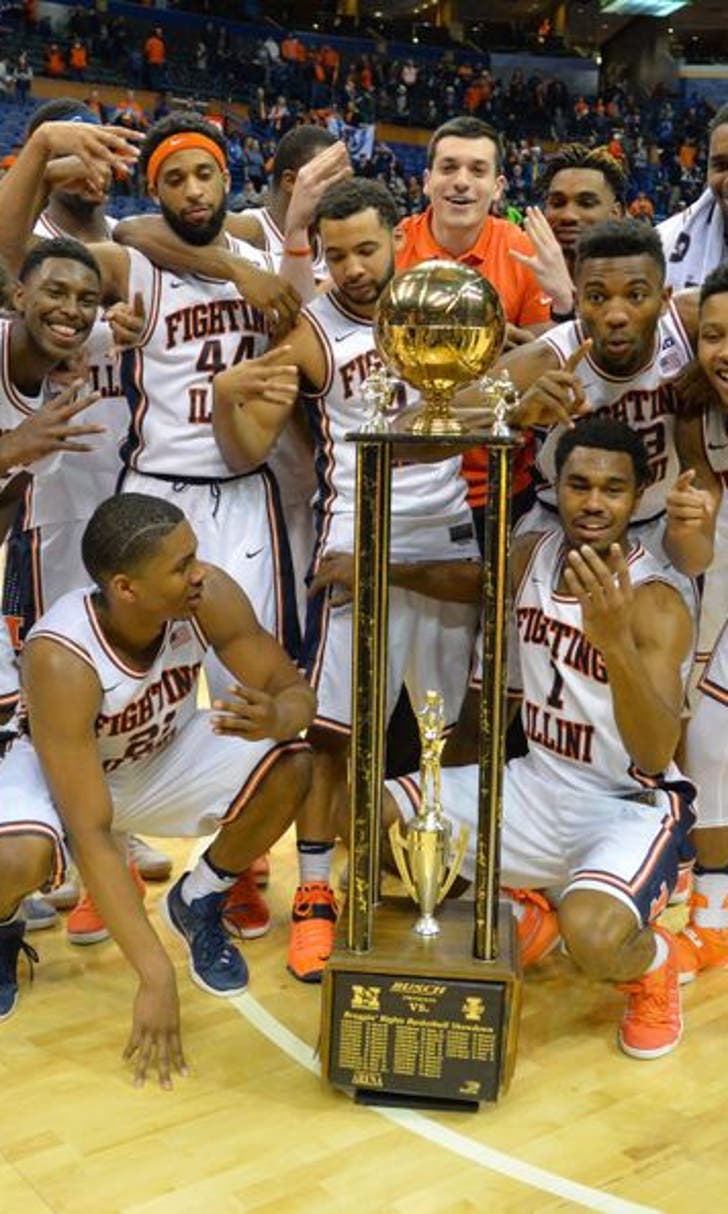 Illinois Basketball: 3 Observations From the Missouri Victory
BY Fansided and Rees Woodcock/FanSided via Writing Illini • December 22, 2016
Dec 21, 2016; St. Louis, MO, USA; Illinois Fighting Illini team members pose with the championship trophy after the game against the Missouri Tigers at Scottrade Center. Illinois won 75-66. Mandatory Credit: Denny Medley-USA TODAY Sports
The Illinois basketball team headed to St. Louis last night and left town with a victory over the Missouri Tigers.
This was a nice win for the Illini and they now move to 10-3 on the season.
Here are my three observations from the Missouri victory.
Illinois is Alive
Heading into the game last night, Illinois sat with a 9-3 record and their fans wondered if this team was going to make a push for the postseason.
A loss last night would have been devastating for their NCAA Tournament hopes and despite some foul trouble from a few key players, the Illini managed to win the game 75-66.
This showed me that this team is continuing to fight for their basketball lives and that is exciting to see.
They could have hung up their sneakers after losing three straight to fall to 4-3 and say that this was another bust of a year.
Many fans were thinking that and I even said that if they don't win out the rest of the non-conference then they aren't making the NCAA Tournament.
But, like Rocky Balboa in all 85 of his movies, the Illini got off the ropes and continued fighting.
This team has a resolve that I haven't seen since Groce took over and to finish 10-3 in the non-conference and to win six in a row shows me this team is still alive.
Illinois is fighting for their postseason lives and last night was a baby step in the right direction.
Dec 3, 2016; Miami, FL, USA; Illinois Fighting Illini guard Jaylon Tate (1) dribbles the ball against Virginia Commonwealth Rams guard Doug Brooks (5) during the second half at American Airlines Arena. Mandatory Credit: Steve Mitchell-USA TODAY Sports
Jaylon Tate is Just Jaylon Tate
Over the past four seasons, we have witnessed a point guard named Jaylon Tate.  He hasn't been a superstar by any means, but night in and night out we know what we are getting.
This is one of the major reasons that John Groce plays him so much.  He doesn't want to think outside the box and goes with what he is comfortable with.
That comfort zone is Tate and last night he had to play extended minutes because Tracy Abrams got into some early foul trouble.
Tate played 30 minutes against Missouri and finished with a stat line of 5 points and 6 assists.  He shot 1-of-3 from the field and 3-of-6 from the free throw line.
I know it is frustrating to many Illinois basketball fans that Tate is seeing all of these minutes and Te'Jon Lucas only had a chance to play three total minutes last night.
Lucas would bring more scoring to the table and I think he could hover around the six assist mark like Tate.  I also think he brings more energy to the team as well.
But, this victory, and the previous five before it, shows me that this team can still win despite playing Tate extended minutes.
So, even though Tate is on the court and we know what he brings to the table, this Illinois team still might be alright.
Dec 21, 2016; St. Louis, MO, USA; Illinois Fighting Illini guard Jalen Coleman-Lands (5) blocks the shot of Missouri Tigers guard Cullen VanLeer (33) during the second half at Scottrade Center. Illinois won 75-66. Mandatory Credit: Denny Medley-USA TODAY Sports
Jalen Coleman-Lands is Getting Hot
2016 did not start well for Jalen Coleman-Lands.  He broke his hand in the offseason and that hurt his workouts and training.
JCL then entered the 2016-2017 season not shooting well at all.  I have to attribute some of his cold streak to the injury, though.
One of the biggest pieces of this team is JCL because he helps give the Illini another outside threat so they can play inside-out sometimes.
Having JCL not playing well is not good for Illinois and that showed to start the season.
Through the first nine games this season, JCL was shooting 33.3-percent from the three-point arc.  That is not a good number and he also had three games in there where he went 0-of-3, 0-of-5, and 0-of-5.
But, over the last four games, something has changed.  I think JCL might be getting his groove back because he has improved his three-point shooting rate to 41.6-percent.
JCL's scoring ability these last four games has been huge for the Illini.  They have been able to beat their opponents by an average of 9.5 points per game.
With JCL starting to play better that only means more points for him and the team.  In the first nine games, he averaged 7.8 PPG and he has increased that the last four games to 9.5 PPG.
Illinois needs JCL to continue to improve this season.  If he can get this PPG average up to over 10 PPG game, then I think the Illini will have great success.
More from Writing Illini
This article originally appeared on
---
---