Strong hired for his resume, not race, at Texas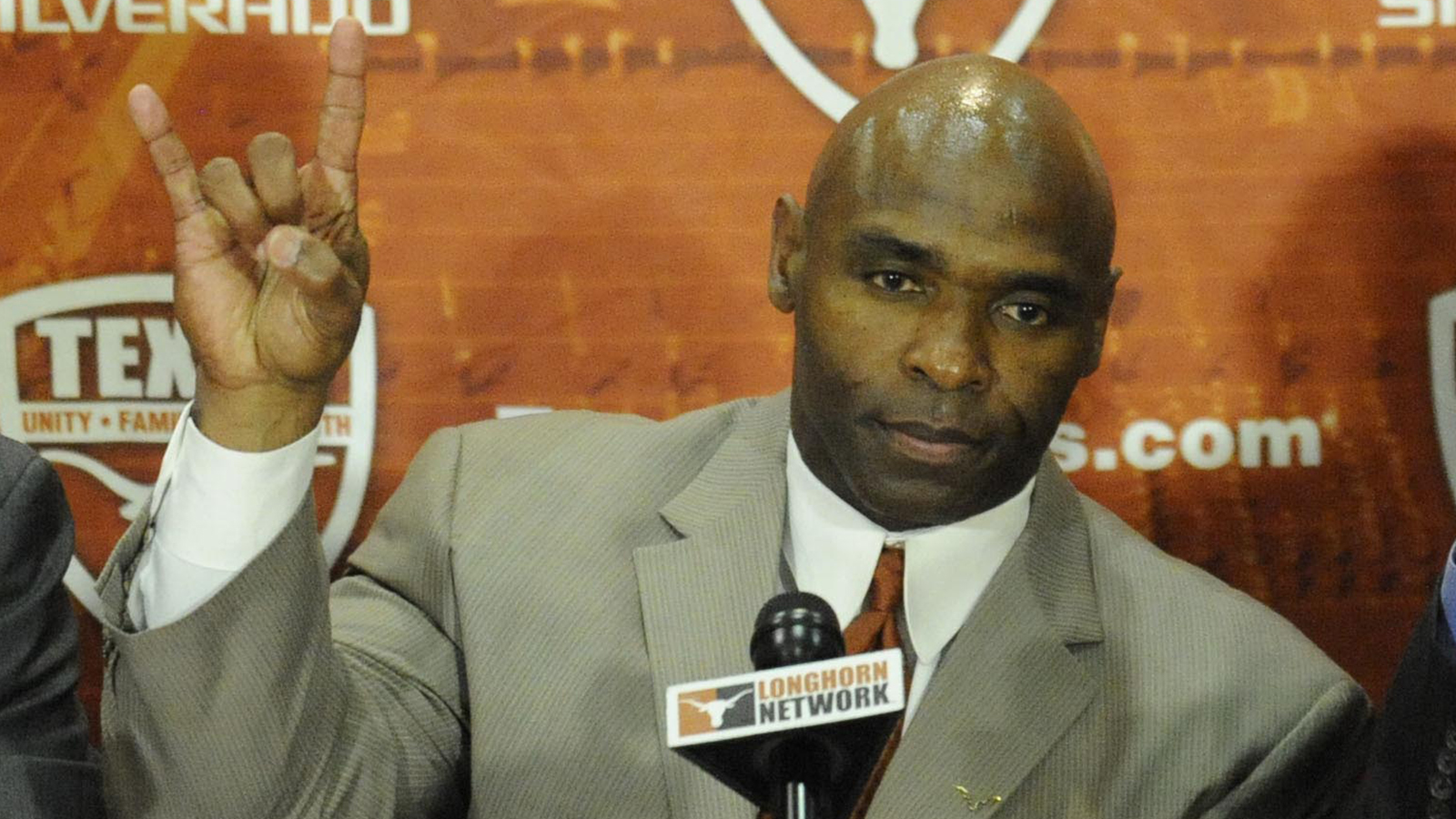 New Texas coach Charlie Strong faced one cringe-inducing question about how he should be addressed in his introductory presser.
Sadly, he didn't fire back with "Colonel or Commander."
He faced one question about the fabric of his trademark gameday turtleneck.
It's Nike Dri-Fit, not cotton, in case you were wondering.
He faced two questions about the color of his skin.
I have a hard time remembering a more welcome sign of progress.
It's not hyperbole when you hear someone say Monday is a historic day in Texas' storied history. Strong is the first black head coach of a major men's sport at the university. He'll be more than just the only black head coach in the Big 12, too. None of the league's members employ a black playcaller.
So, make no mistake: Strong's hiring a big deal. What I can't stop smiling about is that his race is not THE deal. It's a footnote in the story of a solid hire. He didn't get a token interview because he's black and surprised the search committee with how "well-spoken" he was. He was hired because he's one of college football's brightest coaching talents with a 23-3 record in the last two seasons. His reputation as a hard-nosed coach who emphasizes toughness within the program is well-known outside of Florida and Louisville, his last two coaching stops.
Texas president Bill Powers made a passing reference toward the history of the day in introducing Strong, but the Longhorns' new 53-year-old head coach didn't face a question about race until the press conference's 24th minute. He was asked about not getting other jobs because of his race, and the changing landscape of college football.
"A lot of times people look at it as me being a minority," Strong said. "I'm just a football coach. I'm a football coach directing young people's lives."
Strong's chief identity at Texas won't be his race like it was for Mississippi State coach Sylvester Croom, the SEC's first black coach. He paved the way for guys like Strong to just be coaches. When people see Strong, they see a defensive mastermind who was long overdue for a head coaching job when he finally got one. He's qualified for this job. His race couldn't be more irrelevant in his hiring.
The same is true of Texas A&M coach Kevin Sumlin. He's an offensive guru who turned a three-star recruit into the first freshman to ever win a Heisman Trophy. His resume got him the job in College Station, not his race.
Excuse me if I can't help but feel a little bit of pride at seeing the two biggest jobs in a football-crazed state filled by talented, qualified men who share my ethnicity.
Before Ernie Davis in 1961, no black player had ever won the Heisman Trophy.
That's progress.
Later in his Texas media debut, Strong shared something that Floyd Keith, the former executive director of the Black Coaches and Administrators, told him.
"He said, 'What you need to think about is all the African-American coaches that you are representing right now that did not get the chance that you're getting,'" Strong said. "And that's all that needed to be said. When you think about it, yes, this is a historical day. It was a historical day when the president was named the President of the United States, also."
Strong has no interest in carrying the banner for black coaches or being a "black" coach, and he won't have to do anything of the sort. I have no interest in carrying any banners for black sportswriters or being a "black" sportswriter.
However, he can look across his profession and see a vast majority of old, white men. I can do the same in any press box.
Strong doesn't have to talk about his race or background to carry any banners or pave any paths. Succeeding will do it for him.
College football's five AQ conferences have just seven black head coaches among 72 programs. There's still a long way to go, and opportunities for minority coaches can still be hard to find.
Strong and Sumlin took advantage of opportunities they received, and find themselves in true destination jobs designated as the pinnacle of their profession. Texas and Texas A&M are not Mississippi State and Kansas. These are places where coaches can build a legacy as one of the game's all-time greats. Sumlin's perhaps on his way. Strong's story starts now, and he's carrying the banner for Texas' resurgence as a national power, not black coaches.
Strong will operate under a microscope at Texas where his wins, losses, triumphs and mistakes will all be points of discussion.
His race will rarely, if ever, be a point of discussion.
That's progress.