Washington Redskins Injuries: TE Derek Carrier Could Return Soon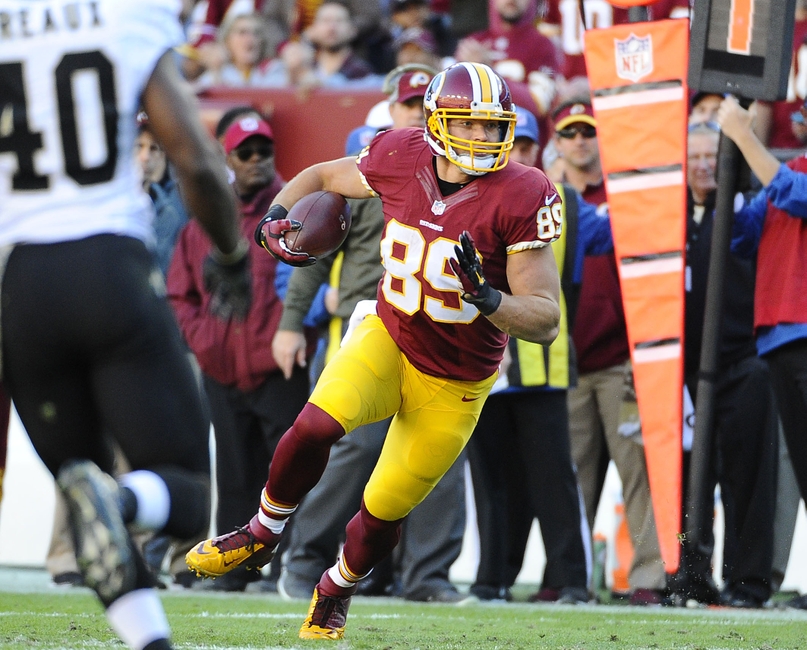 Derek Carrier is just about ready to come off of the PUP list. When will he officially return for the Redskins?
The Washington Redskins were dealt a blow last week when it was revealed that Niles Paul would be placed on injured reserve. Paul, a depth tight end and core special teams player, had suffered a shoulder injury and as a result, the Redskins had to prematurely end his season. However, the team could be getting a boost as Derek Carrier may return to the lineup soon.
Carrier is entering his second season as a member of the Redskins. In 2015, he made 11 starts for the team and served as the primary backup to Jordan Reed for most of the season. He showed an ability to be a solid pass catcher and a decent blocker. He put up career highs in receptions (17), receiving yards (141), and he also scored his first touchdown. It looked like Carrier was developing into a strong depth player. Then, disaster struck as he tore his ACL.
Carrier had a long road to recovery that led him to start this season of the PUP list. He recently was able to get off of that, and he now has a chance to play at some point in the near future. In fact, he has to be put on the active roster 21 days after coming off the list, so the clock is ticking on him.
It seems likely that Carrier will be back within the next week or two. He is starting to log some actual practice, and that will be beneficial to his chances of returning. Also, the Redskins are currently rolling with just two tight ends. They elected to sign defensive tackle Jordan Hill to the active roster in place of Paul instead of adding another player at the tight end position. That shows that the coaching staff has faith in Carrier's ability to return.
Getting Carrier back would be nice for the Skins. The team could use a replacement for Paul, and Carrier's timing could not be more perfect. He will be back in the near future and it is exciting to see what kind of impact he will have on the team.
This article originally appeared on