Tank Carradine: Why 49ers OLB Will Soon See His Role Increased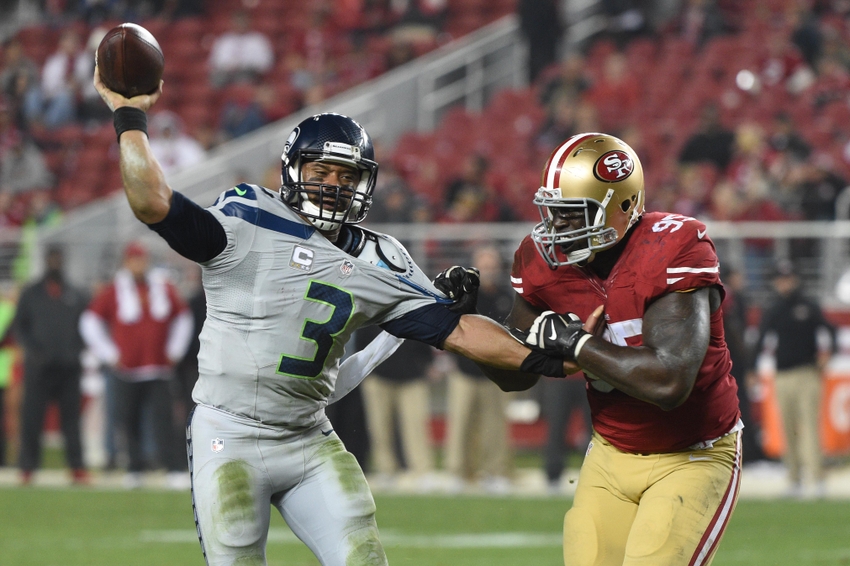 This offseason has been huge for San Francisco 49ers outside linebacker Tank Carradine. In what looks to be an interesting position change, Carradine is back at his original position on the edge. Will he and should he see an increased role? Niner Noise breaks down one of the biggest offseason story lines below.
San Francisco 49ers linebacker Tank Carradine is in for a huge 2016.
In Round 2 of the 2013 NFL Draft, 49ers general manager Trent Baalke took Carradine despite his ACL injury from the previous season. As a result of the injury, Carradine missed the entire 2013 NFL season.
When he came back for 2014, Carradine was on the bench for half the season for failing to pick up then defensive coordinator Vic Fangio's playbook, according to Matt Barrows of the Sacramento Bee.
Carradine seemed to be playing out of position. In response, the 49ers coaching staff decided to move the 3-4 defensive end/tackle to outside linebacker, where he could rush the passer off the edge.
Carradine just hadn't produced in his three seasons, which led some to ask: Is Tank Carradine a bust? Was he a waisted draft pick? Another ACL-casualty by Baalke?
While valid at the time, those questions have been answered with a resounding no.
A big qustion mark this offseason, Carradine's transition seems to have gone pretty smoothly. Matt Maiocco of csnbayarea.com reported on August 10 the linebacker enjoyed his best day of training camp. According to Maiocco's story, Carradine had two would-be sacks.
Carradine has also performed well against the run and finished second in pass-rush productivity in the preseason. James LeBreton's most recent article 49ers: Why the Pass Rush Will Be Dominant Again touches on this.
Finally, the decision to go with only three outside linebackers on the 53-man roster speaks volumes. When the Niners released OLB Marcus Rush, it became more clear that there was faith in Carradine.
Also, it's likely that linebackers Ray Ray Armstrong, Gerald Hodges, Michael Wilhoite and Nick Bellore will share time on run-downs when they aren't playing in the middle.
The 49ers coaching staff could have the 49ers more ready than experts think, and Carradine may be the best example of this.
Give it between four and eight weeks. Then we'll know.
All statistics, records and accolades courtesy of Pro-Football-Reference.com, Sports-Reference.com, 49ers.com and NFL.com unless otherwise indicated.
This article originally appeared on