SWOT Analysis: Washington Redskins Edition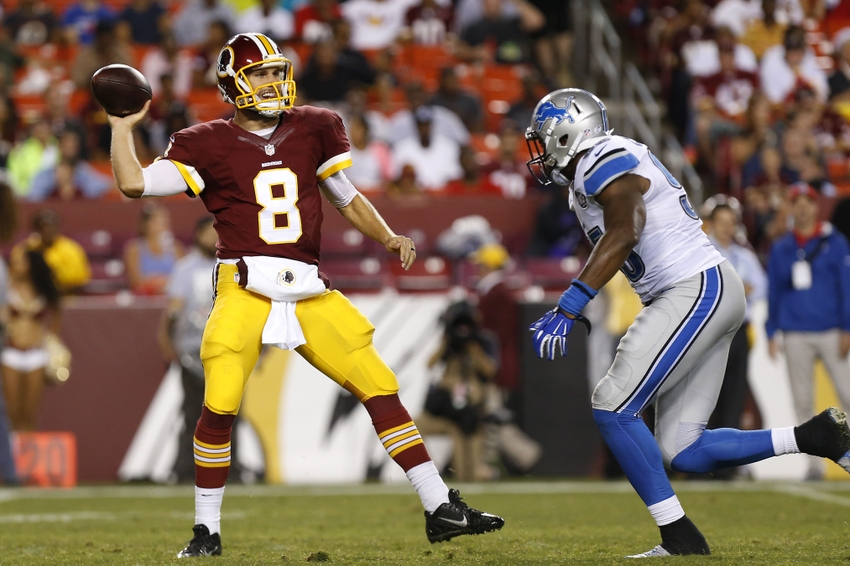 As a new weekly feature, SideLion Report will be breaking down the opponent using the S.W.O.T analysis.  Briefly, a SWOT analysis is a business term used to identify internal strengths and weaknesses, as well as outside, or external, opportunities and threats.  SWOT is used for potential business expansion, including new sports franchises, consolidation, business-to-business talks, and a host of other benefits (including sports writing!). 
This week, the Washington Redskins are the focus of the first ever SWOT analysis.  Congratulations to Washington, this is a very special honor.  Give yourself a pat on the back AND a cookie. 
Each SWOT analysis will go a little like so: I will be a breaking down one of the Lions' strengths and weaknesses against this week's opponent, then looking towards the opportunities for the team, and the threats against them.  You'll get the hang of it pretty quick.
Strength against Washington
The Lions currently sit 11th in big play percentage, and the Redskins 10th in big plays given up (Big Plays are runs over 10 yards and passes over 25).
This could be vital in deciding the game.  With both defenses being as bad as "Now You See Me" sequels, (the Redskins being the 2nd, and the Lions the undisclosed, unknown, but definitely bad and completely unnecessary 3rd) there could be quite a few explosive plays in this game.  Dwayne Washington's speed out of the backfield could come in handy on Sunday.
With Josh Norman starting to come back to form, these big plays could be limited to an extent in the passing game.  Matthew Stafford does enjoy spreading the ball around, but when two of his top four pass catchers are on the injury list, it becomes much harder to do, especially if Norman is taking a quarter of the offense away.  One of the running backs, any healthy tight end, or Andre Roberts is going to have to step up.
Weakness against Washington
Pass defense.  Pass defense.  Pass defense.
To be fair, this could be the Lions' weakness against literally any team.
Matt Stafford is completing 68.9% of his passes w/14 TDs & 4 INT this yr. Opposing QBs are 73.7%, 17 TD/3 INT vs DET https://t.co/z9Ljm347Hp

— Dave Birkett (@davebirkett) October 17, 2016
Washington is going to be missing Jordan Reed, one of the best tight ends in football, on Sunday, but that certainly doesn't mean you should pick the Lions defense up in fantasy either.  Every quarterback that has played this defense has flourished and I expect it to continue on Sunday.
Opportunities for Detroit
Currently, the Redskins sit 31st in the league in rush defense DVOA.
It is unfortunate that this Washington team picked defending the run poorly instead of defending the pass poorly, but here we are anyway.  While the Lions surprisingly rank 21st in rushing offense DVOA, they sit at 7th in passing offense.  Jim Bob Cooter has done an admirable job getting anything out of this hodgepodge group of running backs, but the Lions will be missing Theo Riddick again (barring a miraculous 1-day rehabilitation).  Dwayne Washington looks to be back, but missing the top two running backs on the roster against the 2nd worst rush defense is just back luck.  However, last week Zach Zenner averaged 4.1 yards per carry against the 11th best rush defense in the Rams.  This offensive line should be able to open up a few holes against a far worse rush defense.
Threats against Detroit
Redskins sit 7th in big play percentage offense.  Yeah, they've been a hit and miss type of team this year.  The Lions also rank 11th worst in big plays against.  Remember what I said about the Lions big plays on offense against Washington's defense?  Just use it here, because this game is shaping up to be a shootout.
Teryl Austin's defense does try to limit the explosive play as much as possible, but with the injuries and general lack of talent on the defense, it hasn't worked.  At all.  And it doesn't really matter because teams attack the short to medium passes all game long.  Wouldn't you, if you knew someone called Thurston Armbrister was going to be playing 40-50% of defensive snaps?
Overall, this game looks like a shootout of epic proportions.  The Lions defense is in shambles, and Matthew Stafford is playing the best football of his life.  So, inevitably, the final score will be 9-6.  This Detroit Lions team is notoriously difficult to predict, and especially so this season.  Losing to the Chicago Bears and the Tennessee Titans, but beating the previously undefeated Eagles, for example.  To have a real shot to win, Stafford will once again have to play a near-perfect game on Sunday.  The best hope the defense has to positively affect the outcome is to force a key turnover or two.  Maybe an interception late to seal the win, against a quarterback who previously couldn't miss?  Hmm, that sounds familiar.
Prediction: Lions in a squeaker: 31-30
More from SideLion Report
This article originally appeared on