Seattle Seahawks three-round 2017 mock draft and analysis
Sayre Bedinger/FanSided via NFL Mocks

Fansided
The Seattle Seahawks were one of the most up and down teams in the NFL this past season. What can they do to regain some consistency?
One week in 2016, the Seattle Seahawks would look like the best team in the NFL. Before we could blink our eyes, they would come out and completely lay an egg against a bad team. The Seahawks were one of the most confusing teams in the league for me this year, but I think their struggles with consistency are really representative of their very clear team needs moving forward.
The Legion of Boom needs reinforcements. The offensive line needs upgrades. The defensive interior needs a boost. The Seahawks don't have a lot of needs, but adding to their secondary and offensive line should be up there, which is why I've made up this three-round mock draft.
We take a look at what could get the Seahawks a little more consistency, and what could push them back over the top in this three-round mock.
First Round: Quincy Wilson, CB, Florida
Quincy Wilson is a very talented cornerback prospect that has the fire and confidence that will help him excel in this defense. At 6-1, Wilson is over 200 pounds and plays a physical game. He needs some refinement, but his personality will fit perfectly in Seattle.
Some feel like because of his size, Wilson projects best to safety at the next level, but the great thing about the Seattle defense is, guys like this can play different roles. His versatility won't lead to more question marks at the next level, but will allow defensive coordinators to put him in positions to succeed, whether as a nickel defensive back or safety or outside corner.
I think this would be a great first round pick for the Seahawks, identifying someone that fits their culture defensively and someone that can help give them a big boost right away.
Second Round: Taylor Moton, OT, Western Michigan
Taylor Moton may be one of the best offensive tackles in the draft, and that's not just hyperbole. The only thing is, he played pretty strictly on the right side for Western Michigan. There's nothing wrong with that, but sometimes value can be driven down if someone projects best as 'just' a right tackle in the NFL and not a right or left.
Although Moton projects best to the right tackle position, it could wind up working very well for Seattle, who could stand to upgrade both tackle spots.
Moton was someone that I watched excel at the Senior Bowl, and throughout his career at Western Michigan, he showed good feet and excellent technique in pass protection. He would be a big help for one of the league's worst offensive lines.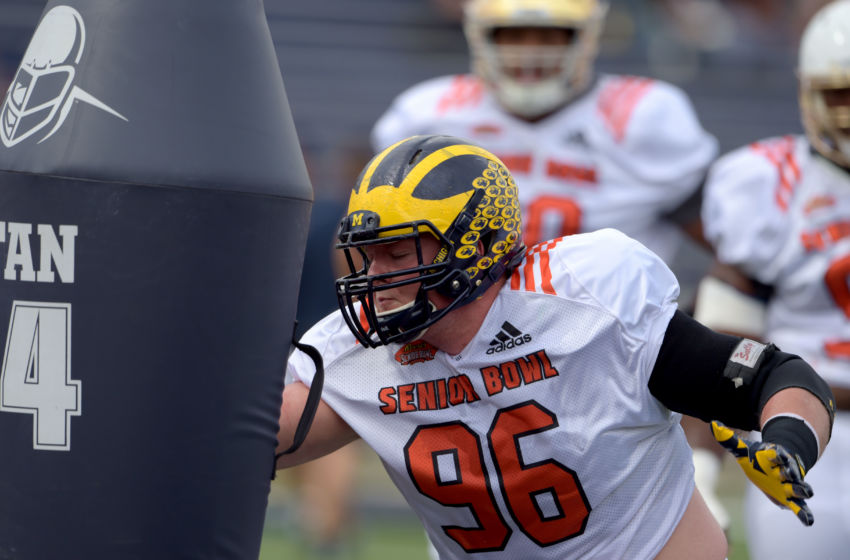 Third Round: Ryan Glasgow, DL, Michigan
Michigan had an incredibly talented defense the last couple of seasons, and Glasgow is no exception. He might not have the high ceiling of a Taco Charlton or a Chris Wormley, but he's one the analytics guys really like.
Glasgow's production at Michigan earned him All Big Ten honors and the Ricjard Katcher Award, which is given to the top defensive lineman for the Wolverines.
At 6-4, 300 pounds, Glasow can flash quickness on the interior and line up in a number of different positions in a three- or four man front. He can hold up at the point of attack but also be effective getting upfield as a pass rusher.
I think Seattle would enjoy having him along with last year's second round pick Jarran Reed.
This article originally appeared on