Sam Bradford Loses Game With Interception, Lions Kick Winner (Video)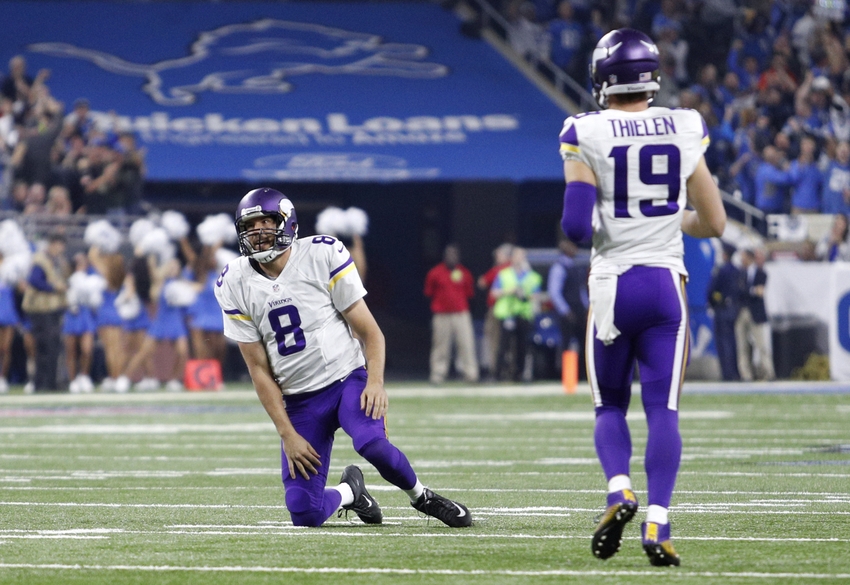 Sam Bradford was feeling thankful on Thanksgiving, throwing an interception to blow the game.
The Minnesota Vikings kicked off to the Detroit Lions to start their game on Thanksgiving and the Lions quarterback Matthew Stafford wasted no time getting to work. He carved the Vikings defense as he drove his Lions offense down the field for the first score of the game. Minnesota then answered on their opening drive and it seemed like the game was going to be a shootout.
That wasn't the case, as both teams may have eaten too much before the game because the pace slowed down. Both teams weren't able to put drives together and there wasn't another touchdown scored in the game.
The game didn't get good again until late in the fourth quarter when the Lions were down three points with five minutes left. Starting at their own two-yard line, Stafford led his team down the field to kick a game-tying field goal. The only problem was that they left Sam Bradford and the Vikings with 1:45 left. Or maybe that problem was the Vikings' as they had Bradford on the field for another 1:45.
He played poorly all game, throwing short of the sticks and not doing much, but he made his worst play of the game in the most crucial moment.
With 38 seconds left, Bradford threw a terrible interception to Darius Slay in their own territory. Slay returned the pick 13 yards to the Minnesota 20-yard line. It was classic Sam Bradford and though Lions fans are celebrating, Philadelphia Eagles fans are laughing. All Bradford had to do was not turn the ball over and the worst-case scenario was overtime. But he used just three plays to blow it for the Vikings.
Bradford was feeling thankful with the interception and Lions kicker Matt Prater decided to put the icing on the cake to end the day. That counts as Stafford's league-leading seventh game-winning drive—which is just as awesome of Bradford blowing another game. Detroit moves to 7-4 and has a commanding lead in the NFC North.
This article originally appeared on