NFL Thanksgiving 2016: What Each NFC Team Should Be Thankful For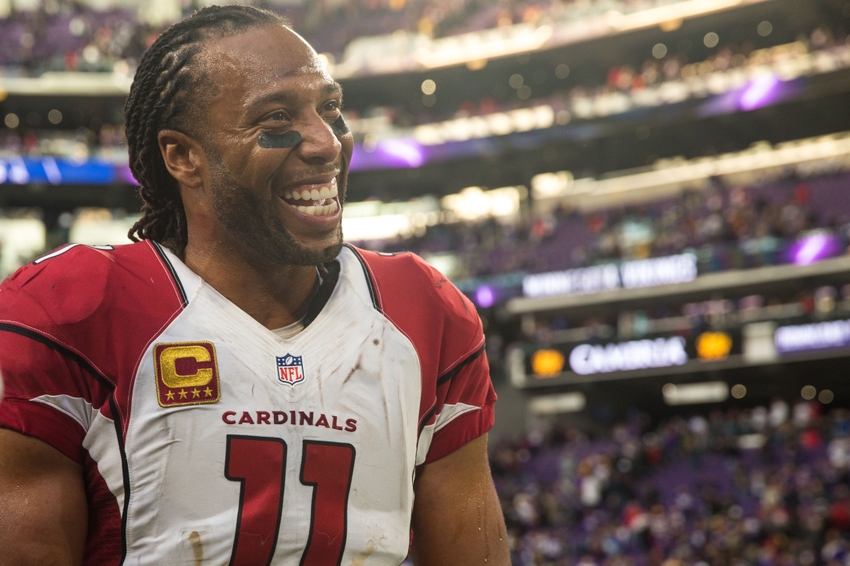 Each NFC team should be saying thanks for these things on Thanksgiving entering Week 12 of the 2016 NFL season.
On Thanksgiving, many excited about a boatload of food and the NFL being on TV. It's also a time, I'm sure, for many to search within themselves for what they're thankful for. Even professional football teams aren't immune to this deeper meaning of the season.
We've already broken down what each team in the AFC should be thankful for, so no let's get on to the NFC teams on Thanksgiving.
For the convenience of readers, the teams have been organized by division. Starting with the NFC East, here is what each team in the conference should be thankful for.
Dallas Cowboys
At 9-1, the Cowboys need to be thankful for their dominant offensive line which masks all their deficiencies. They also need to be thankful that as good as that line is, it's not good enough to keep Tony Romo and his glass body healthy. This is the first time in a long time the Cowboys are actually good and their fans aren't just delusional outcasts.
New York Giants
The Giants should be grateful they aren't the Jets. It's always good to be the team in your city that wins and not the embarrassing loser franchise in the hideous green uniforms that routinely embarrasses their city. This, of course, goes all the way to the top as the Maras are far superior owners than completely incompetent Woody Johnson.
Washington Redskins
For now, the Redskins should be thankful that, despite our new age PC culture, they can still retain their racially insensitive name—because it won't last much longer. There is no day of the year, perhaps with the exception of Columbus Day, that draws more attention to the mistreatment of Native Americans in this country. The Redskins days as "The Redskins" are inevitably numbered.
Philadelphia Eagles
The Eagles should be thankful the Chip Kelly era is over. Now they can move forward and the new regime probably won't trade off all their best players for a random assortment of Oregon Ducks. A new era has begun in Philly and it's a safe bet it can't be any worse than Kelly's time in Philly. He's the 49ers' problem now.
Detroit Lions
Apparently the Lions need to be thankful for offensive coordinator Jim Bob Cooter. Megatron retired and Detroit is in first place while Matthew Stafford looks way better than he's ever looked without Calvin Johnson on the field. They still can't run the ball, but have already far outperformed expectations.
Minnesota Vikings
The Vikings need to be thankful that they are still competitive despite losing their starting quarterback for the year, having Adrian Peterson miss just about the entire season, and their first-round pick offering no production. It's even more incredible when you consider the backup plans at quarterback and running back are Sam Bradford and Jerick McKinnon. Yes, their stellar defense has faltered as of late, but they are pretty much doing it on their own trying to carry this offense.
Green Bay Packers
It's been a good run with Brett Favre and Aaron Rodgers. The Packers should be grateful for that. Some years just aren't your year. Sometimes your superstar quarterback takes a huge step back and your overweight running backs legs collapse under the immense weight of his body. It also doesn't help when you spend so much of your cap on a now mediocre passing attack leaving you with a completely deficient defense. They've been good for almost two decades, though, and should bounce back fairly quick considering they have an elite quarterback.
Chicago Bears
Chicago should rejoice because it looks like the Jay Cutler era is over. The Bears will likely rebuild around young talent next season and that's exactly what they need. They have talent on defense and some talented players at the skill positions. Sometimes you need the bottom to fall out to turn things around. Matt Barkley qualifies as the bottom falling out.
Atlanta Falcons
Atlanta should be thankful for Julio Jones. It's not often trading a boatload of picks away for one guy, especially a non-quarterback, works out for a team. Well, Jones did. Despite sending a crippling amount of draft picks away to get Jones, he's helped the Falcons develop one of the most unstoppable offenses in the league. They should also be grateful for all their talented young defenders on all three levels of the defense. Dan Quinn will have this defense turned around sooner rather than later.
Tampa Bay Buccaneers
The Bucs should be thankful they are still in the mix. Much like in the AFC, the South is atrocious. Tampa has a dynamic duo in Jameis Winston and Mike Evans who can give any defense fits. Now only if they had a defense and a running back that could stay healthy for a month. They are heading in the right direction, though, and that's worth being thankful for.
New Orleans Saints
Clearly Drew Brees is who the Saints should be thankful for. Other than Brees, this team has brought nothing to the table for years now. The defense has consistently been among the worst in the NFL, while the offensive line and rushing attack hasn't been much better. Brees is the only thing that has kept this team from being a complete laughingstock. However, it may be time to trade and rebuild while he still has some value for a team on the brink.
Carolina Panthers
Yes, the Panthers have been a monumental disappointment this season and Josh Norman has been able to give them a huge "I told you so." Still, there is a lot to grateful for. First off, the playoffs aren't out of the question. Secondly, they have a ton of talent on both sides of the ball, led by Cam Newton and Kelvin Benjamin on offense and a Luke Kuechly-led front seven. They should be contenders in the NFC South just about every year for the foreseeable future.
Seattle Seahawks
The Seahawks need to be grateful that they are able to put everything together at the right time year after year. Seattle will beat the Cowboys and their rookie quarterback in the playoffs and waltz into the Super Bowl. Prescott and the Cowboys have been good, but rookie quarterbacks just don't run through the league like that. Defense and experience is on the Seahawks side and Russell Wilson is a superior quarterback who's getting healthy.
Arizona Cardinals
It's about time the Cardinals are eternally thankful for Larry Fitzgerald. He's an all-time great receiver and is playing like an ageless star. He's the only thing holding that faltering passing attack together. Carson Palmer has looked like his old self since last year's playoffs (that's not a good thing). This team was a Super Bowl favorite heading into the season and now looks like a longshot to make the playoffs. There isn't much else to be thankful for aside from Fitz and a few young studs. But we'll show our respect for elders on this one.
Los Angeles Rams
The Rams should be thankful rumors of a Jeff Fisher extension were reported prematurely. Hopefully for Rams fans and the organization, he and his backwards hat go elsewhere following yet another losing season. They have had way too much talent to be this bad for this long. Somehow, they can beat the Seahawks and no one else. This week's collapse against the Dolphins should be close to the final nail in the coffin.
San Francisco 49ers
There is very little to be thankful for here. All their good players from their winning days have retired or got hurt and they made the grave mistake of bringing in Chip Kelly to run the show. The only thing to be thankful for is the fact that their quarterback has started a Civil Rights movement. Still, about half of the country isn't all thrilled with that either. It's brutal for the 49ers right now and their city can't even fall back on LeBron James like Cleveland. As a matter of fact, King James made matters much worse for the Bay Area.
This article originally appeared on