Patriots fan gets Tom Brady's face tattooed on his butt cheek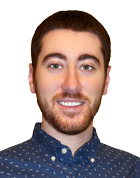 Sports tattoos typically aren't a good idea. Some fans go the bold route by predicting a Super Bowl win for their favorite team, while others commemorate a championship with permanent body ink.
This guy went the latter route but in atypical fashion. He got a tattoo of Tom Brady's face on his backside, because why not?
here's that Tatt of TB12 on a bum bum I was just talking about on @wzlx . courtesy of @BostonBarberCo Now that's @Patriots dedication pic.twitter.com/A6C0zRMcXp

— Kenny Young (@KennyYoungZLX) February 16, 2017
According to Boston.com, the fan had the tattoo done after the parade. It was apparently well-thought out and not a spur-of-the-moment thing, which is bizarre for a tattoo of this nature.
"He just came in and said, 'I'm seeing if I could get a tattoo. I wanted to get a portrait of Tom Brady on my left butt-cheek,'" Emily Arsenault, a worker at the tattoo parlor, said. "And we were just like, 'OK, let's do it.'"
It took two to three hours to complete the masterpiece – because, hey, you can't rush art.