Green Bay Packers: Stock up, stock down entering Week 13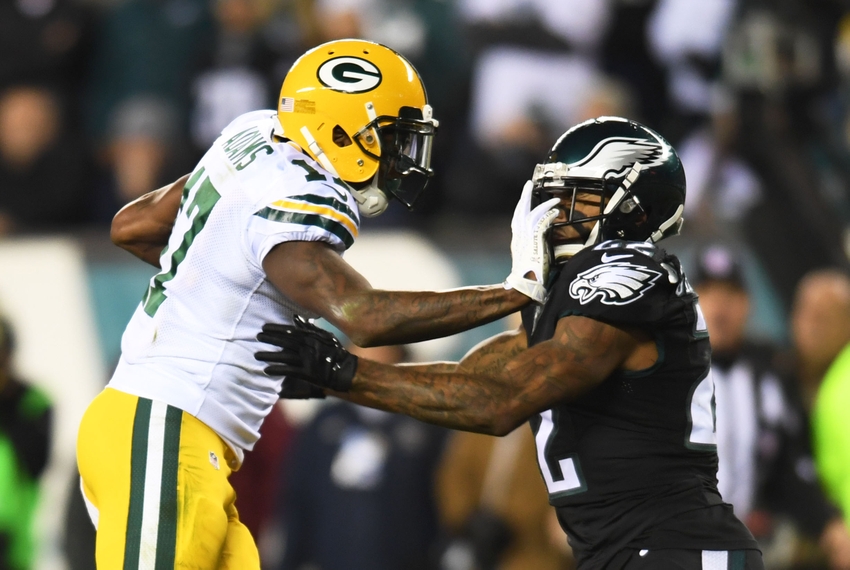 After giving up an average of 38 points during their four-game losing streak, the Packers defense unexpectedly held the upstart Eagles to 13 thanks in large part to a magnificent performance by Aaron Rodgers and his supporting cast that allowed the visiting team to win the time-of-possession battle and control the game throughout.
From the opening kickoff, it was readily apparent that Green Bay was serious about drawing first blood, as the offense marched 75 yards on 10 plays during the first drive and jumped out to an early 7-0 lead.
The much-maligned Mike McCarthy drew up a solid game plan by showing the opposition many different looks by often lining up three players in the backfield and even putting one of them in motion right before the snap.
And while the offensive line did its job for the most part in preventing Philadelphia's front seven from disrupting plays, their mission was greatly facilitated by Rodgers' quick passing.
The 12th-year orchestrator was in-sync with his receivers with Rodgers masterfully hitting his intended targets in stride.
The ground game wasn't spectacular, but it produced some patient runs on the part of James Starks, who undoubtedly played his most disciplined game of the year.
The one down note was a third-quarter pass attempt that saw Rodgers get tripped up and land awkwardly in what was diagnosed as a minor hamstring pull.
No. 12 was predictably less mobile following the mishap with the team resorting to a lot more shotgun plays that didn't require Rodgers to drop back and further aggravate the hammy.
One could only imagine how much more offense he would have been able to generate had he avoided the flare-up, but the entire team held it together and finished the game strong by keeping Philly scoreless in the fourth quarter.
At 5-6, the Packers are still a full two games behind the division-leading Lions. But things can change quickly with a home win versus the Texans next Sunday and a Lions' loss.
Their Motown rivals are  gearing up for the arduous task of attempting to conquer a high-octane Saints' squad on the fast track of the Mercedes-Benz Superdome.
But before we leap forward to Week 13, let's reflect a bit on which Packers are rising to the occasion during an improbable playoff run along with the ones that aren't bringing nearly enough to the cause.
I present to you the latest edition of the Packers' Stock-Up, Stock-Down Report.
Stock Up
Aaron Rodgers: The two-time MVP hit the ground running by throwing quick, accurate darts to his receivers. He made it a long night for the defense by recognizing when the Eagles would lose contain and scrambled for runs of 18 and 9 yards on the first drive.
Rodgers took everyone by surprise at about the 8-minute mark of the second quarter by keeping the ball on an option play and gaining 4 yards on 3rd and 1.
But it was his arm that really did the talking, as he hooked up with Davante Adams on two first-half touchdowns. The second of which was an absolute laser shot that came out so quick and tight that the cornerback defending Adams (Nolan Carroll) had no chance to react to it despite his tight coverage.
No. 12 looked so comfortable escaping pressure and delivering timely passes that he might as well have been playing in a bath robe and slippers.
On his 50-yard bomb to Adams on the first drive of the third quarter, Rodgers looked off the free safety and launched a missile that hit his man perfectly over the shoulder. That toss was easily one the quarterback's top two or three of the entire season.
Give the California-born signal caller credit for staying in the game following his hamstring pull and seeing the job through.
Rodgers was sensational from start to finish. If this is a sign of things to come, the Packers could still have a fighting chance to overtake Detroit in the NFC North.
James Starks: His box-score numbers (2.4 yards per carry) aren't indicative of how well the veteran back performed for much of the game, as Starks diligently cut back on most of his runs waiting for lanes to open.
Many of his carries were of the 4 and 5-yard variety with a few that were stopped for no yardage or a loss, but Starks was successful on plays that helped extend drives. His 8-yard scamper on 3rd and 1 in the second quarter led to the second Rodgers-to-Adams touchdown two plays later.
The 30-year-old reemerged on a 3rd-and-5 play in the third quarter in which he eluded linebacker Nigel Bradham, who seemed to be in great position to make the stop behind the first-down marker.
There was nothing fancy or spectacular about Starks, but he ran hard and smart.
Aaron Ripkowski: The young fullback was on the receiving end of more touches than he normally gets and did his best Mike Alstott impression on a few of those five opportunities.
"Rip" secured a short pass underneath on 2nd and 9 at the end of third quarter and carried defenders with him for a couple of extra yards on the 7-yard completion.
The 246-pound Texan later ran through traffic and pounded home a 1-yard touchdown plunge.
It's great to know that the second-year man can be counted on to do the dirty work when tough yards are needed.
Davante Adams: The Fresno State product's breakout campaign continued with Adams getting open for touchdowns on a night that saw him toy with his defensive backs while recording 5 grabs for 113 yards.
On his first score, No. 17 showcased his sudden movements by losing Leodis McKelvin off the line of scrimmage and getting inside position on the former Buffalo Bill on the slant route that put Green Bay up 7-0.
On the second touchdown, Adams had to do little more than cradle the perfectly-placed Rodgers pass that came out like a bolt of lightning.
The 24-year-old victimized McKelvin again by running past him and exhibiting remarkable body control in stretching for the deep over-the-shoulder shot by Rodgers resulting in a 50-yard reception.
The big-play receiver wasn't done there, however, as he went on to gain 23 yards on a quick-hitter over the middle and proceeded to break a few tackles along the way before he was finally brought down at the 3 yard line.
Adams' decisive quick-twitch movements to get off the line and change-of-direction ability after the catch were too much for the Eagles' secondary to handle.
David Bakhtiari: It didn't matter if he was up against Connor Barwin or Brandon Graham, Bakh was tremendous in setting his anchor and not allowing any pass rusher to break free from his clutches.
The left tackle has become very efficient in his drops and shows very little wasted movement.
Bryan Bulaga: The seventh-year pro also had a big hand in holding the Eagles sackless and it wasn't easy, particularly when he went up against Graham.
The one-time Michigan Wolverine pushed Bulaga deep into the pocket at times, but the right tackle held up and didn't allow his opponent to disengage.
Bulaga has been consistently solid over the past few weeks and it's time he gets his due.
Mike Daniels: The unquestioned heart and soul of Green Bay's defense was in a destructive mood and wouldn't be denied late in the second quarter on a clunky 1st-and-10 play-action that took too long to develop.
Daniels easily steamrolled Isaac Seumalo on the play in question and wouldn't be denied when he saw the quarterback in his sights on the penetration that resulted in a sack for the fierce interior lineman.
Power and leverage aren't the only qualities that set Daniels apart; it's his boundless energy that makes him the most dangerous player in the Packers' front seven.
Daniels' passion was evident on his tackle of Darren Sproles late in the fourth quarter on a screen that saw the explosive dynamo reach the third level before the relentless trench man hustled 17 yards down the field to make the stop.
The 310-pound defender accumulated three tackles—one of which went for a loss—a sack and a quarterback hit. The only thing preventing him from taking over games is the constant double-teams he faces.
Morgan Burnett: The long-time Packer has really taken to playing linebacker in nickel packages and did great work in jumping in the trenches when necessary in lending a hand to stop the run.
In addition, Burnett put himself in position to limit big plays by immediately making contact with Zach Ertz, (Darren) Sproles and others after the catch.
Unlike younger, less experienced linebackers or safeties on the team, the heady enforcer can find openings at the line of scrimmage in the effort of slipping blocks and getting to the ball carrier, as he did on a 1st-and-10 play on a run by Wendell Smallwood that went nowhere.
Burnett's smart and aggressive plays make him a veteran Dom Capers can lean on.
Haha Clinton Dix: HCD has terrific instincts and would most likely be making more impact plays if his team wasn't so thin at cornerback. Because of the secondary's decimated state, the former first-round pick often finds himself playing deep in the interest of keeping receivers in front of him and essentially limiting the damage.
Dix was in damage-control mode when coming in to take down Carson Wentz on an 8-yard gain and preventing the first down on 2nd and 12 after Joe Thomas came up empty in his attempt to tackle the 6-foot-5, 237-pound quarterback.
But the safety's biggest play of the night occurred on Philly's first drive of the second half with Wentz sailing a pass over the head of his intended receiver and into the waiting arms of Dix, who did excellent work in tracking the ball on the his third interception of the season.
Stock Down
Corey Linsley: The stats indicate that defensive tackle Fletcher Cox only had one tackle, but the reason for the lack of numbers wasn't due to him being dominated by Packers' offensive linemen; it was due mainly to Rodgers routinely getting the ball out in an eye blink.
Cox is a bad man with active hands along with the ability to dip and rip through his blocker.
Both Linsley and Jason Spriggs had difficulty in keeping No. 91 and his high-octane motor from collapsing the pocket.
Cox blew up a Starks run late with about five minutes to go in the fourth quarter by manhandling Linsley and driving him straight into the running back's path, who had nowhere to roam on a run that netted -2 yards.
Later in the same drive, the starting center couldn't suppress Cox's burst off the snap and was, therefore, forced to commit a holding penalty.
Spriggs gets a pass for his struggles since it was his first pro start at an unfamiliar position. A well-schooled veteran of Linsley's caliber, on the other hand, doesn't get a mulligan.
Jeff Janis: Exasperated Packers' fans collectively threw their hands up in frustration at the sight of Janis committing another special-teams infraction that cost his teams 10 yards of field position thanks to a holding call during a Donnie Jones punt.
His special-teams prowess is the sole reason why the error-prone wideout is on the team to begin with.
When will he get it right—if ever?
The clock is ticking on Janis. He needs to show something if he hopes to be running in a green-and-gold jersey in 2017.
Jared Cook: Inconsistency is thy name, Jared! Where was last week's big-play artist that stretched the field versus safeties that couldn't keep up with him?
Instead we get the version that catches one ball all night and nearly coughs up another target to the other team.
Joe Thomas: The inside linebacker was a frenetic mess that missed tackles and later got handled by mighty mite (Darren) Sproles on a blitz pickup. Positive signs of improved play are gradually becoming a thing of the past.
Micah Hyde: The king of mistimed plays was back at it early by arriving late on a 13-yard completion to Dorial Green-Beckham on Philly's first drive.
The corner/safety later unsuccessfully attempted to jump a DGB route that resulted in a 10-yard gain that put the Eagles at the Green Bay 3 yard line.
Two plays later, Hyde allowed Wentz to get around him on a 1-yard quarterback keeper.
I don't know about the rest of you, but I've seen enough and I'm ready to move on. Forgive me if I sound like a broken record.
Damarious Randall: The second-year corner made his much-anticipated return from a debilitating groin injury and was quite active by registering 7 solo tackles.
The run support efforts, however, doesn't make up for his technical missteps in pass coverage, which came to the surface on a second-quarter 20-yard completion to Jordan Matthews. Randall never bothered to turn his head on the connection that took place during a drive that culminated with the Eagles kicking a field goal before the half.
Four plays later, Randall came up empty in his futile attempt to tackle Wentz on a 17-yard scramble on 3rd and 6.
I know he's young and he's learning, but it' about time No. 23 start playing like a Day-1 pick.
This article originally appeared on