Giants at Steelers live stream: How to watch online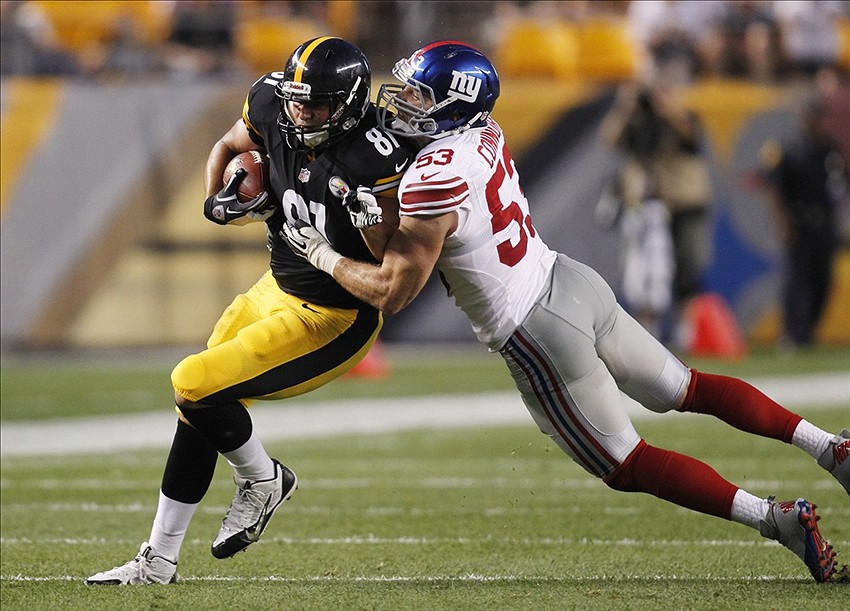 The 8-3 Giants make a short trip to Pittsburgh to square off against the 6-5 Steelers. Here's how to watch the game online.
The New York Giants make their way to Heinz Field as they look to notch their seventh win in a row against the Pittsburgh Steelers for a 4:25 p.m. kickoff on FOX. The game is listed as FOX's "America's Game of the Week," so outside of other regional markets that will be broadcasting their home teams on FOX, everyone else will be able to watch these two historic franchises face off.
Both of these teams have a lot on the line for Sunday's game. The Steelers plummeted from 4-1 to 4-5 after a disheartening four-game losing streak, but have bounced back in the past two weeks and are currently heating up once again. If Pittsburgh wants to keep pace with the Baltimore Ravens, who also have a 6-5 record but hold the edge over the Steelers by way of tiebreaker, they'll have to win at least four of their next five games, starting with New York.
On the other hand, the Giants seven-game win streak is dampened by the fact that the Dallas Cowboys have a runaway lead in the NFC East and the Washington Redskins are trailing right behind New York (and also hold the head-to-head tiebreaker over them). New York's playoff hopes are alive and well no doubt, but those could easily collapse in the final five weeks that feature marquee match-ups against Washington and Philadelphia on the road, the Cowboys and Lions at home.
According to Odds Shark, the Steelers are six point favorites to overtake the Giants in a huge home game. It's no surprise since Pittsburgh has always been a solid home team, especially under quarterback Ben Roethlisberger. Even more so, Las Vegas is willing to bet New York's hot streak will suddenly go cold once they have to face a quality opponent with their season on the line, as opposed to dumpster fires like Cleveland, Chicago and Cincinnati the past three weeks.
Date: December 4, 2016
Time: 4:25 p.m. ET
Location: Pittsburgh, PA
Venue: Heinz Field
TV: FOX
Live Stream: NFL GamePass
Can the Steelers keep their playoff hopes alive with a big win over Big Blue this Sunday? Or will the Giants finally make us take them seriously by getting a win over a quality opponent? We'll have a good idea Sunday evening after these two titans face off.
This article originally appeared on