Fantasy Football: Week 9 Daily Fantasy Football Picks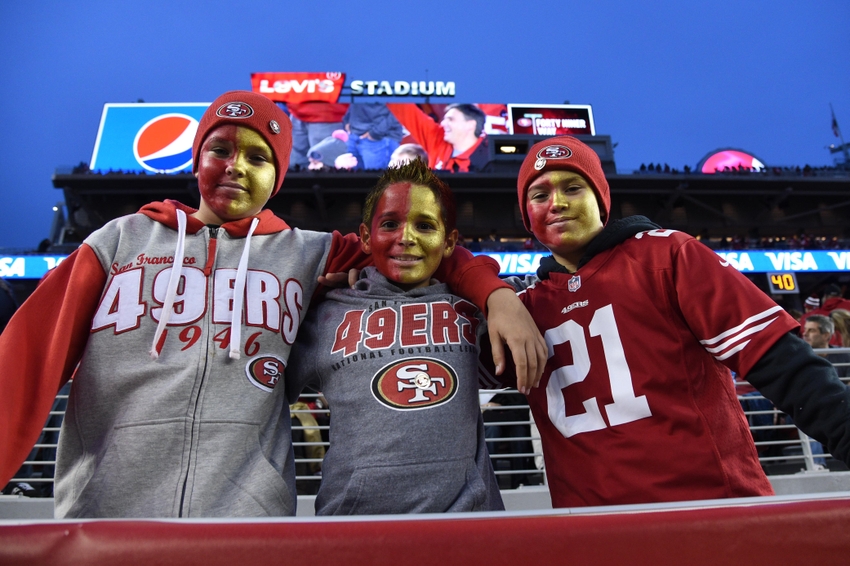 Niner Noise fantasy football blogger JD Leidy uses FantasyOMatic's algorithm along with player pricing from FanDuel (and his gut too) to select a winning Week 9 daily lineup.
Week 8 was a successful week for our squads.
I mean, we're not going to the World Fantasy Football Championships (WFFC) in Los Angeles, or anything. But we did produce three winners in 50/50 play.
Recall that our basic premise is to cross-reference the player rankings from the free FantasyOMatic online algorithm with the pricing data from FanDuel to selected superior, value-oriented fantasy teams.
This data is used to construct three different roster types:
An algorithmically-selected, value-optimized (ASVO) one
An algorithmically-selected, non-value-optimized (ASNO) one
A purely instinct-based one
If interested, additional details on the exact construction methodology are featured in this Week 6 article.
The whole point of this exercise (yes, I believe there is one) is to build winners. A real winner would nab us a seat at the WFFC table. Of course, to accomplish that, you actually have to enter a contest where that's the ultimate prize.
For the past several weeks we've been entering that sort of contest at the five dollar level. However, because FanDuel's contest creation methods are about as transparent as Pepto-Bismol, one day all of the five dollar WFFC contests just disappeared.
Now, the least expensive WFFC qualifier is twelve dollars, and although that's not a king's ransom, thirty-six dollars per week seems like a big commitment (and the seedbed for an eventual phone call to 1-800-GAMBLER).
So, instead, I entered our lineups in the $125K Sun NFL BIG $5 Double Up (Top 12,500 Win), a ridiculously named 50/50 contest, and all three were winners.
Even the gut instinct lineup featuring WR Randall Cobb, who was a DNP, came in. Crazy (crazy bad management, that is).
I figured if we're going to ultimately get back after it, i.e. the pursuit of a WFFC seat, we're going to have to build up a little bankroll first.
So far so good. Fifteen dollars wagered, thirty dollars gained. A couple more winning weeks, and we'll be back to eyeing that brass ring.
Here are last week's results:

As a side note, the winning threshold for last week's 50/50 was 100.00 points even, a total below our 110.00 standing target for 50/50s (and well below our 150 point bogey for Guaranteed Payout Pools).
And even though the prize is the same for anyone over the target in a 50/50, here's the lineup of the points total winner in last week's pool:

So, that was fun. Let's do it all over again.
Here are our algorithmically-selected lineups, as well as our gut instinct squad, for Week 9 of the 2016 NFL season.
Lineup No. 1
Recall the rules for selecting our ASVO lineups are as follow:
Scan the paired data from FantasyOMatic (FOM) and FanDuel for relative value among top 10 players across all position groups
Select a value-oriented quarterback and wide receiver (or tight end) stack, with the idea that successful QB/Receiver combos allow owners to cash in twice on the same touchdown
Pick a top running back, a top receiver and a defense from the remaining top 10 lists
Select as many FOM top 10 players as possible at each of the remaining open positions, without going over the $60,000 salary cap
So with that in mind, here are the top-ranked QBs for Week 9:
Well, Case Keenum feels a bit out of place sandwiched right there in between the likes of future Hall of Famers Drew Brees and Aaron Rodgers.
Yet, that's what the FOM algorithm dictates, so if there's a corresponding Rams receiver with which to appropriately pair him, we'll do it.
We also have Andrew Luck, Sam Bradford and Ben Roethlisberger as bigger name possibilities, so let's take a look at our receivers and start narrowing the field.
So, we have a peck of options to pair with Keenum, including WRs Kenny Britt and Tavon Austin as well as TE Lance Kendricks.
Kendricks has the highest overall ranking, but comparing tight ends and wide receivers is a bit trickier than a basic head-to-head appraisal. Each is averaging a similar number of targets per game, but Britt is regarded as the Rams' primary receiving threat. Moreover, this week's opponent, the Carolina Panthers, has a strong inside linebacking crew, led by Pro Bowl regular Luke Kuechly.
So let's go with a Keenum-Britt tandem, for the second time this year, if I'm not mistaken. Last time I think this dynamic duo might have broken fifteen points total (the key word being "might").
Oh boy. Feeling confident? Don't worry. Not your job. Leave that to the FOM algorithm.
Besides, look on the bright side, we'll have plenty of mullah to build out the rest of our squad.
Let's do it then by first selecting a top-tier receiver, running back and defense as ranked by FOM.
Lineup No. 1 Cont.
Here are the top ten FOM running backs in Week 9:

So, we're rolling with top-tier names, each of whom has a banner matchup, in RB Ezekiel Elliot (versus the lowly Cleveland Browns) and WR Brandin Cooks (versus our very own, equally lowly San Francisco 49ers).
In terms of defenses, here are FOM's top three in order: Philadelphia (@ New York); Kansas City (Jacksonville); or Minnesota (Detroit). Just like last week, the top-ranked defense is also the cheapest at $4,600. Philly has been great this season, so we're plugging them in.
Status Check
OK, we're well within budget parameters, despite Elliot's top-flight price tag.
To complete our ASVO slate, we just simply add the highest-ranked FOM players in all the remaining spots:
RB Todd Gurley is both the No. 2 running back and he's relatively affordable. Between Gurley and our Keenum-Britt stack, we've got more Rams than than a hole in the fence at the Ewe Sheering Convention.
But, one never knows; if the Rams go off, so will our lineup. Ram Jam. Ram Jam.
Diamond Dez Bryant rounds out our receiving corps and we're also plugging in top-ranked TE talent, Delanie Walker.
Our last slot is reserved for our kicker, and we appear to be in luck. New Orleans leg Will Lutz is both available and cheap ($4,500), and given his scoring potential versus the 49ers, he's a keeper.
There's one winner, selected via algorithm and with an eye towards value-based pricing.
With that lineup set, it's time to build our algorithmically-selected, non-value-oriented squad. We'll call it Lineup No. 2.
Creative, I know.
Lineup No. 2
Our ASNO (algorithmically-selected, non-value-oriented) lineup will feature the top-rated passer and receiver combo, regardless of price.
FOM's Number 1 passer this week (just like last week) is QB Drew Brees, and his Number 1 pass catcher, WR Brandin Cooks, also garners a Number 1 position mark. Number ones of the world unite!
Can't do any better than double ones (apart from triple sevens, but that's a different matter all together), so that's where we'll begin, with a Brees-Cooks stack.
For the time being, we'll stick with both Ezekiel Elliot as well as the top-ranked Philadelphia defense.
Pricey, but good. OK, here's how the remainder shook out.
Like prior weeks, there's ample cross over between our ASNO and ASVO lineups.
However, with the pricier Brees-Cooks stack as our foundation, we were forced to do a bit more bargain hunting to bring everything into form.
Instead of Dez Bryant, we're doubling down on New Orleans by inserting WR Willie Snead into the rotation. Kenny Britt is a holdover from Lineup 1, but we couldn't afford to also hang on to top-rated TE Delaine Walker.
Instead, we opted for the guy holding down the third spot in the FOM tight end rankings, Kyle "The Smile" Rudolph (by the way, I don't think anyone has ever been lame enough to put that in print… until now. Breaking new ground here. Exciting!)
With everyone in place, less our kicker, we've got $4,900 left in the hopper. After an exhaustive and ultra-scientific analysis of the available options, we went with Green Bay K Mason Crosby. Why? 'Cuz they're gonna score some points in that game, that's why. That, and Adam Vinatieri was too expensive.
Alright, we're on to Lineup 3, or as I like to call it, the True Grit Lineup. This is the roster selected on nothing but raw gut instinct, and it's fared well so far this year (minus last week's Randall Cobb disaster, of course).
Lineup No. 3
Can I just say, "Whoa, Dez. Whoa!"
OK, now back to the mature portion of this piece (as if that's not an oxymoron), our True Grit lineup shakes out like so:
Many of the faces are familiar ones, but I've thrown in a few hunches too.
As noted in this week's installment of Startable, Ownable, and Eyeable, I'm big on WR Dez Bryant. And you know I like Brandin Cooks going against the hapless 49ers D as well. That leave one final receiving slot, and I'm going to need to go "ahh, low budge".
I know. How about Torrey Smith?
Smith delivered for me in Week 6 against the Bills, but then followed with a rotten egg versus Tampa Bay.
Again, this pick is more gut based than anything (that and I obviously have an undying and statistically unfounded man crush on Smith), but what else could the 49ers have possibly been working on over the past two weeks if not ways to exploit the pitiable New Orleans secondary (please tell me that's what they were working on. Please!).
I say Smith gets four to five deep looks in this game, and that he slips a guy on at least one of them.
I'm going with Greg Olsen as my tight end, because… well, he's Greg Olsen, and nobody defines consistency at the position (don't look at last week) better than him.
At running back, I've opted for DeMarco Murray (or Ezekiel Elliot 1.0), again based on consistency, and Denver's Devontae Booker, based on anticipated workload (and the dreadful Oakland defense doesn't hurt either).
With our remaining $9,100 we went with the ever popular Lutz-Eagles combo, and… Boom! We have our last lineup.
Thank you, John Madden.
The Final Lineups
The Final Lineups
Three Week 9 teams are now in place, two algorithmically select (one value-oriented and one not) along with a hunch-hewn third:
I'll be out at Levi's Stadium this weekend, you know the place where Bay Area football fans go to have their spirits crushed on a regular basis.
If you see me out there, don't be afraid to buy me a beer. What? You don't know what I look like? No worries.
With the crowds this game is likely to draw, you've probably got a one in five chance of guessing correctly.
Best of luck this week on the daily tip, and although I can't say it with the usual gusto (or a straight face, really)… Go Niners!
This article originally appeared on