Fantasy Football Week 8: Monday Night Football Takeaways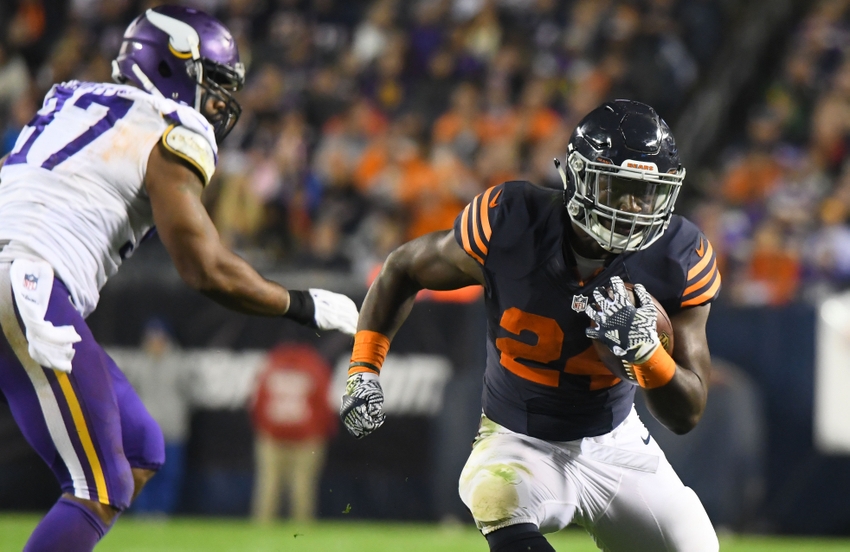 What were the major fantasy football takeaways from Monday Night Football with the Minnesota Vikings and Chicago Bears?
After starting the season 5-0, the Vikings are now on a two game losing streak. This team was once viewed as a Super Bowl contender but is now starting to quickly unravel. With that said, that's not the storyline here. At least not for now. This is about the fantasy football.
This biggest question mark going into this game was Chicago Bears quarterback Jay Cutler. What kind of Cutler were we going to get: the good Cutler or the bad Cutler? How was this offense going to look with him running it? Who were going to be his favorite weapons to target? Although we may not have gotten all the answers, we did receive some clarity about Bears offense as far as fantasy football goes.
Here's a look at the good, the bad, and the in-between from Monday Night Football's game between the Vikings and Bears.
The Good
Bears RB Jordan Howard (30 touches, 202 total yards, 1 TD) – Hey John Fox, remember in Week 7 when you gave Ka'Deem Carey more touches than this kid? Yeah, don't do that again. Howard made big plays from the get-go including a 69-yard run on his second carry of the game. He's the Bears best running back and has earned the right for 15+ touches a game. Let's just hope this Bears coaching staff doesn't attempt to turn this into some sort of committee with Howard, Carey and Jeremy Langford.
Vikings WR Stefon Diggs (8 receptions, 76 yards, 1 TD) – After not doing much of anything in four straight games, Diggs had it going on Monday Night Football. His receptions and yards were the most he had since Week 2 and he saw a whopping 13 targets. He has a good shot at producing back-to-back solid games with the Lions up next in Week 9.
Bears WR Alshon Jeffery (4 receptions, 63 yards, 1 TD) – After playing second-fiddle to Cameron Meredith over the majority of the last three games, Jeffery had his best fantasy game of the season. His 11-yard touchdown reception was his first of the season and the return of Cutler is promising for his particular outlook.
Bears TE Zach Miller (7 receptions, 88 yards) – A big reason Miller was pegged as a fantasy football sleeper back in August was because Miller and Cutler seemed like they had good chemistry. It didn't take long for these two to remind everyone of that in this game. Miller's 88 yards was a game-high and he led all the Bears in targets with 10. He'll be a mid-range TE1 as long as Cutler is under center.
The Ehh…
Bears QB Jay Cutler (20/31, 252 yards, 1 TD) – It kind of pains me to put Cutler under this category, because he played really well. Not to mention, he did it against one of the better defenses in the entire NFL. However, from a fantasy standpoint he wasn't even a top-15 quarterback this week. The fact is, Cutler will have more mediocre and bad weeks than top-five fantasy performances. Some owners will be tricked into starting him due to his strong arm and athleticism. Yet, there's a greater chance he loses you a fantasy week than win you one. Cutler under center is a bigger fantasy impact for players like Jeffery and Miller than about him.
Vikings QB Sam Bradford (23/37, 228 yards, 1 TD) – I don't want to go into much detail here because Bradford had a "blah" type fantasy performance, but that's pretty much every week. Even with six teams on a bye in Week 9, Bradford should be left on the waiver-wire.
The Bad
Vikings RB Matt Asiata (16 touches, 78 yards) – If you watched the game you know Asiata's on-the-field play was worse than what his stats say. It wasn't all his fault because the Bears defensive line dominated the Vikings offensive line. Yet, he had three carries from the Bears four-yard line or closer and couldn't punch it in. It was a disappointing day for Asiata in a game where he was the clear-cut No. 1 back for Minnesota.
Bears WR Cameron Meredith (1 reception, 24 yards) – Just like that, Meredith goes back to being fantasy irrelevant. Don't think this was just a "bad game" because this is more than likely the trend going forward. Unlike Brian Hoyer, Cutler prefers Jeffery and Miller over Meredith. When Eddie Royal returns from injury, there's a good chance he'll see more targets than Meredith too.
Vikings TE Kyle Rudolph (5 receptions, 31 yards) – Rudolph has cooled off since his hot start in the beginning of the season and couldn't get much going in this one. The bright side is he has five-plus receptions in four out of the last five games. He'll have better days ahead of him and still remains as a TE1.
This article originally appeared on