Dallas Cowboys can get to a Super Bowl if they do this…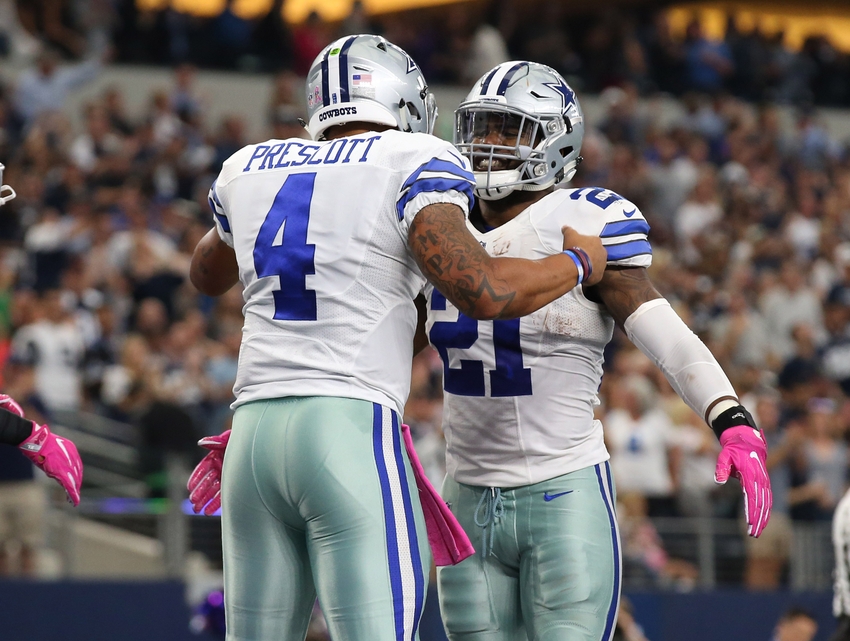 At 10-1 heading into December, there is one key outlier that proves the Dallas Cowboys are well on their way to a Super season.
With ten wins and just one loss, it's quite evident that the 2016 Dallas Cowboys qualify as a very good team.
The Cowboys have managed to earn a two game cushion within their division and conference going into today's games.  The are also sitting atop the perch with the best record in football, no matter what happens this week.
So, how have the Dallas Cowboys been able to right the ship after last seasons' depressing 4-12 campaign?
Well, having a healthy and capable quarterback surely has been helpful.
In 2014, quarterback Tony Romo finished second in the MVP balloting behind Green Bay's Aaron Rodgers.
That season, Romo completed a league-best 69.9% of his passes.  With just over 3,700 yards, 34 touchdowns and just 9 interceptions he was incredibly efficient.  Those numbers resulted in Romo leading the league in passer rating at 113.2
Last year, Romo was only capable of playing in four games due to injury.  The drop-off at the position was brutal.
Three Cowboys quarterbacks combined to complete just 61.8% of their passes.  They amassed just under 2,800 yards collectively, throwing for 11 touchdowns and 15 interceptions.  Those paltry numbers resulted in a passer rating of 75.9.
This year, again with Romo unavailable, the Cowboys have been guided at the quarterback by one steadying force.  Rookie fourth round selection Dak Prescott has done his best 2014 Romo impression.
Prescott is completing 67.9% of his passes for 2,835 yards.  He has a total of 23 touchdowns (18 passing, 5 rushing) and just five turnovers (2 interceptions, 3 fumbles).  His 108.6 passer rating sits just behind Tom Brady and Matt Ryan for best in the league.
The consistency at quarterback has not been the key factor, however, in this special season that is unfurling.  In fact, there is another aspect of this season that has not only contributed to the current standing but could also propel this team into a "Super" situation.
If the Dallas Cowboys are to take this ride 265 miles South on February 5, 2017, they will need to continue to take care of the football.
Currently, the Cowboys are tied for the third fewest giveaways on the season with just seven total.  It has certainly helped that both Prescott and fellow rookie running back Ezekiel Elliott value the ball.  Elliott has 267 touches so far and just one lost fumble.  Prescott has 381 combined passes and rushes with only five turnovers.
The other seven teams that comprise the five fewest turnover totals have a combined record of 57-25-1.
In fact, the next three best teams as far as records are concerned, also are in the top five in fewest giveaways.
Protecting the football is paramount to success, especially if you want to hoist that Lombardi Trophy at the end of the year.
Looking back through every season since 2010, at least one of the two Super Bowl participants have been in the top five in this statistic except for last year.  Teams that finish in the top five in fewest turnovers have a winning percentage of 65.3%
It's certainly no outlier.  Whether you want to get super deep or superficial, protecting the ball matters.  Ask anyone who watches football, religiously or randomly, to name the best teams of this decade and the answers are easy.
New England, Seattle and Green Bay quickly come to mind.
Well, the Patriots are ranked in the top five when it comes to fewest turnovers every year but one since 2010.  The Seahawks have done so the last four years, including this season. And the Packers have done so in five of the last seven years.
Each one of those teams have won the Super Bowl in that time frame.  Seattle and New England have each played twice in the biggest game of the year.
Can the Dallas Cowboys do so this year?
The chances are better than good if they continue to protect the football.
This article originally appeared on