Can the 49ers Actually Upset the Cardinals in Week 10?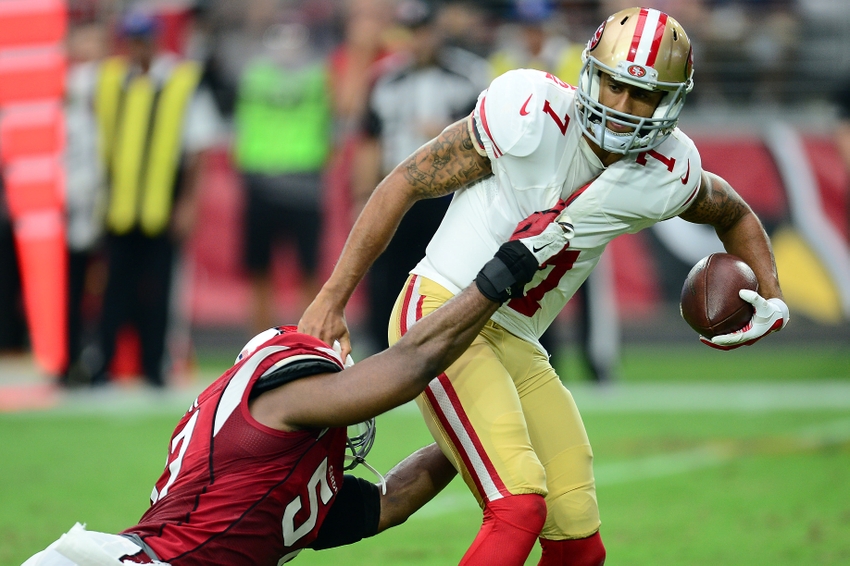 The San Francisco 49ers are riding a seven-game losing streak and have to visit the playoff-desperate Arizona Cardinals in Week 10. Despite the odds, can the Niners actually pull off some sort of upset?
The sensible answer is no — the San Francisco 49ers aren't going to beat the Arizona Cardinals on Sunday.
NFL Week 10: Survivor Pool Stone Cold Locks
There's a reason Odds Shark is listing Arizona as a 13.5-point favorite over the Niners right now. Even with the Cardinals' shocking 3-4-1 record (raise your hand if you predicted that this season), the margin between these two teams is about as wide as it gets.
San Francisco is riding a seven-game losing streak. The defense has allowed seven consecutive 100-plus-yard rushers dating back to Week 2. And the Niners offense, about as inconsistent as it gets, seems to be no match for an Arizona defense allowing the fewest all-purpose yards in the league (2,376).
But what if the 49ers won?
It's more than a stretch. Such a prediction is almost fantasy at this point. Yet what factors would go into a San Francisco Week 10 victory?
Let's take a look at what the Niners would need to do here.
The 49ers Run Defense
San Francisco's chances are going to come down to the running game. And it isn't as if we haven't heard that before.
Cardinals running back David Johnson torched the Niners for 157 yards and two touchdowns the last time these two teams met earlier this season. He's fourth in the NFL in total rushing yards (705) and will likely dominate the 49ers' last-place run defense.
So how do the 49ers stop him?
Factor in defensive tackle Glenn Dorsey, who received a heavy dose of snaps against the New Orleans Saints last week. His work there placed Dorsey as the team's best interior defender against the run, per Pro Football Focus.
That might help on interior runs. But Johnson gets to the outside as good as anyone. So, the next best way is going to be keeping him off the field.
A Slow-and-Steady Rushing Offense
Slow and steady, in terms of tempo. Not actual speed.
Week 10 mandates head coach Chip Kelly move away from his uptempo offense. If the Cardinals defense has one weakness, it's defending against the run. Arizona is 16th in the league, with 817 yards allowed on the ground. It's no mismatch, but the situation is about the only one in which Kelly's offense may have a slight edge.
No. 1 tailback Carlos Hyde (shoulder) remains questionable. But backup tailback DuJuan Harris might be a factor. Let him be one.
And don't get into the desire to hurry up to the line and run the next play in breakneck fashion. San Francisco needs to give its defense a rest. It's the best way to keep Johnson off the field.
Get WR Quinton Patton Involved
Let's face it, No. 1 wideout Torrey Smith isn't going to be much of a factor. And he'll be matching up with Cardinals cornerback Patrick Peterson most of the game.
With defensive back Tyrann Mathieu primarily operating out of the slot, quarterback Colin Kaepernick should try to target wide receiver Quinton Patton as much as possible.
Patton will be lining up against cornerback Marcus Cooper, who actually leads Arizona with three interceptions. But PFF has given him a 50.0 grade on the season. It's "feast or famine" for Cooper, and taking chances on him is likely the only way Kap will be able to effectively move the ball through the air.
Negate Chandler Jones & Markus Golden
Cardinals edge defenders Chandler Jones and Markus Golden have combined for 11 sacks on the season. They'll be prime weapons for Arizona's defense against the passing game.
In short, there isn't much of a way to simply stop these two. Kaepernick will have to get the ball out quickly and avoid the pressure he'll likely face.
That's not one of Kap's strengths, unfortunately, but short passes and factoring Harris into the receiving game might help keep the Cardinals' front-seven defense honest.
Even if the 49ers manage to pull off these elements to satisfactory results, the Niners will likely lose anyway.
It would take a herculean, mistake-free effort from San Francisco to merely keep this game competitive, let alone walk away with a win.
Maybe that's all we should wish for right now — an entertaining game. Signs aren't pointing in this direction, and we'll likely see yet another blowout.
But perhaps there's a chance. There's always a chance.
This article originally appeared on