Buffalo Bills' Center Eric Wood Will Not Return This Season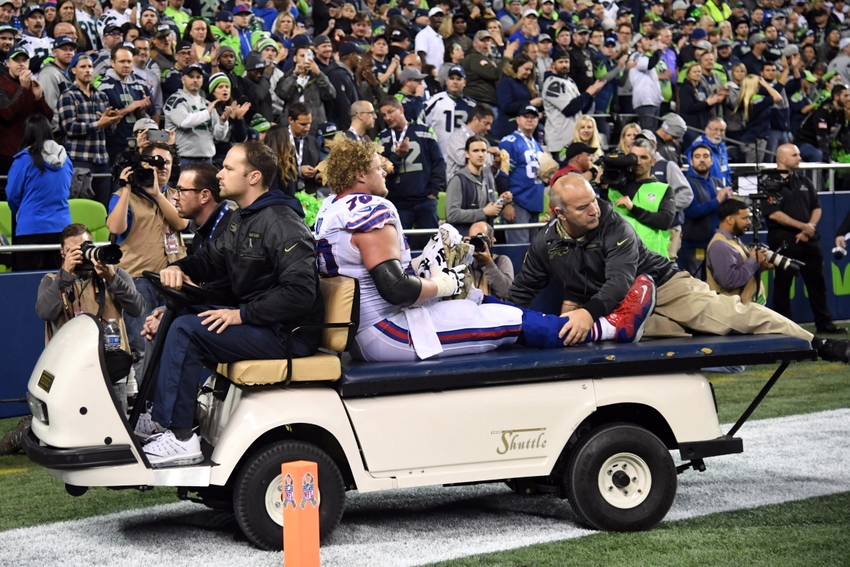 Buffalo Bills' starting center Eric Wood broke his leg during Monday Night's Seattle-Bills game and will not return this season.
The injury bug has haunted the Buffalo Bills each week this season and it stuck around for yet another injury, this time to Bills' starting center Eric Wood.
During the fourth quarter of Monday night's game vs. the Seattle Seahawks, Eric Wood broke his right leg on the same play that Mike Gillislee ran the ball for a one-yard touchdown. It was a crucial play for the Bills, who gave themselves a chance at a comeback victory, but would finish with a loss — both to the Seahawks and to Wood.
This isn't the first time Eric Wood broke his leg. It's an injury he sustained during his rookie season in 2009, after the Bills drafted the center in the first round (28th overall pick). It was Week 11 of that 2009 season when he suffered a gruesome fractured tibia and fibula in an 18-15 loss to the Jacksonville Jaguars.
Buffalo Bills vs. Seahawks Fantasy Football Passing Outlook
On Monday, it happened again to the same leg. However, Wood was quick to say that it wasn't as bad as the last one.
"I felt a crack and hoped it was just my ankle, like you can crack your ankle," Wood said. "Then I started getting some pretty intense pain. At that point I was hoping for a sprain, but I had a feeling it was broken when it happened."
Eric Wood has been one of the best centers in the NFL during his career with the Bills and was the perfect compliment to Richie Incognito and Cordy Glenn. With Glenn questionable the past few weeks with an ankle injury, the Bills are left with an even bigger hole now with Wood gone. Eric Wood hasn't missed a game in 3 years. Rex Ryan explained it perfectly:
"That's a really, really big blow to our football team," he said. "Eric really takes charge of that offensive line. Richie is a veteran player that I know can handle things. He's a sharp guy who studies hard, but it's going to be a big loss."
As for Wood's replacement, the Buffalo Bills have two options. Eric Wood seems to like the idea of Ryan Groy stepping up in his place. "Groy is a big, athletic guy. He played at Wisconsin. Good player. He played a bunch of guard for us and he played a lot in the preseason when Richie was out," said Wood.
Ryan Groy was who replaced Wood in the fourth quarter Monday.
The other option is Patrick Lewis, who hasn't seen any action this season. Rex Ryan likes the fact that Lewis knows the center position, but added that Groy is "a smart guy as well. It is going to be hard to replace a player of his caliber, but we have two guys we feel pretty confident in," said Ryan.
Eric Wood will continue to help this team out as much as possible. He is scheduled to have surgery on Wednesday in Buffalo and will start the recovery process ASAP. He has also committed to helping the offensive line in meetings and helping Groy and Lewis become better players.
Rex Ryan spoke with Wood after Monday's game and had a lot to say:
"He was really down. He wants to be here with this football team. He would do whatever it takes to come back and be ready to play. He knows the direction of the team we feel that it can go these next seven weeks. He feels terrible about it, not as much about himself and the injury, but about the team. He knows he's a big factor in our team and it was like he was more disappointed that he was letting our team down, which is ridiculous. He's going to bounce back from this."
We hope Eric Wood a safe, successful and speedy recovery from this broken leg. Whenever you return, you'll have a whole fanbase screaming your name.
For now, let's hope Groy or Lewis can step up in a big way and help give this team a chance for a playoff run. It's still possible.
Which injury this season do you think has affected the team the most? Leave your comments below!
This article originally appeared on