Buccaneers Report Card for Week 5 Win Over Carolina Panthers
The Buccaneers needed a win before heading into their Week 6 bye when they entered a Monday Night Football match-up against the Carolina Panthers this week.
The 2015 Super Bowl runner-up also needed a win as their 1-3 record matched that of the Buccaneers as both teams looked to keep in an NFC South race suddenly dominated by the Atlanta Falcons.
Against the Los Angeles Rams, the Bucs offense looked effective and scored enough to win the game while the defense just wasn't able to stop their opponents en route to their first home loss of the year.
Week 4 saw the Tampa defense keep the visiting Broncos in check enough to give their offense a chance to find a rhythm. They never did though, and this time it was Jameis Winston and his unit which had to take ownership for the home loss.
So here we were, watching a team with playoff aspirations limp out to a 1-3 beginning, and limping even more into this prime time match-up in front of the football viewing world.
So how did it go down? How did each unit fare? Let's take a look.
OFFENSE
The Buccaneers offense controlled the ball early and held the ball for almost the entire first quarter. Following a long scoring drive capped off by a Roberto Aguayo field goal and a three-and-out by the Panthers, Tampa held possession for over 13 minutes in the first 15.
At the end of the first half Tampa led 6-0 and had held the ball for nearly 22 minutes, but outgained the Panthers by only 11-yards.
Carolina came out of the half looking to take control of the game, but Winston was able to lead an aggressive attack answering the Panthers' second touchdown of the third quarter and tied the game heading into the final stanza.
While Derek Anderson and his group didn't help themselves with four turnovers on the night, Tampa was able to secure the ball and turned in their first turnover free effort of the 2016 season on their way to a not-so-pretty 17-14 victory to stay in second place in the NFC South.
For the game, the Buccaneers offense totaled just over 300 yards and went 6-for-15 on third down opportunities for the night.
They ran 16 more plays than their opponents but collected 99 fewer yards and went 0-for-4 inside the redzone.
Stats don't win games though, and they also don't lose them. Let's break this group down further….
QUARTERBACK
After two first quarter interceptions in the Buccaneers loss to the Broncos, the Bucs had to be happy with a 4-for-5 34 yard first quarter and a 3-0 lead at the end of the first quarter.
A second drive within scoring range was derailed by a false start on tackle Demar Dotson and a sack after the Bucs failed to read a corner blitz.
Continuing the running theme of the day Winston had just 19 passes through three quarters and entered the fourth quarter tied at 14 apiece.
The one touchdown score for the second year quarterback was a beautiful pass and came just a few plays after he'd overthrown the towering Mike Evans for what could have been a big play at a crucial time.
On the day he finished 18-for-30 with 219 yards passing and a 93.6 passer rating.
It wasn't a great day and it wasn't a bad day. Late in the game with the Bucs driving for a go-ahead field goal (more on that later), Winston threw what should have been an interception straight into the hands of Panthers' safety Kurt Coleman.
Had it not been for a great defensive play by Evans it would have been picked off for sure, and it may have given the home team just the momentum they needed to grab the victory.
In the end his team won, and despite his low numbers and low usage, Winston passes he just doesn't do it with honors.
GRADE: C
RUNNING BACKS
How many teams have a third-string running back who can come in and consistently move the ball down field against what is supposed to be one of the best defensive front-seven in the NFL?
Apparently the Buccaneers do and Jacquizz Rodgers began his first start on his new team by taking 13 carries 62-yards against the Panthers.
While he didn't hit pay dirt early, he was the biggest reason Tampa was able to take an early lead and got a shot at adding another field goal midway through the second.
Through three quarters Rodgers had 21 carries and Bucs running backs had 24 combined for 89 yards of offense.
Not game-breaking stats by any means, but better numbers than this team had seen all year prior.
It's not often the Buccaneers feature one of their running backs in their gameplan the way they did today. Even when Doug Martin is in the game he doesn't get the touches this play-calling gave to Rodgers.
In all, he took 30 carries for 101 yards and another five catches for 28. Rookie Peyton Barber got his first action of the year and chipped in six yards on three carries as well.
No scoring hurts the overall grade, but you have to admire the workload this little used running back crew carried, and the fact they never turned the ball over or hurt the team helps tremendously.
GRADE: C+
WIDE RECEIVERS
In a game where the Buccaneers came out clearly looking to lean on the running game, the wide receivers are going to be evaluated more by their blocking and ability to make the relatively few plays they're called to make.
On the first Bucs drive of the game receiver Mike Evans had a ball slip through his hands which would have put the offense in a 4th-and-short situation inside the redzone.
While not completely on Evans, it was a slow arriving pass which should have been delivered sooner, but it hit him in the hands and an NFL receiver is supposed to bring those in.
The Bucs offense got a little more aggressive in the second half taking chances against a lesser-experienced secondary than any they'll see all year.
A beautiful double-move by the aforementioned Evans resulted in an early touchdown connection with his quarterback to tie the game at 14 following a two-point conversion.
Some late catches by Vincent Jackson were a welcoming sight from a veteran player who had largely been absent during the team's three-game losing streak.
Evans clearly outperformed everyone with his six catches for 89 yards and a score, but the group combined for 136 of Winston's 219.
Grabbing the Bucs' only score of the game elevates a modest performance from the group, and Evans is the leader in this room again.
GRADE: B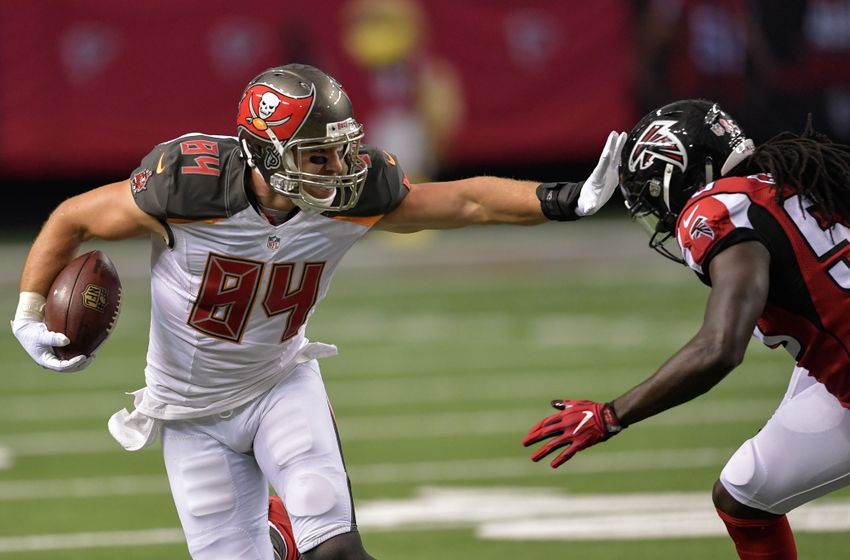 TIGHT ENDS
Cameron Brate was The Pewter Plank player spotlight leading up to the Buccaneers first and only Monday Night Football appearance, and he was also this week's "Gruden Grinder" entering this game.
The tight end group was used largely in blocking situations which limited their pass catching abilities significantly.
Tampa's number-one guy at the position was still able to make a mark on the stat sheet with 38 yards on his lone catch.
Brandon Myers added another catch for 12 yards and undrafted free-agent Alan Cross had the games first reception for five yards.
While the stat sheet may not gush with the blocking efforts this group added to the game, it was most often a tight end playing the traditional fullback role to help clear a path for Jacquizz Rodgers and his 101 rushing yards.
They were even seen quite often staying in-line to protect Winston who had been harassed the entire game in Week 4.
Blocking doesn't gain stats, but it helps get wins. The grades are for substance, not sexiness.
GRADE: B
OFFENSIVE LINE
Seems the Buccaneers offensive line was giving up hits and sacks more often than not in Week 4 and they were hammered for it on social media and in the mainstream media. Heck, even some in the fringe media (like me) even took to placing about 80% of the blame on this group for the loss.
Bottom line is this group can play better than they did, and they seemed to have gotten the message.
Sure, Carolina's pass rush hasn't been what it once was, but they're still a talented unit which requires solid play in order to keep from letting them wreak havoc in your backfield.
This unit led the way for a 100-yard rusher for the first time this year, and Winston was sacked just two times while getting hit just four.
A much improved effort by this group certainly helped this group get into the redzone four times on Monday Night, and helped get the franchise to 2-3 on the year with plenty of football left in the 2016 season.
Low hit and sack numbers means this group passes. Help from the tight end group keeps the grade grounded a bit, but it's an improvement at least.
GRADE: B
DEFENSE
A lot will be said about the Buccaneers defense not having to face Cam Newton who was forced to miss this primetime match due to a concussion he suffered at the head of Atlanta rookie Deion Jones.
However, it's important to remember just how bad this defense has been when they're bad, and just how good Panthers quarterback Derek Anderson has been against this team historically.
This unit was largely masked in the first half by the offense's ability to control the clock, but despite the fact Carolina held the ball for less than three minutes they still stacked nearly 150-yards of offense.
Yards don't score points though, and the Buccaneers secured their first – first half shutout since November of 2014. (credit to Greg Auman for the stat)
This defense came in to the second half and got punched squarely in the face. Two quick touchdowns were aided by a roughing the kicker penalty after the Panthers were forced to punt. Two plays later the team punched it into the endzone following a blown coverage against Greg Olsen and then bad angles pursuing running back Cameron Artis-Payne on his way to his second touchdown of the night.
Still the team won, and the defense had to come up somewhere didn't they?
DEFENSIVE BACKS
Buccaneers defensive backs have taken a beating on and off the field this season it would seem. Coming in against a receiver like Kelvin Benjamin looked like a recipe to fail if the Panthers could take advantage of a significant height advantage no matter where he lined up.
It was the secondary which was able to answer the call though, helped greatly by the ball control demonstrated by Tampa's offensive unit.
Rookie Vernon Hargreaves III showed great ball skills leading to a deflected pass which was then intercepted by linebacker Daryl Smith on a drive where Carolina looked to be getting into a rhythm.
The play of the game came from veteran Brent Grimes who seemingly floated in the air for what seemed like at least three seconds and came down with a corner pass intended for Greg Olsen who was looking to add a touchdown to his great individual performance.
When it counted the most, this secondary which had given up 234 yards through three quarters held the Panthers to just 44-yards passing on two drives by Carolina.
Both drives came up short, and both efforts kept the Bucs in it long enough to pull out the team's second victory of the year.
Giving up nearly 300-yards to a backup quarterback for a struggling offense doesn't help things, but there's a boost in the grade for locking down and Grimes' gravity defying interception. Keeping the talented offensive group out of the endzone when it really counted raises their grade a bit as they were playing with zero pass rush in front of them.
GRADE: B-
LINEBACKERS
This Carolina Panthers had to come in respecting the talented linebackers, and this was evident by their lack of attempts in the middle of the field on Monday Night.
Greg Olsen is one of the game's most dangerous tight ends, but none of the passes thrown his way were in the middle of the field where Kwon Alexander and Lavonte David patrol regularly.
Daryl Smith's interception off a tipped pass in the second quarter ended the Panther's first look at a scoring opportunity, and a perfectly timed hit by Alexander helped prevent a touchdown catch by Olsen at the end of the first half. The second of those plays led to a missed field goal as the Bucs took a 6-0 lead into the half.
In the second half it was less of the same. Greg Olsen consistently and constantly terrorized the middle to deep area of the field being tailed by Alexander more often than not, and torched the Bucs defense for nearly 200-yards receiving.
The linebacker unit accounted for just 14 of the teams 55 tackles and failed to make any real game-changing plays.
Getting abused by Greg Olsen isn't exclusive to this group, but the game felt like it was one play to the tight end away from turning onto a Carolina axis all night long.
No sacks, no QB hits reported and no tackles for a loss drop the grade below average. Daryl Smith's interception when the Panthers were driving gets a strong "A" to boost the overall grade, but it still isn't where we'd like to see them.
GRADE: C
DEFENSIVE LINE
We should all stand and applaud the effort turned in by William Gholston, DaVonte Lambert, Akeem Spence, Channing Ward, Noah Spence and John Hughes.
A unit completely decimated by injuries came into this game missing their two best players as Gerald McCoy and Robert Ayers sat out with injuries.
Even the team's second defensive tackle was out as Clinton McDonald suffered from the injury he picked up as well.
Down to undrafted free-agents, third string players and a rookie fighting through an injury which normally takes weeks to heal from, this group gave a valiant effort throughout the game.
Able to get little to no pass rush the defensive line just couldn't muster anything resembling a disturbance to Derek Anderson who regularly had time and a clean pocket to throw from.
Injuries aside, this unit still needs to find ways to get pressure. It's what they're paid for. Unfortunately, they didn't, and while the effort was great, the result simply didn't get it done.
Zero sacks and no QB hits combined with surrendering 130 yards rushing on 23 carries and the Panthers' only two touchdowns of the game drives their marks down.
Escaping with a win gives this team two weeks to get healthy up front and a chance to improve in Week 7.
GRADE: D
SPECIAL TEAMS
Bryan Anger was Bryan Anger, and his five punts with an average of 45 yards each are just more of the same for what has been a savior at the punter position.
Two more punts pinned the Panthers inside their own 20-yard line and helped a defensive unit suffering from several significant injuries entering Week 5.
He got his group a solid B, which is to be expected.
Also to be expected were struggles from rookie field goal kicker Roberto Aguayo.
The second-round pick entered the game struggling on the year and hadn't done much to earn the support of a fan base still reeling from his high selection.
After making an early kick to give his team an early 3-0 lead he went on to miss two more leaving the Buccaneers locked in a 14-14 tie as the clock wound down.
Following his second miss of the game, I asked NFL Network's Steve Wyche for his opinion on what the Bucs should do in light of Aguayo's struggles. His response is below:
I would be lining up auditions tomorrow from the GM booth right about now…would have started awhile ago https://t.co/WDCmcZMu77

— Steve Wyche (@wyche89) October 11, 2016
Perhaps the ultimate insult to the young man was Ron Rivera's use of timeouts with the Bucs looking to move into game-winning field goal range seemingly telling the world he didn't believe they'd be able to get in range, and make the kick if they did.
He proved them – and some Bucs fans – wrong though and drilled a game winner from 38-yards.
The game winner is our equivalent to a final exam. It won't get you perfect marks by any means, but it turns a failing 1-for-3 effort into a passing 2-for-4 with the weight the last test held.
Still not good enough to quell the masses, but he lives for another day and will get a couple weeks to try and fix whatever mental illness is ailing him these first five games of his budding career.
GRADE: C
THE END
The Buccaneers got the win against the defending NFC Champions, Super Bowl Runner Ups, and defending NFC South Champs. They did it on the road and in primetime as well.
Winning is good and while we aren't grading the coaching staff there are sure to be some questions upcoming for some of the play-calling which occurred late in the game.
No "A's" in this one, but it's not necessary to get the highest every week and still come out on top.
Panthers fans will certainly be wondering if they're group gave one away here as they fall to a dreaded 1-4 mark which sounds miles and miles apart from the 2-3 the Bucs now stand at.
Still firmly in second place in the NFC South, the Buccaneers enter their bye week looking to get healthy and still gratefully in the playoff chase in the NFC.
A somewhat easier schedule awaits them beginning in Week 7 against the San Francisco 49ers, but the road trip to the west coast will certainly add a wrinkle to this game. Of course, no week is a give-me anyway.
How did you grade your Buccaneers team this week? Where do you see improvement, if any, and where do the biggest concerns lie in your opinion?
Join the discussion below or on Twitter.
This article originally appeared on