Buccaneers: Five Options to Cure the Need for Speed
Michael Horan/FanSided via The Pewter Plank

Fansided
For what feels like an eternity the Buccaneers offense has lacked a legitimate speed threat at the wide receiver position. With Jameis Winston headed into year three it's critical that the team figures out a way to solve their speed woes, and here are five options.
"Speed" feels like a vague and simplistic way to sum up the woes of the Buccaneers passing attack. After all, speed is only so useful on its own. Kenny Bell had speed, and Tiquan Underwood had speed, and so too did Dexter Jackson. Certainly there are teams in which raw speed can be useful, but the Bucs need just a bit more. A better word for what they lack might be "electricity".
In the two years since Jameis Winston was drafted the young signal caller has had exactly zero receivers that could take a short pass, make one or several people miss, and then activate their 4.3 speed to burst into the end-zone. They've had some respectable wheels in the forms of Freddie Martino and Donteea Dye, but nobody with any kind of juice to pair with that speed.
This is not breaking news to any observer of the Bucs, so you can be sure that the front office is aware of the issue. In fact, Dirk Koetter directly addressed the issue in his end-of-season press conference when asked if the team needed more play-makers.
We need more speed and when we say playmakers, playmakers and explosive plays are one in the same. Guys that can make explosives, guys that can catch a 10-yard pass, break one tackle and turn it into a 30-yard gain. Our run after the catch is not where it needs to be. And again, anything that we're saying here is not an indictment on the guys we have because the guys you have are the guys you have and you've got to coach the heck out of them. Once again, it goes back to the thing I said in the beginning, I think this team did a good job of playing as close to their talent level. That's a hard thing to judge, it's not an exact thing. In my opinion, we played close to our talent level."
Koetter and the Bucs clearly understand the limitations of their offense, so we should expect them to make "speedy/athletic play-maker" a priority this off-season. Here is a look at five potential candidates for them to look at.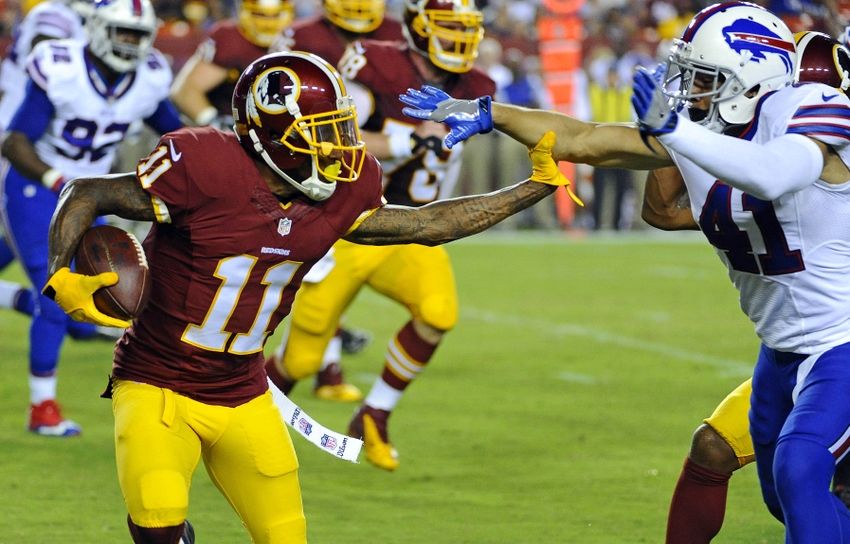 DeSean Jackson
Since the day that he was drafted DeSean Jackson has been the most electrifying speed threat in the NFL. Jackson was drafted by the Eagles and played six seasons in Philadelphia before joining the Redskins in 2014, where he would continue to roast defensive backs for three seasons.
Jackson played 15 games in the 2016 season and recorded 56 catches, 1005 yards and 4 touchdowns. He wasn't ranked favorably by Pro Football Focus (36th), but he still showed off his trademark speed and had five games of at least 100 yards (and another with 96). Jackson would instantly be able to open up space for Mike Evans and Cameron Brate to operate in and would add a new set of hands to run the screens that they like to feed to Adam Humphries. Jackson is also capable of returning punts and kicks, which is something that the Bucs need desperately.
Jackson is 30 years old now and just completed the final year of his Redskins contract making him a free agent. His age and relatively modest production makes him both a potential bargain and a risky purchase. On one hand Jackson has still shown a high ceiling, but on the other hand he's been prone to disappearing for stretches of time.
John Ross
When you turn on video of Washington wide receiver John Ross it's easy to envision the Bucs falling in love with his skill-set. Everything that the Bucs passing attack lacks can be found in Ross, who is expected to be the fastest receiver in this draft and has drawn comparisons to DeSean Jackson.
Ross played two quiet seasons at Washington before breaking out as a junior last season. In 2016 he registered 81 catches, 1150 yards, and a staggering 17 touchdowns. With Ross the Bucs would have a long-term solution to their speed woes, something that a 30-year-old veteran couldn't provide. Ross is among the top graded receivers in this draft, so the Bucs would need to invest a first round pick if they wish to enlist his services.
For a closer look at Ross, check out the video above, and read this scouting report from David Harrison with the Pewter Plank.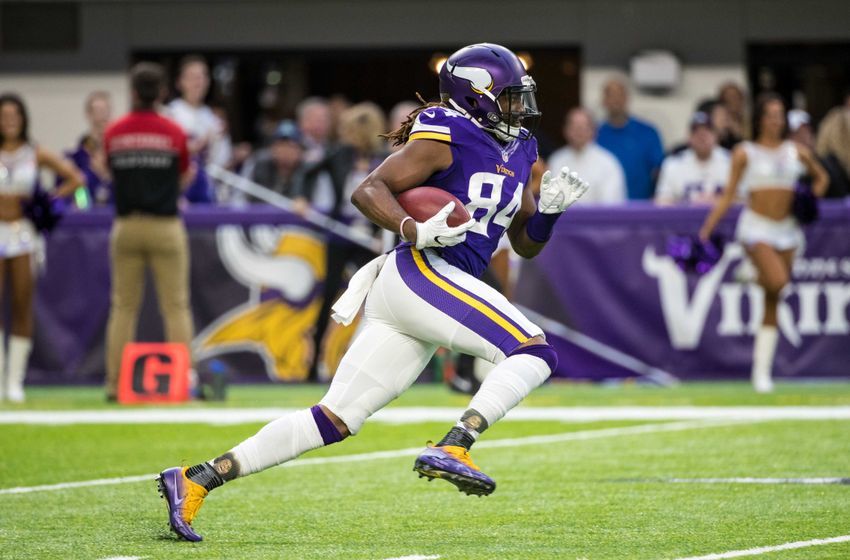 Cordarrelle Patterson
So far we've seen two different receiving options for the Bucs: the cagey old vet looking for one more contract, and the sweet summer child who is entering the draft. As always, there's a potential middle ground here, and that's Cordarrelle Patterson. I mentioned earlier that the Bucs needed "juice" along with speed, and of all the players on this list, Patterson runs with the most juice.
The Minnesota Vikings drafted Patterson 29th overall out of Tennessee back in 2013 and for the most part he's disappointed as a receiver. In four seasons he has just seven touchdowns and has never eclipsed 470 receiving yards or 52 catches. Sounds like someone the Bucs should stay away from, right? Not necessarily. While the 25-year-old Patterson isn't yet a top-notch receiver, he uses his ridiculous talent as an open field runner to be among the very best kick returners in the NFL.
Cordarrelle Patterson ????????:

101 yards UNTOUCHED to the house and busts out the Prime Time high step. #SEAvsMIN

— NFL (@NFL) December 6, 2015
The Bucs' lack of speed extends further than just their receiving corps, as they have one of the least impressive punt and kick return groups in the entire league. This has been the case for much of the Bucs existence and Patterson would instantly help cure those woes. For a team that seems intent on fixing its special teams, Patterson seems to be a player that would catch their eye.
In 2016 Patterson led the NFL in return yards per kickoff and was elected to both the Pro Bowl and All-Pro teams as a returner. He also made the "Pro Football Writers of America" All-Pro team as a kick returner. While Patterson is a bit of a risk because of his lack of receiving production, his raw talent and ability to make ten into thirty would allow the Bucs to get much more creative on offense, and he would fill a void that's existed for almost every season since 1976.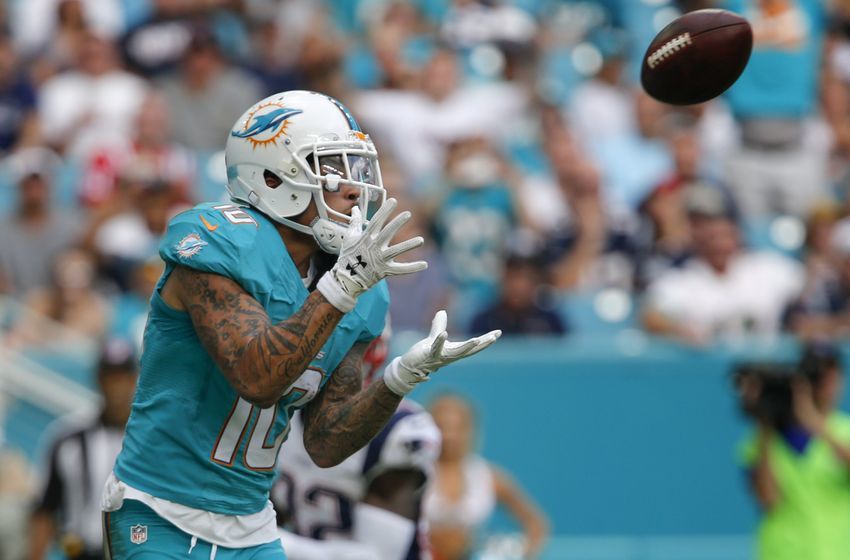 Kenny Stills
Like Cordarrelle Patterson, Stills is the ideal free agent. He has experience in the league after spending two seasons in New Orleans and two in Miami, but is still just 24 years old. Stills has been a home run threat since he came into the league with the Saints, and he's shown flashes of being a quality second or third receiver for a team.
Stills scored nine touchdowns last season with the Dolphins despite being behind both Jarvis Landry and DeVante Parker in target shares. He averaged 17.3 yards per catch, and had a 74 yard touchdown, which is significantly further than any Buccaneer receiver scored from in 2016.
With Stills the Buccaneers are getting not only speed, but the ability to run routes and get open, and also make tough catches in traffic (seen above). Stills does however have some history with drops and it's always curious to see two teams give up on a player, but his skill-set overall really fits in with what the Bucs seek. He'll likely come at a very affordable price, particularly for the cash-drowning Bucs.
Kermit Whitfield
Preexisting experience and chemistry with your quarterback is always an asset when looking for wide receiver help, and Kermit Whitfield has exactly that. Whitfield played four seasons at Florida State, including two with Buccaneer quarterback Jameis Winston.
The 5'8 Whitfield saw his best season come in 2015 when he recorded 57 catches, 798 yards, six touchdowns, and a scoring play of 70 yards. He also scored three rushing touchdowns and can be utilized a lot on screens, end-arounds and other plays close to the line of scrimmage.
As far as raw speed goes, Whitfield can measure up with anyone in this draft, including John Ross. Whitfield has been among the fastest Noles since he was a freshman, and has made explosive plays as both a returner and receiver. Whitfield's 4th quarter kickoff return touchdown in the 2013 National Championship was the most noteworthy play of his collegiate career, and also the best example of his electrifying speed.
While Whitfield would be a fun addition, he would by no means be the lone solution to the Bucs passing game woes. The most ideal scenario would be pairing Whitfield with one of the four previously mentioned receivers.
This article originally appeared on