Bengals 2016 Defense: Is There A Character Flaw?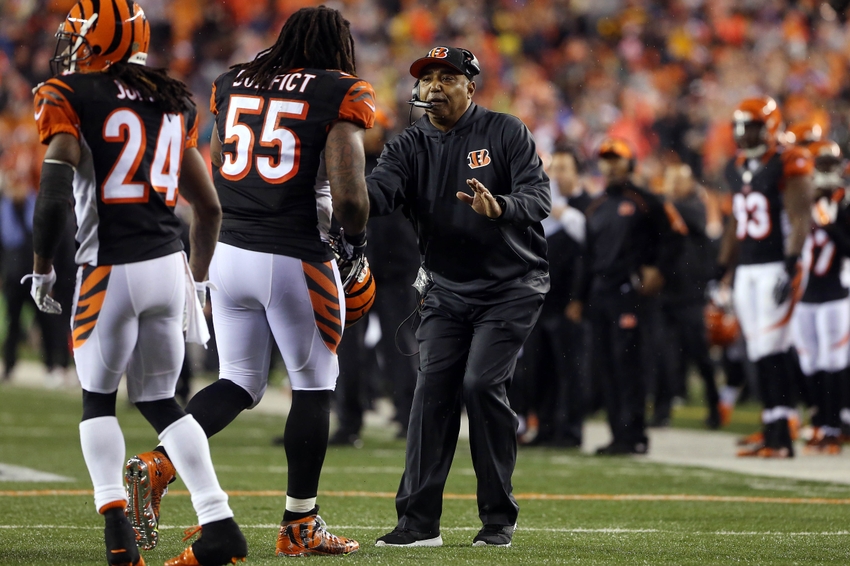 Previewing the Bengals 2016 defense is less about the new players and new depth chart and more about them conducting themselves in a professional manner.
All the talent in the world cannot overcome the character flaw on the Bengals Defense in 2016.  Schematically, with Marvin Lewis as head coach, the Bengals defense will always be solid.  Yet, with managements liberal policy toward players with questionable history (Adam Jones, Vontaze Burfict) the Bengals defense is also always unpredictable. 
Generally, it only takes one bad apple to spoil an entire bushel.  Unfortunately for the 2016 Bengals, there are two rotten apples and they are both on Defense.
Previewing the Bengals defense this year is less about the new players and new depth chart and more about them conducting themselves in a professional manner.  When this defense puts forth the effort to be professional they make a city proud.  Yet, when they allow emotion to run unchecked by selfish men they look more like a sad representation of what's wrong with America.
Character Over Talent
Why have the New England Patriots won multiple recent championships and the Bengals have won none?  There are many reasons: easier division, reliable QB, and great drafting.  Even above and beyond all that, they have made character a hallmark of their roster.  In cases where the Patriots have chosen players like Randy Moss, they have also made it clear what they expect from them.  When the Bengals have taken troublemakers like Jones, it has been clear they have no fear of Bengals management.
When Jones makes idiotic Instagram posts or Burfict acts like a crazed lunatic, they do so without fear of repercussion.  Before promising young players become infected by those self-centered, immoral and immature players the Bengals D needs immediate surgery.  Allowing Adam Jones to be a Captain and rewarding Burfict with a prime spot on the team sends the wrong signals.  The history of both men proves that they cannot be trusted.  Instead of celebrating them, the Bengals should have cut them immediately following last season.
If the Bengals are serious about winning they need to do two things: cut Adam "Still Being Pacman" Jones and cut Vontaze Burfict immediately.
First Line of Defense
The Bengals defensive line has been a masterpiece to watch over the last few years. The four-headed monster of Carlos Dunlap, Domata Peko, Geno Atkins and Michael Johnson will continue to paint the field with the blood of opposing offenses this year as well.  With new Defensive Line coach Jacob Burney vowing to increase the rotation on the defensive line, there should be fewer injuries and fresher legs all year.
The only weakness in the interior could be Peko who seems to struggle in run support at times.  Even so, the Bengals have Marcus Hardison and Andrew Billings to rotate in throughout the year.  Look for better production from Peko all around as he has the ability to stay fresher, longer.
On the edge, Michael Johnson is the weaker link but has the athletic ability to adapt.  Carlos Dunlap is a beast that will require constant chipping and double teams.  The extra help for Dunlap will allow Johnson many opportunities to make plays on the edge.  In 2012, Johnson looked like an athletic marvel and has a chance to regain that look this year opposite Dunlap.
With a revamped secondary the Bengals D will need defensive ends to push up the field and force early throws.  Expect an exciting year from the Bengals Defensive Line, inside and out.
Back That Thing Up
Love him or hate him for the immature, self-centered play, Vontaze Burfict is a force of nature in the Bengals linebacker core.  If Burfict can stay healthy and on the field there is no limit to the stats and impact he can have this year.
When teamed up with Karlos Dansby and Rey Maualuga, the Bengals have a solid core of Linebackers.  So, if the Defensive Line holds blocks and pushes up field the skill and athleticism of Dansby, Maualuga and Burfict will be on full display.
Maualuga isn't necessarily spectacular in any one area but he is overall reliable and consistent in effort and energy.  Dansby sometimes will disappear in the Run game but Burfict more than makes up for any liability Dansby may have.  Yet, it is in Pass Coverage where Dansby excels.  He covers Running Backs and Tight Ends with ease and is athletic enough to cover Wide Receivers in short bursts.
Guys like rookie Nick Vigil and veteran Vincent Rey will have to step up while Burfict is suspended. If they can prove worthy, both could be key to a fresh rotation as the playoff push comes down the wire.
The Secondary Could Be Primary
The Bengals defense is familiar with having a reliable, solid front seven, but not a secondary that has question marks.  Even with a healthy William Jackson III, this secondary would be the only true question mark on a top-5 defense.  However, WJ3 is injured and Leon Hall isn't walking through the door.  So, the Bengals are forced to rely on an ever-older and unpredictable Jones on the outside along with a few promising, young CB's.  If Jones can keep his emotions in check and continue to be stout on the outside in run support, getting big plays against the D could be difficult.
Darqueze Dennard, Chris Lewis-Harris, and Josh Shaw all have chances to make noise alongside Dre Kirkpatrick who needs to step up or get out this year.  Kirkpatrick has tons of talent and ability but in many ways has underperformed when compared to league averages.  Without Leon Hall to lean on, the improvement of Kirkpatrick is paramount to this season for the Bengals.  The good news is that there should be a solid rotation in this secondary.  That leads to fresh legs come playoff time.
If the 2016 Bengals cornerback squad can limit surrendering negative big plays the Bengals safeties will have chances to make positive big plays.  Shawn Williams has the experience and development to make him ready as a Starter at SS. On the other side, George Iloka and his long arms will have plenty chances to make big hits and break up passes.  With no true shutdown cornerback this year, Iloka will be trusted to make good decisions and get his body in position to break up passes.
Character, Character, Character
The Bengals have a real chance to be in the Super Bowl this year.  While the coaching staff and players can't plan for injuries they can plan to conduct themselves as "adults and professionals."  If there are players that become penalty prone, have off-field troubles, or are insubordinate they need to be cut or benched for more reliable players.
Consequently, there is no time to play around with a championship opportunity. This defense is more than capable of controlling the line of scrimmage to make the Bengals a Super Bowl contender. Therefore, there is no reason selfish players should be allowed to destroy a championship run.
Playing defense in the NFL is as much about the mind as it is the talent. The Bengals defense in recent years has been full of talent. But, they imploded last year because of a failed mental approach.
This year, the same two players who sank last season are being trusted as leaders for this defense.  For Cincinnati to become a championship city again they must anchor themselves on character, not who talks the most smack.
In 2016, if the Bengals defense can be Top-5 as expected there is a very real possibility that Who Dey Nation takes over this year's Super Bowl.
This article originally appeared on