5 Bold Predictions For Seahawks at Patriots in NFL Week 10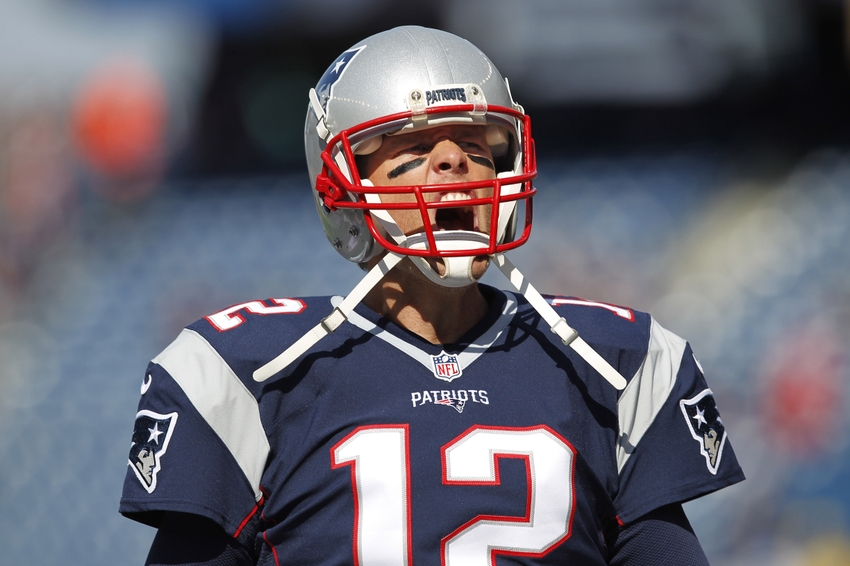 The Seattle Seahawks and New England Patriots will face off in Week 10 as the 2016 NFL campaign starts to hone in on the next owner of the Lombardi Trophy.
On Sunday Night Football, the Seattle Seahawks head east to do battle with the New England Patriots in one of Week 10's top matchups. It's sure to be an exciting showdown between two annual contenders.
More importantly, this will be an excellent opportunity for both of these squads to prove they're ready to stand toe-to-toe with the best of the rest. The Patriots have seemed unstoppable since Tom Brady's return, while the Seahawks are staying relevant with some hard-earned victories.
No matter how you feel about these teams, it's hard to ignore the fact they're both on the right path at this moment. That makes putting some bold predictions for their Week 10 battle all the more interesting.
Just remember, though, that these are meant to push the limits of logic. They're meant to give you some food for thought as well as entertainment leading up to the game, as compared to making realistic predictions for the game. Don't take them all too seriously.
With that in mind, here are my five bold predictions for the Seahawks-Patriots game in NFL Week 10.
Christine Michael Amasses 100+ Rushing Yards
Okay, I'll admit this isn't the boldest of predictions. Christine Michael did break the 100-yard mark earlier this season and the Patriots are technically allowing just over 100 rushing yards per game in 2016. However, it is Christine Michael after all. And that one 100-yard game was against the San Francisco 49ers, who have by far the worst run defense in the league this year.
The former second-round pick has had a tumultuous NFL career up to this point. Heck, the Seahawks released him last season, seeing two short stints with other teams before landed back in Seattle. And now, he's the leader of their ground game–at least until Thomas Rawls finally gets healthy.
Anytime someone can run for that many yards behind the Seahawks offensive line, it's an accomplishment. The Patriots do boast a middle-of-the-road run defense, though, so it isn't completely crazy.
Michael may not be the perfect replacement for Marshawn Lynch, but Seattle could have done worse. A strong showing against New England will keep his arrow pointing upwards.
Jabaal Sheard Racks Up Three Sacks
While the Seattle rushing attack is flourishing, Russell Wilson and the passing game will struggle behind one of the NFL's worst offensive lines. In fact, the Patriots' top pass rusher, Jabaal Sheard, will find a way to drag down Wilson a total of three times.
Even with Bradley Sowell expected to step back into the starting lineup, it's not going to be an easy day for Seattle at left tackle. Sheard is an underrated asset for the New England defensive line, and currently leads the team with 3.5 sacks. Sowell is coming off an ankle injury and will definitely be busy shaking off the rust.
That won't bode well for Russell, who's already taken a pounding this season. Sowell may be a better starting option than George Fant, but Pro Football Focus has them both ranked among the worst offensive tackles so far in 2016.
The Patriots haven't done a great job of getting after opposing quarterbacks this year. However, that's all about to change with how porous the Seattle front five is.
Seattle D Picks Off Tom Brady Twice
Tom Brady is bound to have an off game at some point this season, right? Well why not against one of the NFL's better defenses that includes some of the top defensive playmakers in the league?
Yes, it's true that the Seattle pass defense has seen a significant decline this season. They're currently ranked 10th, which is a big step down from their dominance of the past few campaigns. However, they're still capable of making elite quarterbacks look average from time to time.
Especially with Kam Chancellor apparently set to return (via Seahawks.com), the Seahawks have the ability to slow Brady on Sunday. As I'm predicting, they'll even go as far as picking him off twice. Now that's a bold prediction in it's own right, but it's even bolder when you consider Boston's golden boy hasn't thrown a single interception this year.
It has been a relatively rough campaign for the Seattle secondary. They've only hauled in six interceptions through eight games, which is a bit surprising for Richard Sherman and Co. That number will see a significant boost in Week 10, though. This one is sure to be a must-watch showdown. However, when all is said and done, the Legion of Boom will get the best of Brady.
Patriots Fail to Score More Than 20 Points
Since Brady's return from suspension, the Patriots haven't scored fewer than 25 points in a game. In Week 10, that will change with the Seahawks coming to town.
While the aforementioned struggles of Brady will play a part in it, it'll actually come down to the overall stout play of the Seattle defense. It's currently ranked eighth in the NFL in yards allowed per game, but has proven more than capable of slowing some of the league's best offenses. They held the Atlanta Falcons and Arizona Cardinals (two of the Top 10 offenses) to 24 and six points, respectively. Especially in regards to containing the red-hot Falcons, that's an impressive feat.
So why couldn't they hold the Patriots under 20 points?
It'll take an excellent effort against Brady, especially with players like Julian Edelman and Rob Gronkowski currently hitting their strides. Even when the passing game isn't working, someone like LeGarrette Blount or James White finds a way to keep the ball moving on the ground.
Still, we know the potential this Seattle defense possesses. A few big plays and timely turnovers will allow them to keep Brady and the rest of the New England offense at bay.
Seahawks Pull Off Shocking Upset On The Road
Not many people think the Seahawks stand much of a chance against the Patriots, especially with the way both teams have been playing as of late. However, I'm predicting Seattle will find a way to walk away victorious in Week 10.
Between the impressive showing from Michael and the turnovers by Brady, the Seahawks will work hard to gain an edge. Wilson will obviously make some plays even with the excessive pressure, which should allow the Seattle offense to score just enough to overcome Brady and Co.
As we've seen this year, the Seahawks are more than capable of putting together a dominant performance. We've also seen them crack under the pressure, as they have on numerous occasions. Just ask the Los Angeles Rams and Cardinals.
Still, this is a team worthy of contention. Especially with Jimmy Graham getting back to pre-injury form and the defense loaded with playmakers, anything can happen when Seattle suits up on Sundays. It's going to come down to the wire. One of those Brady turnovers in the final minutes of the game, though, will seal the deal for the Seahawks.
This article originally appeared on