49ers vs. Seahawks: What San Francisco's Offense Needs to Do in Seattle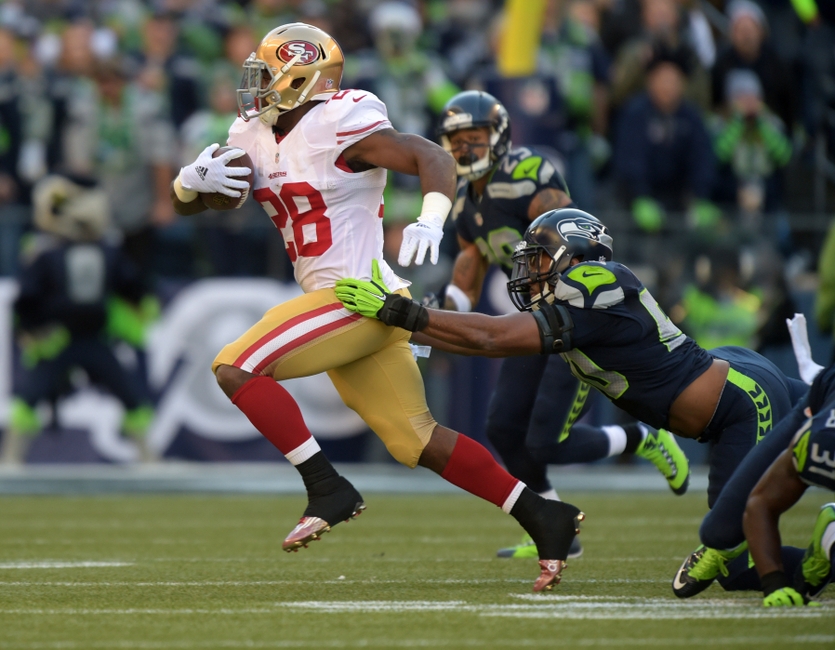 The San Francisco 49ers face a tough challenge as they take on the Seattle Seahawks at CenturyLink Field in Week 3. While Seattle's offense is struggling, its defense is still top notch and presents a challenge for Niners quarterback Blaine Gabbert and Co.
The San Francisco 49ers have yet to face a bottom-tier defense in 2016. And their Week 3 bout against the Seattle Seahawks won't make things any easier.
The 49ers Pass Rush Could Experience a Boost Against Seahawks Shaky Offensive Line
San Francisco takes to the road to face its NFC West rivals at CenturyLink Field, where the Niners haven't won since 2011. Many a 49ers offense has faltered here. And with the Niners still struggling to find any consistency on the offensive side of the ball, one might expect this trend to continue.
Perhaps. But San Francisco does have some advantages on its side.
The Seahawks offense has been atrocious over two weeks. Quarterback Russell Wilson and Co. have mustered just one touchdown over two weeks. The offensive line is in shambles, so it's reasonable to assume Seattle won't have too many extended drives on Sunday.
So that means a few more possessions for a Niners team, which currently sits ninth in the NFL with 46 points scored, right?
Let's hope so. But let's dive a little deeper into what San Francisco's offense should do in order to have a chance to pull off an upset.
Evaluating Seahawks Defensive Weaknesses
In short, there aren't too many.
Despite having one of the worst-ranked offenses in the NFL, the Seahawks defense still holds the No. 1 rank in points allowed (19) and yards against (497).
The defense has yet to generate a turnover, so the 49ers hope they can keep that trend going.
But Seattle's defense currently ranks second in the league with eight sacks. Pass-rushing defensive end Frank Clark leads the Hawks with three QB takedowns, but the pressure could come from almost anywhere.
Fortunately, the Niners offensive line has performed exceptionally better than it did a year ago. This unit has allowed two sacks over two weeks. San Francisco had already allowed six entering Week 3 back in 2015.
So look for that to be a primary matchup.
Rookie defensive tackle Jarran Reed and veteran DE Cliff Avril haven't played particularly well this year, per Pro Football Focus, and have a zero-to-100 scale score of 48.1 and 42.0, respectively. Maybe the 49ers focus their protection schemes against linebackers K.J. Wright and Bobby Wagner instead.
Seattle's secondary is, well, still an elite unit. Only safety Earl Thomas (45.2) has a PFF grade below 70 out of the Seahawks' starting secondary. But the 27-year-old five-time Pro Bowler can't be judged simply by this two-week evaluation.
Offensive Game Plan
San Francisco's offense doesn't have enough playmakers to dominate on offense. So quarterback Blaine Gabbert and Co. can't afford the kind of costly turnovers, which cost them a chance to sneak away from Carolina with a victory over the Panthers last week.
No In-Editor Preview for 120 Sports Videos
Video Details
ID: 202899402
Source: 120 Sports
This means ball control, smart decisions and cautious aggressiveness. While small, Gabbert's history against the Hawks (one game) is pretty good. The last he faced Seattle, Gabbert went 22-of-34 for 264 yards and a touchdown against zero interceptions — a passer rating of 98.2.
The Niners would take that kind of performance again. But they'll need more.
Wide receiver Torrey Smith is the lone deep threat the 49ers have. While getting him involved will help, the better consequence will be to open up plays underneath as the Seahawks defense is forced to respect the deep ball.
If Smith can adequately draw some coverage down the field, tight end Vance McDonald might emerge as an X-factor. McDonald has touchdown receptions in back-to-back games, and it's looking as if his troublesome hands are a thing of the past.
Let's hope so.
But it's all going to start on the ground with running back Carlos Hyde.
Hyde's Week 1 smashing of the Rams came to a quick halt in Week 2 against the Panthers. Carolina bottled him up for a mere 34 yards on 14 carries, essentially making him a non-factor.
Fortunately, Hyde is averaging 5.18 yards per carry over three career games against the Seahawks.
San Francisco won't be able to rely solely on its defense in Week 3. Not on the road at least. This means the Niners offense will need to put up a touchdown, or two, of its own to give the team a chance.
All statistics, records and accolades courtesy of ESPN.com, Pro-Football-Reference.com and Sports-Reference.com unless otherwise indicated.
This article originally appeared on