2017 NFL Draft Scouting Notebook, Week 2: Running Backs, Linemen Shine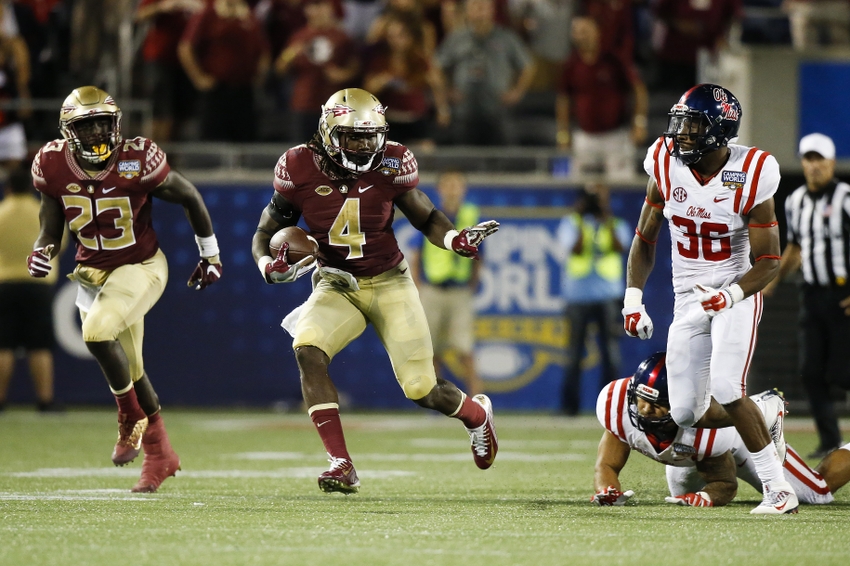 It's time for Week 2 of the college football season, which means there's an abundance of film to go through for 2017 NFL Draft scouting
The opening of college football season marks the beginning of the exploratory phase of 2017 NFL Draft scouting. And this time of year is the best. Scouts aren't arguing over the viability of prospects or whether they fit their team's scheme. The focus is on finding as many great players as possible.
There is so much information that it can feel like drinking from a fire hose. But its all worth it in the end if you strike it rich. And for all 32 NFL teams looking to do just that, it's important to take a look at the film and make sure they're scouting in the right places for the 2017 NFL Draft.
Therefore, let's take a look at the major keys of Week 2 of college football.
10 Major Keys
1. This running back class is strong. Nick Chubb, Leonard Fournette, Christian McCaffrey and Dalvin Cook all look spectacular on tape. Chubb is the most talented, but his injury history may hurt him in this class as the gap between the four names above is very slim.
2. 2017's offensive line class, particularly the crop of centers, is strong. Ethan Pocic, Tyler Orlosky, and Parker Collins had good performances in Week 1. Dan Feeney, Erik Austell, David Bright, and Alec Abeln shined as the standouts at guard. In addition, Ryan Ramcyzk and Ike Boettger proved to be the best tackles I scouted. Especially relevant is Wisconsin's Ramcyzk, who has the talent and technique to be a top tackle prospect.
3. Myles Garrett is the best 2017 NFL Draft prospect. His performance against UCLA was dominance at its finest.
4. Moreover, the edge rusher depth is starting to take shape with solid performances from Jonathan Allen, Demarcus Walker, and Ryan Anderson. Decent performances from Derek Barnett and Charles Harris Jr. were notable as well.
5. Furthermore the cornerback class had a better week than the safety class. Chidobe Awuzie, Aaron Penton, and Tre White had surprising performances. While the top safety prospect in Jamal Adams had a rough game against Wisconsin.
6. The defensive tackle class has loads of explosive athletes, but many of them lack refinement. Charles Walker, Jaleel Johnson, and Solomon Thomas are names to follow going forward.
7. Moreover, the pursuit linebacker group lacks premier talents, but definitely has solid prospects. Vanderbilt's Zach Cunningham was the main standout from the prospects I saw on the first weekend of the season.
8. Likewise, the tight end depth behind top prospects O.J. Howard, Evan Engram, Jordan Leggett, and Jake Butt is lacking.
9. The wide receiver group is good, but not great. Most noteworthy are Dede Westbrook and Taywan Taylor.
10. Finally, the quarterback class has yet to solidify itself. I haven't watched film on any of the top prospects so far. But there are not many quarterbacks I'd consider as developmental prospects other than Houston's Greg Ward. He has Seneca Wallace like qualities.
Now with these takes off my chest; I have some more film to watch. So let me know if there is anyone you felt like I missed last week.
And the question of the week is who do you believe is the best quarterback prospect in this draft class? Let us know who you think is the top player at the position for the upcoming draft.
More from NFL Spin Zone
This article originally appeared on