2017 NFL draft: Blue Chip Prospects 2.0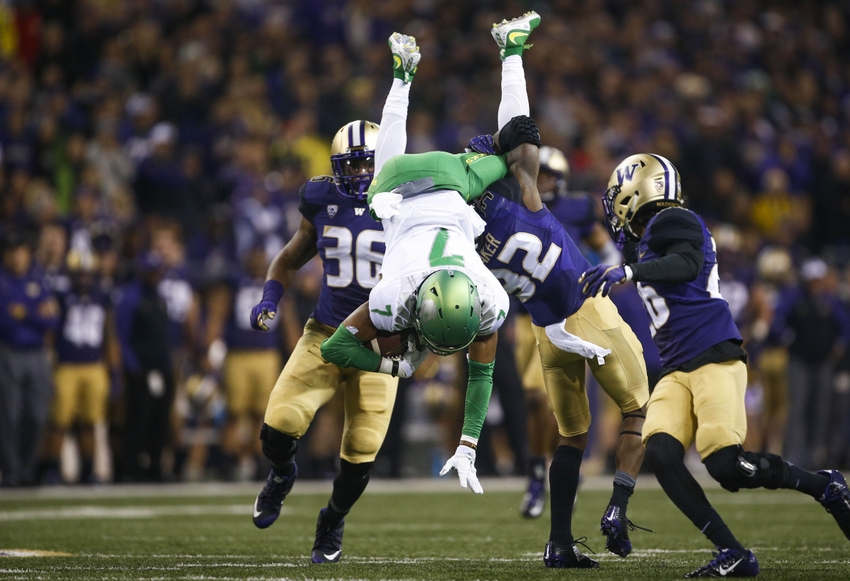 Which players does the author consider to be blue chip prospects for the 2017 NFL Draft?
Due to length, this list will be split into two parts. These prospects aren't ranked in order, so it's merely a list with explanations for their ranking within the 2017 NFL Draft class.
Leonard Fournette, RB LSU
One would think that he's been a disappointment this season so far but he's posted two starts with 138+ rushing yards and sat out their creampuff game against Jacksonville state. The biggest problem for his draft stock will be not fulfilling the hype surrounding him.
And if he drops a bit, a better team will appreciate what they got. He's still the same punishing power back with great speed and acceleration. If he wants to rise into the top 5 he probably needs to put up big numbers versus Alabama.
Mike Williams, WR Clemson
Williams is a rare talent at wideout. He's big(6-3 205), fast(4.45 40 time) and with good hands. The only strikes in his book are a neck injury which caused him to basically miss 2015 and the Clemson offense which doesn't let him run the full route tree.
No In-Editor Preview for 120 Sports Videos
Video Details
ID: 202873436
Source: 120 Sports
On the field, and especially in that offense Williams reminds some of Josh Gordon(on the field). He's very good at using his body in deep routes to block off a defender from contesting the ball. And he also has very good use of his hands. All in all, he's a probable top 10 pick right now.
Budda Baker, DB Washington
Baker might be the best in a line of NFL level talent coming from the U-Dub defenses. He's a single high safety in the Earl Thomas mold and probably is the closest any prospect has come to being Thomas since he entered the league.
Baker is fantastic in coverage, at getting to the ball on those deep throws and can come up in run support very well. The concern about him is size, but he's listed at the same size Thomas is listed at. As long as he's not used as a nickel or in the slot, he should become a very good free safety.
More from With the First Pick
Jon Allen, DL Alabama
The biggest question mark about Allen is where to play him. He's not a 6 End, he's not a 1/0 tackle nor is he a 7 OLB/EDGE guy. He's probably a 3 tackle in a 4-3 defense or a 5 End in a 3-4 and fairly or not that's going to limit his appeal especially with Tim Williams drawing more attention.
He is a physical freak though, he has amazing flexibility and athleticism for any such position. Here's an example of Allen's speed/athleticism. He would be best in a 3 tackle spot in a Cover-2 defense and there's going to be a lot of teams who will covet him.
Tre'Davious White, DB, LSU
White is probably best used as a man press corner in a seattle style defense. He's got good hand skills so he can press very well and ballhawk. It's cliche, but he makes plays whenever he's around the ball. He also has a nice hip turn and recovery speed so it's really hard for any non-great wideout to give him fits.
Sticking him in a zone system where he can't press a wideout probably doesn't play to his strengths and he can look a bit lost in space in the rare times when LSU has played a zone with him.
This article originally appeared on