Utah Jazz Week Seventeen Outlook, Predictions
Jared Woodcox/FanSided via Purple and Blues

Fansided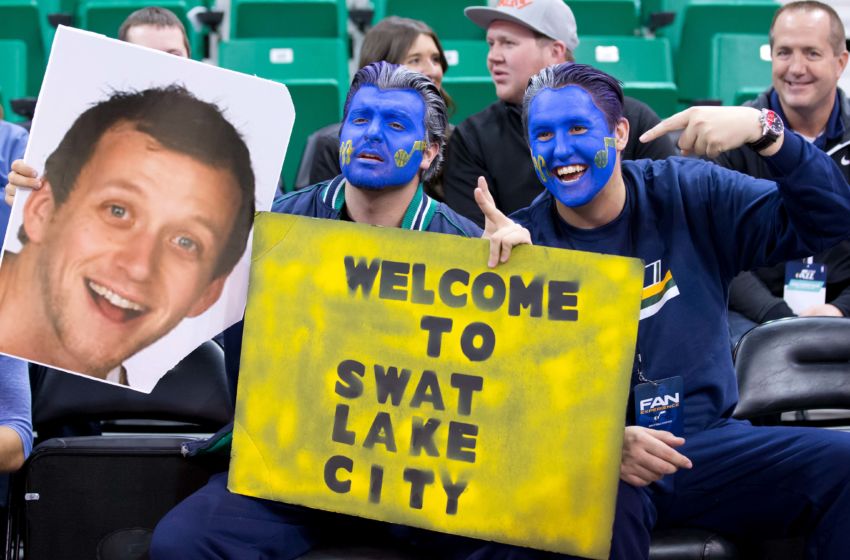 The Utah Jazz will have their work cut out for them with two important games in the final week of NBA action before the All-Star break.
Week 16 started out with quite a bang for the Utah Jazz. Not only did they come into the four-game slate having won both contests the previous week against the Milwaukee Bucks and Charlotte Hornets, but they also extended that winning streak to four by absolutely annihilating the Atlanta Hawks and New Orleans Pelicans.
Unfortunately, once the Jazz looked to extend that winning streak to five games, things went from bad to worse quite quickly.
First, after continuing their dominant play through three and a half quarters against the Dallas Mavericks to build a 21-point lead, the Jazz took their pedal off the gas and ultimately fell in overtime in a mistake-riddled and disheartening game.
The funk from that contest apparently then carried over with them to the bout against Boston last night as the Jazz looked thoroughly outmatched from the onset, trailing by ten right at the conclusion of the first quarter. The Celtics would lead by as much as 23 and never trail as they fended off a desperate and ultimately hopeless Jazz comeback attempt to win by eight.
That 2-2 record for the week moved the Jazz to 34-21. Since I correctly picked the Jazz to lose on Thursday, but drastically overestimated their chances against the Celtics, I finished 3-1, improving my record to 35-20 for the season and surpassing the Jazz's win record. I'd take it the other way around in a heartbeat, though.
So the Jazz find themselves in a bit of a tough spot heading into Week 17 of NBA action. They'll play just two games in the final week before the All-Star break, but they'll be coming in with little to no momentum.
And that's not good news considering that Monday's contest is of extreme importance. The Jazz will host the Los Angeles Clippers who, thanks to Utah's mini-slump, are now just a half-game away from regaining that fourth place spot. In an earlier article, I mentioned that this game could very well determine whether or not the Jazz are in fourth place by the All-Star break and it looks like that will almost certainly be the case.
After that, Utah will finish off the week against the Portland Trail Blazers who despite finding themselves one game out of playoff contention are still very much a tough out and a team that Utah has struggled against in recent contests.
Therefore, the Jazz won't have it easy heading into the All-Star break and will need to step it up in a big way if they hope to take momentum into the 10-day respite. Both teams have historically given Utah trouble, so they'll have to play extremely well to have any chance of going 2-0 this week.
2/13 Utah vs. Los Angeles Clippers
7:00 pm MT – Root Sports/League Pass
Opponent record: 33-21
Season series: Clippers lead 1-0
It seems like forever ago that the Utah Jazz took on the Los Angeles Clippers in a game that saw the Jazz sans Hayward fall 88-75 in the third game of the season. It was their second lowest scoring output of the season so far and one of their uglier performances.
In fact, if you're looking for a memorable Jazz win over the Clippers in recent years, you'd be hard pressed to find one. The Jazz are just 2-16 against the Clippers over the course of the last six seasons (counting 2016-17).
Of course one of those was last year's infamous late season loss which saw the Jazz fall in overtime to the Clippers reserves, essentially shattering Utah's playoff hopes right then and there, so playing LA has clearly been far from kind to the Jazz of late.
Yet the Clippers have slipped quite significantly due to the fact that Blake Griffin was out for an extended period of time due to injury and Chris Paul continues to recover from surgery to a torn ligament in his thumb and will be sidelined for a couple of weeks still. Paul has played historically well against the Jazz, so his absence should help Utah have a bit more of an advantage.
Nevertheless, Utah showed once again last night their inability to raise their game to another level against a good team when they fell to the Celtics. While the Clippers are just 4-6 in their last ten games, some of those losses have come to the likes of the Warriors (twice), Celtics and Raptors, which of course are teams Utah has failed to beat this year as well.
The fact that LA is still very much in the hunt for fourth place also goes to show that they are undoubtedly a solid team even with the injuries. And unfortunately, given Utah's recent struggles combined with how poorly they've matched up with this Clippers squad for over half a decade, I have a hard time seeing them coming out and dispatching them tomorrow.
Therefore, it's with great sadness that I'm predicting a Clippers win which will allow them to regain possession of fourth place in the West. The Jazz had some great chances to secure the spot but failed to take advantage in a big way. They could redeem themselves with a win over the Clippers tomorrow, but again I unfortunately don't think that will be the case.
My Prediction: Clippers Win
Final Score: Los Angeles 103, Utah 97
2/15 Utah vs. Portland
7:00 pm MT – Root Sports/League Pass
Opponent record: 23-31
Season series: Blazers lead 1-0
In the week's second and final contest for the Jazz, they'll take on another team that we haven't seen in quite some time in the divisional rival Portland Trail Blazers. Utah fell to Portland in the first game of the season in a game that was closer than the 113-104 score indicated.
Still, much like the Clippers, the Trail Blazers have given the Jazz serious problems in recent years. While Utah's struggles against Portland don't go as far back as those against LA, the Jazz are still just 3-10 against Portland in the last four seasons.
Portland has largely been able to overwhelm the Jazz thanks to their dynamic backcourt of Damian Lillard and C.J. McCollum. Those two create a tough cover for any team in the league and the Jazz will most certainly have their hands full against the duo.
However, Utah does enjoy quite an advantage in the frontcourt, depending on which version of Derrick Favors shows up for the contest. But even if Favors is slow out of the gates, Rudy Gobert should enjoy a significant advantage over Portland's centers and may be enough alone to help capitalize against Portland's weak frontcourt.
Just like the Jazz, the Blazers are a middling 5-5 over their last 10 games, so neither team comes in very hot. However, both have plenty to play for as Portland tries to fight their way back into the playoff mix and the Jazz battle it out for the fourth seed. Therefore, I'm expecting an extremely competitive and hard-fought game. And while the final score could go either way, I'm going to pin the Jazz as narrow winners in this one.
Portland is still dangerous, but they certainly aren't as lethal as they've been in the recent years that the Jazz have struggled against them and their weak defense will hopefully allow the Jazz to get back to the offensive flow that we saw against New Orleans and Atlanta last week.
My Prediction: Jazz Win
Final Score: Utah 105, Portland 103
2017 NBA All-Star Game (feat. Gordon Hayward)
Since the Jazz play just two games this week leading up to All-Star break and since Utah has its first All-Star since 2011, I thought it only fit to also make a quick prediction for the 2017 NBA All-Star Game.
Last season, the West dominated the East by a score of 196 to 173 in what was clearly an overwhelmingly defense-filled night (or maybe not). The West has triumphed in five of the last six All-Star games and I wouldn't be surprised to see them repeat in 2017.
Glancing at their roster, not only do they have some phenomenal wing players like Stephen Curry, Russell Westbrook, James Harden and Kevin Durant, but the West has a lot of dominant size down low in the likes of Anthony Davis, DeMarcus Cousins and Marc Gasol that I don't think the East will be able to match.
The closest things the East has to centers are Kevin Love, Paul Millsap and the position-less Giannis Antetokounmpo, so I could see the West bullying them down low.
Unfortunately, I'm not sure that Gordon Hayward will end up with all that much playing time on a deep West team, though he certainly deserves it. Nevertheless, I'll be somewhat optimistic and predict that he'll finish with 12 points on a highly efficient shooting clip to help produce a Western Conference victory.
My Prediction: West Wins, Hayward scores 12 points
Final Score: West 187, East 174
More from Purple and Blues
But to wrap things back up with the Jazz, while I have them pinned at 1-1 this week, both contests truly could go either way. I'd say that they're just about as likely to go 2-0 or 0-2 as well. And while it's only a two-game stretch, both games, particularly against the Clippers, will be extremely important to Utah's playoff positioning.
Given the recent struggles, I'm a bit nervous about how they will fare, but then again the Jazz have also had some of their best stretches of the season right after they've faltered, so hopefully that will be the case so that they can enter the All-Star break on a high note.
This article originally appeared on