How the San Antonio Spurs closed out the Houston Rockets in Game 6
David Suttner/FanSided via Hoops Habit

Fansided
Without their MVP candidate, the San Antonio Spurs somehow beat the Houston Rockets in Game 6. Let's look back on the game, and the series, while waiting for the next round to start.
The 2017 Western Conference semifinals series between the San Antonio Spurs and the Houston Rockets had been really interesting and competitive through five games, so when news broke that Kawhi Leonard would miss Game 6, I didn't think the Spurs had a chance.
Game 6 on the road without their best player on both ends? I just didn't see a scenario where the Spurs could pull it off against a team that was due for a big offensive night. Manu Ginobili already had his moment last game, Jonathon Simmons was due to return to Earth, and LaMarcus Aldridge was up and down.
A few things had to all happen at once, and those things had to all be good for the Spurs and bad for the Rockets. Yet somehow, the game had Spurs fans feeling somewhat like this:
Aldridge stepped up
So he hasn't been consistent in the playoffs this year, but I think we should stop worrying about LaMarcus Aldridge's career. Over the last two games at least, he's gotten back on track with big performances when the team needed them. I tried to make the case earlier to some people that this was the best game of his career.
He was setting up shop in his office, and hitting midrangers en route to his 34 points. When someone missed, on either end, he and Pau Gasol controlled the glass. The shooting numbers from the two teams are astounding, with the Rockets going 22-for-77, and the Spurs going 51-for-96.
But look at the difference in attempts! How does one team take 19 more shots than another? When the battle on the glass isn't even close. San Antonio outrebounded the Rockets 60-37. Aldridge's 12 rebounds were a huge part of that, and I think we should give him some credit.
Was James Harden hurt or tired or both?
Harden had his worst game of the year, and probably the worst game I've seen him play since the 2012 NBA Finals (when he was 23). The Spurs' defense figured some things out over the course of the series, like staying home on shooters who were in the corners, and not over-helping on layups.
But the guy was dominant for a solid seven months with nobody really shutting him down like that until Thursday night. Shouldn't he have a found a way to get it done, with guys trying to shut him and his system down? By the end of Game 5 we were all talking about how bad he had been, and the general consensus was that he was exhausted.
It's possible he never fully recovered from an ankle injury he suffered in Game 3 of the first round. He's been playing ever since, and hasn't looked quite the same. He wasn't stirring up anything in his pot tonight, reminding me of this gem: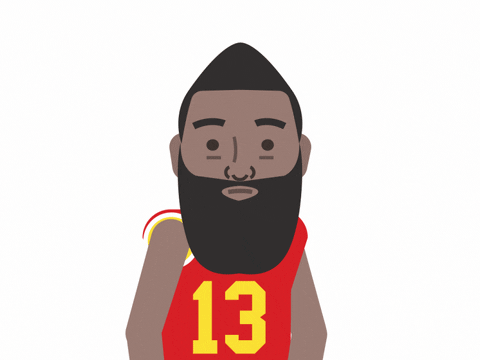 It looks like he's trying to figure out why whatever he's stirring doesn't mix well. The Rockets' offense didn't hit wide open looks tonight, but they had done that all year. That happens in the NBA sometimes, and for a team built around knocking down those shots, it happened in the worst possible moment for them.
This doesn't change Harden's MVP case, because in the regular season, it proved to be successful over and over again. The Spurs were just able to focus on it in this series, and coupling their defense with some extraordinary performances was too much for the Rockets' model to handle.
Popovich gets better with age
Just when it seemed like the Spurs were resting Kawhi for a possible Game 7 in San Antonio, Gregg Popovich does the unthinkable. He features the Spurs' most maligned player, and gets rewarded with 34 points and 12 rebounds. He starts Simmons and gets a playoff career-high of 18 points.
He also defeated another Mike D'Antoni team, moving to 5-0 against him in the postseason. So it's safe to say that Pop has figured out how to defend teams that run an offense like that.
The case is out there, for whoever wants to make it, that this is Pop's finest coaching job of his career. Tim Duncan retired? That's okay, we'll make it work with Pau Gasol, Jonathon Simmons, David Lee and a few other players who nobody else pays any attention to.
Before the game, I thought maybe the Spurs would win. I mentioned to a few people that it would be very Spurs-y for them to win despite Leonard being out. But winning by 39 points on the road? It never occurred to me.
But I doubted Popovich, and that was my mistake. The truth is, it was all just a continuation of their win in Game 5, when Leonard didn't play down the stretch. The Spurs had just figured out a way to stymie this offense, and did it tonight for the whole game. For example, the Rockets made nine two-point field goals.
That pretty much sums it up. Guys need to score inside at some point, and they just couldn't do it. It's a real credit to Pop and his staff.
The Spurs also got huge contributions from all over the lineup. We mentioned Simmons, but look what they got from LaMarcus Aldridge tonight, when they needed it most:
The clip of him scoring over Harden in the second quarter is very telling. The Spurs got the matchups, switches, and defensive rotations that they wanted. Everything went right for them, and guys made shots.
The biggest accomplishment of the game was holding the Rockets to 75 points, just a ridiculous feat considering the offense was as good as anyone in the regular season. It was possibly one the best offensive teams of all time, and San Antonio made everyone uncomfortable.
Going Forward
The Spurs will face the well-rested Golden State Warriors in the conference finals, starting Sunday afternoon. Keep an eye out for previews on that one, but I'll make one point now. Aldridge playing like this is going to be a key in that series. He's a matchup problem for Draymond Green, because of his size. Don't be surprised to see Kevin Durant or Zaza Pachulia guarding him primarily.
Hopefully Kawhi will be back to make the series competitive, and all the best to Steve Kerr as well. I just hope Spurs fans enjoy this victory while it lasts, because it was a beautiful one.
This article originally appeared on