Esky looking to spark Royals offense against Orioles
KANSAS CITY, Mo. — The Baltimore Orioles should beware now that Alcides Escobar is at the top of the Kansas City Royals' lineup.
The Orioles and Royals open a three-game series Friday at Kauffman Stadium. Left-hander Danny Duffy will start the series opener for the Royals. The Orioles will counter with right-hander Dylan Bundy.
Bundy was scheduled to start Thursday against the Nationals, but the game at Washington was rained out and he was pushed back a day.
The first batter Bundy will face is Escobar, who is hitting .189 with a .220 on-base percentage. He has drawn four walks and struck out 25 times. He averages seeing 3.54 pitches per plate appearance.
Royals manager Ned Yost acknowledges those are certainly not ideal numbers for a leadoff hitter.
But with the Kansas City offense struggling to score runs, Yost decided to stick Escobar at the top of the batting order and the Royals won three of four at Tampa Bay. They scored seven runs twice and six runs once in their three victories against the Rays.
The Royals are 134-99 with Escobar batting leadoff since 2014. Those are the numbers Yost appreciates the most. The Royals call it Esky Magic.
"It's a trip down memory lane," Yost said in moving Escobar to the top of the lineup.
That memory includes Escobar batting first in the 2015 World Series season.
After getting one-hit Sunday by the Cleveland Indians, the next day Escobar led off against the Rays for the first time this season and singled on the second pitch. He also doubled in that victory.
"We're just throwing stuff up against the wall to see if something sticks," Yost said. "It just seems to work sometimes."
Duffy has lost his past three starts. After getting shellacked in back-to-back starts against the Chicago White Sox, Duffy lost 1-0 Sunday to the Cleveland Indians. Duffy allowed one run on six hits and two walks in 6 2/3 innings while striking out two.
Batting .348 with seven extra-base hits, the bottom third of the batting order continues to haunt Duffy. On the flip side, batters 1-through-6 are hitting only .239 off him.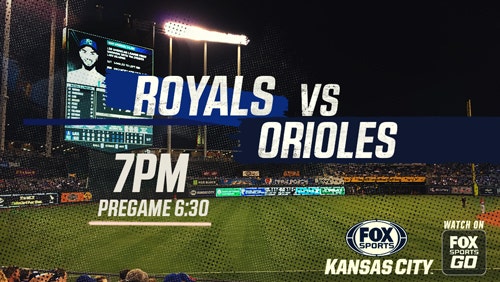 Duffy is 2-2 with a 2.37 ERA in seven career outings, five of them starts, against Baltimore. He has held Orioles batters to a .183 average.
Duffy is 1-2 with a 3.86 ERA in three starts this season at Kauffman Stadium. He has lost his past two home starts to snap his franchise record of 16 straight Kauffman Stadium starts without a loss. He had not dropped three consecutive home starts since Aug. 6, 2011-April 22, 2012, when he lost five straight.
The Royals have not scored a run in Duffy's past two starts.
Orioles sluggers Chris Davis, Adam Jones and Manny Machado are a combined 2-for-36 against Duffy. Machado is 0-for-11 with seven strikeouts and one walk. Davis is 1-for-10 with a double. Jones is 1-for-15 with eight strikeouts and no walks.
Mark Trumbo has hit Duffy well (3-for-8 with a home run).
"I've faced them a lot and you've got to kind of pick and choose your battles when you go after somebody," Duffy told the Royals' website. "I think when I pitch to my strengths, I can get anybody out. With them, you have to execute and try and get the out on three pitches or less."
Bundy is 5-1 with a 2.17 ERA and has not lost since April 11. He has held opponents to 37 hits in 45 2/3 innings.
The Orioles will be without left-handed closer Zach Britton, who is back on the disabled list with a forearm strain. Brad Brach has eight saves while filling in for Britton.
Orioles manager Buck Showalter said Thursday in Washington he does not want to overwork catcher Caleb Joseph, who matched his career best with four hits Monday against the Nationals.
"I want to give him a day off (Friday) and probably Sunday, too," Showalter said.