This date in FOX Sports Arizona history
On Sept. 7, 1996, FOX Sports Arizona hit the airwaves with our first telecast — a Pac-10 football showdown between Washington and Arizona State. Check back with us daily as we recount some of the top sports moments in Arizona during our 20 years of serving the state's sports fans.
Jan. 30
2010
The Coyotes induct Teppo Numminen into the team's Ring of Honor and retire his No. 27 jersey in a ceremony prior to their 3-2 victory over the New York Rangers.
2016
The Diamondbacks acquire Jean Segura from the Milwaukee Brewers in a deal for Chase Anderson, Aaron Hill and minor-league infielder Isan Diaz. Segura responded to the change of scenery by posting a career year at the plate, batting .319 with 20 home runs, 41 doubles and a league-leading 203 hits. Less than a year later, the D-backs would trade him to the Seattle Mariners for starting pitcher Taijuan Walker.
Jan. 29
2007
Kevin Garnett scores 44 for the Timberwolves in a 121-112 victory over the Suns, ending Phoenix's winning streak at a franchise-record 17 games.
Jan. 28
2007
Steve Nash records 23 points and 15 assists as the Suns win 115-100 at Cleveland for their 17th victory in a row, establishing a franchise record that still stands.
Jan. 26
2014
Antoine Vermette completed a hat trick trifecta — one goal at even strength, one on a power play, and one short-handed — in the Coyotes' 5-4 overtime loss to the Vancouver Canucks. It was the third hat trick of Vermette's career.
Jan. 25
1997
Playing in the third round of the Phoenix Open, 21-year-old Tiger Woods aces the 16th hole at the Phoenix Open, setting off a beer-fueled crowd reaction unlike any that professional golf had seen before or since.
Jan. 24
2008
Radim Vrbata records his third career hat trick and adds an assist in the Coyotes' 4-3 overtime victory over the Nashville Predators.
2013
The Diamondbacks trade Justin Upton to the Atlanta Braves for a package deal that includes Martin Prado, Randall Delgado and Nick Ahmed.
2016
The Cardinals rode one of the NFL's most prolific offenses into the NFC Championship game, only to have the wheels fall completely off in a 49-15 blowout loss to the Carolina Panthers.
The Cards turned the ball over seven  times — six of those by quarterback Carson Palmer (four interceptions, two fumbles), who played the worst game of his Cardinals' tenure.
Jan. 23
1999
Three days after the NBA lockout ends, the Suns sign free-agent forward Tom Gugliotta.
2016
Tyson Chandler ties a Suns franchise record with 27 rebounds, including a team-record 13 offensive boards, in a 98-95 victory over the Atlanta Hawks. The Suns won the game on a buzzer-beating 3-pointer from the top of the key by Archie Goodwin.
Jan. 18
2009
After sneaking into the playoffs with a 9-7 record, the Cardinals achieve what had been previously unachievable in franchise history — advancing to the Super Bowl for the first time with a 32-25 victory over the Philadelphia Eagles at University of Phoenix Stadium.
The Cardinals took a 24-6 first-half lead, only to see the Eagles pull ahead with 19 consecutive points. With momentum seemingly slipping away, Arizona put together a 72-yard drive that consumed nearly 8 minutes of the fourth quarter. A 9-yard pass from Kurt Warner to Tim Hightower put the Cardinals back on top — giving Warner four TD passes in the game.
The Eagles got the ball back with less than 3 minutes to go and drove as far as Arizona's 47 before the Cardinals forced four consecutive incompletions and took over on downs.
"The Arizona Cardinals changed their stripes today," safety Adrian Wilson said. "Nobody gave us a chance; nobody gave this organization a chance."
2013
With the Suns holding a 13-28 record at the season's halfway point, Alvin Gentry is dismissed as head coach, to be replaced two days later by interim coach Lindsey Hunter. Hunter would only last through the end of the season, coaching the team to a 12-29 mark in his short stint.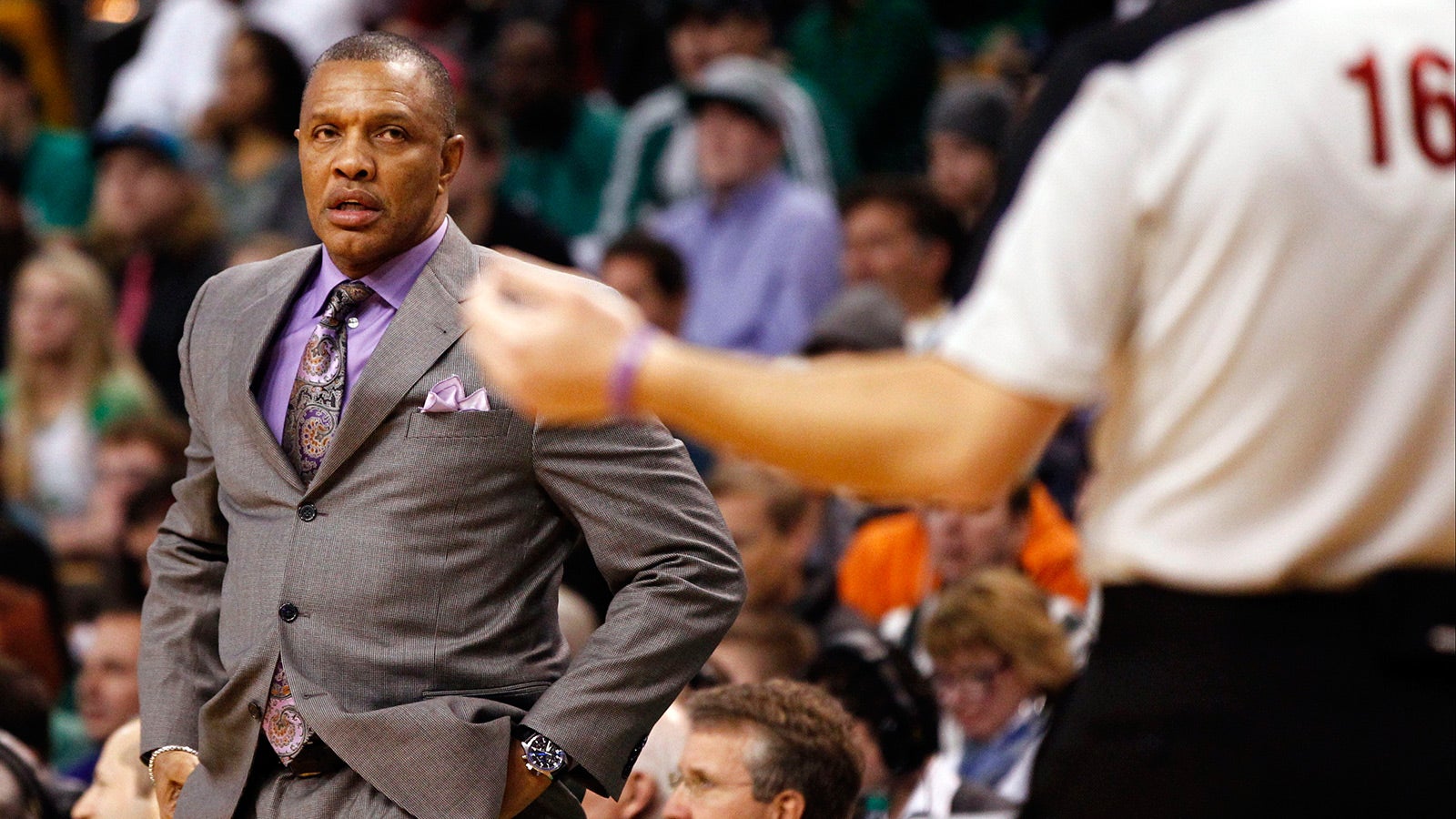 Jan. 17
2013
The Cardinals hire longtime NFL assistant Bruce Arians as head coach. Arians had been offensive coordinator and interim head coach of the Indianapolis Colts, leading the Colts to a 9-3 record while Chuck Pagano was being treated for leukemia.
Jan. 16
2000
Cliff Robinson scores a career-best 50 points— including 23 in the first quarter — to lead the Suns to a 113-100 victory over the Denver Nuggets.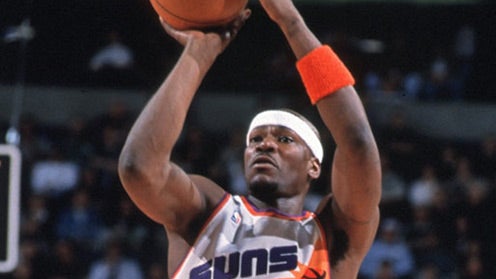 2010
In what would turn out to be the final game of Kurt Warner's career, the Arizona Cardinals are throttled by the New Orleans Saints 45-14, ending the Cardinals' hopes of a return trip to the Super Bowl.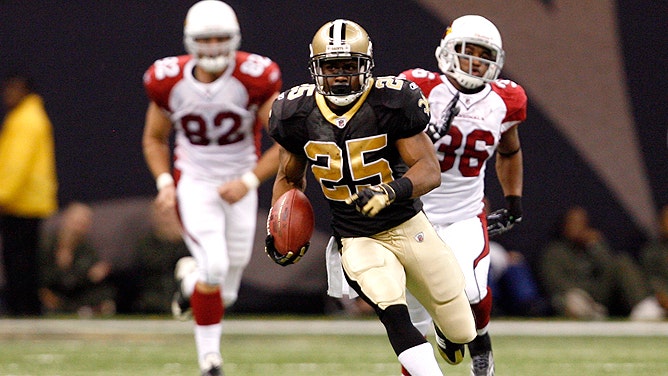 2016
The Cardinals advance to the NFC Championship game with a dramatic 26-20 overtime victory over the Green Bay Packers.
The Packers forced overtime by driving 96 yards in the game's final minute, extricating themselves from 4th and 20th from their own 4-yard line and getting the tying score on a 41-yard touchdown pass from Aaron Rodgers to seldom-used Jeff Janis on the final play of regulation.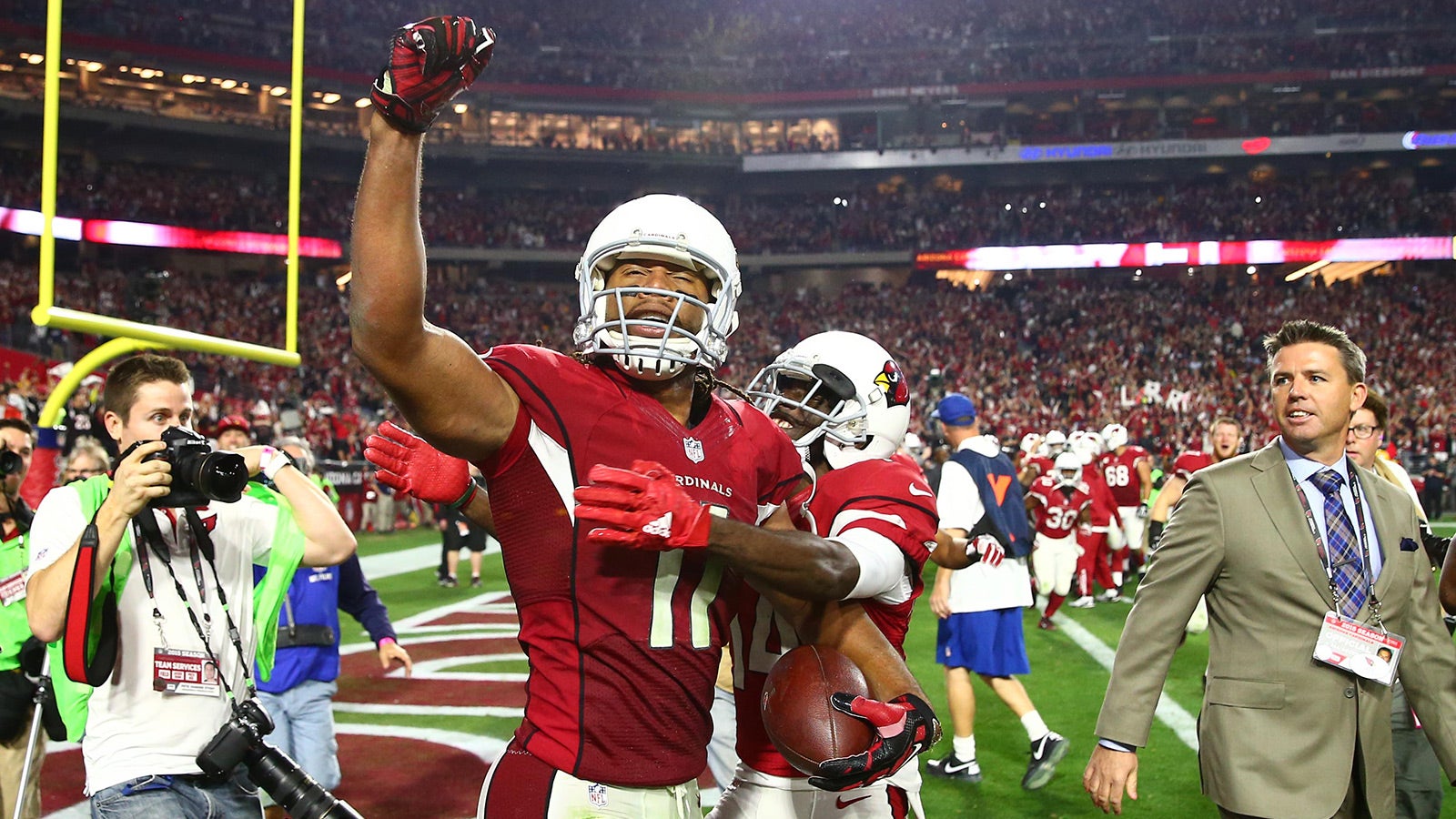 But the Cardinals won the coin flip and drove 80 yards for the winning score. Larry Fitzgerald caught a short pass from Carson Palmer and darted through Green Bay's defense for 75 yards, taking the ball from Arizona's 20 to Green Bay's 5, then took care of the final 5 yards on a shovel pass from Palmer — capping an 8-catch, 176-yard game.
Jan. 15
1997
Mike Bibby, Miles Simon and Michael Dickerson all topped 20 points as Arizona trounced undermanned Arizona State 127-99 in the highest-scoring game in McKale Center history.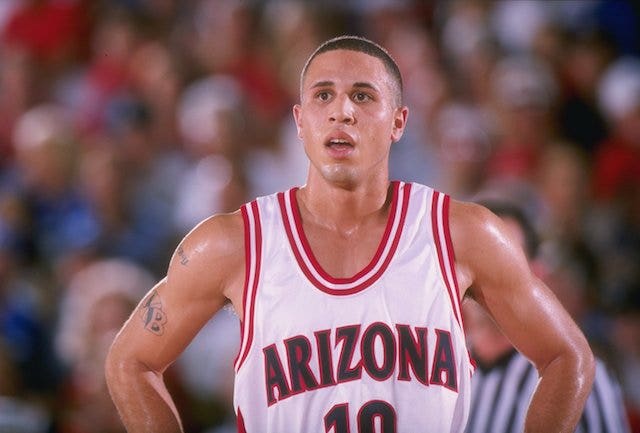 Jan. 12
2016
Max Domi scores three goals in regulation for his first career hat trick and Oliver Ekman-Larsson scores the game-winning goal in overtime as the Coyotes rally from a 3-1 deficit for a 4-3 victory over Edmonton. Ekman-Larsson assisted on all three of Domi's goals to record the first four-point game of his career.
Jan. 11
2005
Amar'e Stoudemire scores 34 points Steve Nash has 16 points and 16 assists as the Suns crush Miami 122-107 to win for the 18th time in 19 games and improve to 31-4 for the season — the sixth best start through 35 games in league history.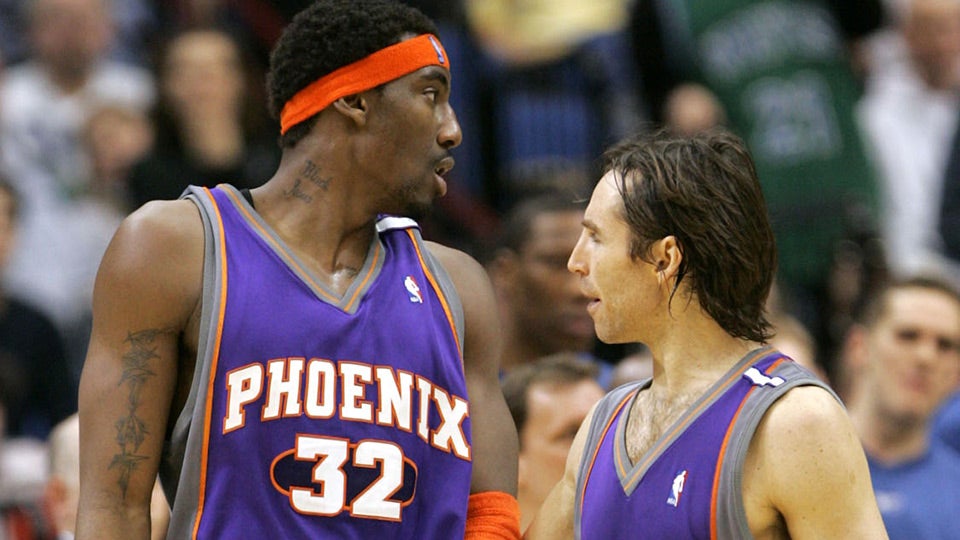 2016
Alabama used some big plays and some special-teams trickery to withstand Deshaun Watson's 478-yard performance and defeat Clemson 45-40 in the College Football Playoff championship game at University of Phoenix Stadium, giving Nick Saban his fourth national title in nine seasons at the helm of the Crimson Tide.
Jan. 10
1999
The Cardinals' first Arizona playoff experience ends after two games with a 41-21 dismantling at the hands of the 15-1 Minnesota Vikings — coach by future Cardinals coach Denny Green — in the NFL semifinal round. The Vikings raced to a 24-7 first-half lead and cruised home from there as Jake Plummer struggled from the start in a raucous Metrodome.
2009
The Cardinals' improbable postseason run continues with a 33-13 pummeling of the heavily favored Carolina Panthers in Charlotte.
The Panthers scored first, but henceforth it was all Cardinals — thanks in large measure by a wretched performance by Carolina quarterback Jake Delhomme, who tossed up five interceptions.
Kurt Warner threw a pair of touchdown passes and Larry Fitzgerald had eight catches for 166 yards for the Cardinals — who got a bonus gift a day later when Philadelphia knocked off the favored Giants, meaning the Cardinals would host the NFC Championship game.
2010
Kurt Warner completes 29 of 33 passes for 379 yards as the Cardinals opened the postseason with a thrilling 51-45 victory over the Green Bay Packers — the highest-scoring playoff game in NFL history.
The Cardinals led by 21 in the second half before Aaron Rodgers rallied Green Bay into a 45-all tie, and Arizona missed a chance for the victory when Neil Rackers shanked a 34-yard field goal attempt as time expired.
Ironically, in a game with 96 points and 1,024 yards of offense, it was a defensive play that determined the final outcome. The Packers received the kickoff to start overtime, but on their third play, Rodgers fumbled while being sacked by Michael Adams. Karlos Dansby scooped up the loose ball and rambled untouched to the end zone for the game-winning score.
"That's probably one of the best games ever played in the playoffs," Cardinals coach Ken Whisenhunt said.
2011
Wes Byrum kicks a game-winning field goal as time expires to give Auburn a 22-19 win over Oregon in BCS National Championship Game at University of Phoenix Stadium in Glendale.
Oregon trailed the entire game before tying it up with a touchdown and two-point conversion late in the fourth quarter, but runs of 37 and 16 yards by Michael Dyer put Auburn in position to kick the winning field goal.
Jan. 9
2004
Brian Boucher sets a modern NHL record with his fifth consecutive shutout — a 2-0 victory over the Wild in Minnesota.
2016
In the longest game in school history, seventh-ranked Arizona suffers a 103-101 loss to USC in four overtimes in Los Angeles. The Wildcats rallied to overcome a 12-point deficit with less than six minutes to play to send the game into overtime but were unable to put the Trojans away in any of the extra sessions.
Jan. 8
2000
Eddie House sets an Arizona State record by pouring in 61 points in the Sun Devils' 111-108 double-overtime victory at California. House also tied Lew Alcindor's Pac-10 record for most points in a game.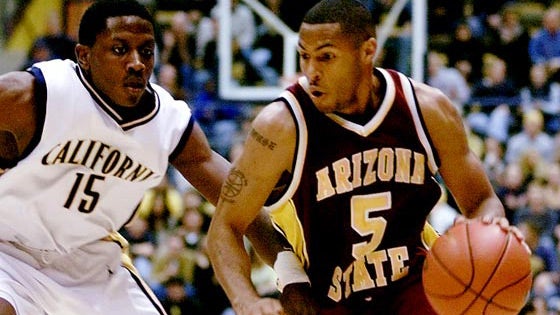 Freshman Jason Gardner scored 22 points as Arizona upset top-ranked Stanford 68-65 to give Lute Olson the 600th victory of his coaching career.
2003
Zac Bierk, making his first start for the Coyotes, records 40 saves and Blackhawks rookie Mike Leighton makes 31 in a 0-0 tie. It is the first time in NHL history that two goalies have recorded their first career shutout in the same game, and it would be the only shutout of Bierk's NHL career.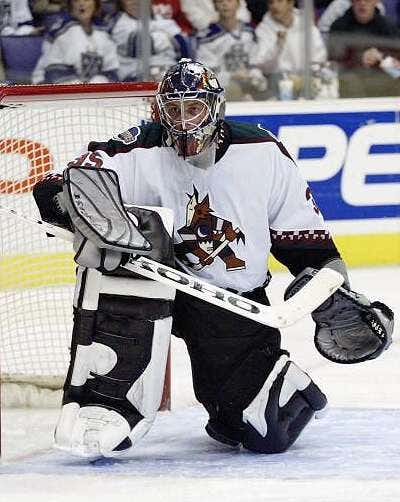 2007
The two-headed quarterback tandem of Chris Leak and Tim Tebow was unstoppable for Florida as the Gators dominated top-ranked and previously unbeaten Ohio State 41-14 to win BCS National Championship at University of Phoenix Stadium. The Buckeyes scored first when Ted Ginn Jr. returned the opening kickoff 93 yards, but it was all Gators after that. Florida's defense limited Ohio State to 82 yards and harassed Heisman Trophy-winning quarterback Troy Smith into a 4-for-14 passing night.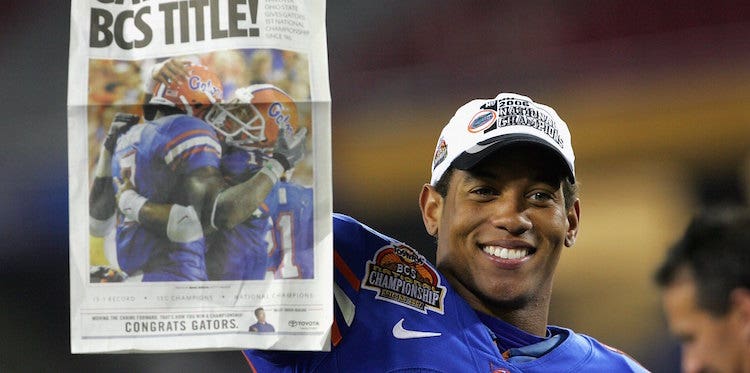 Jan. 7
2004
Brian Boucher becomes the first NHL goaltender in nearly 55 years with four consecutive shutouts — leading the Coyotes to a 3-0 win over the Capitals in Washington.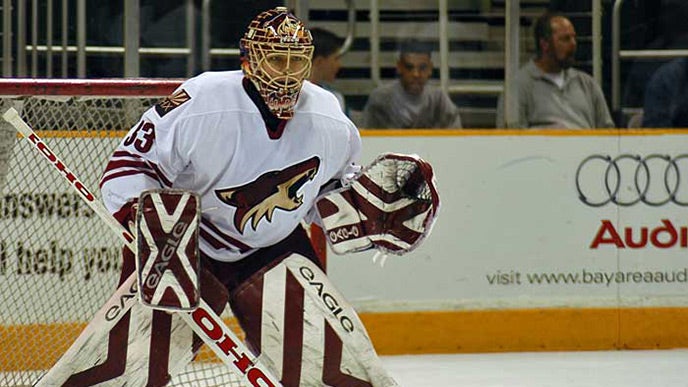 2012
Sixteen seasons and 1,161 games into his NHL career, Shane Doan records his first hat trick, with his third and final goal coming with one-tenth of a second remaining in a 5-1 victory over the New York Islanders.
Doan logged 8 minutes and 51 seconds in the third period alone, and his teammates kept feeding him the puck, but he couldn't convert for that elusive third goal. He got one last crack off a cross-ice pass from Ray Whitney, put every last ounce of his strength into a laser from the left circle, beating New York Islanders goalie Evgeni Nabokov. But the drama didn't stop there. Because the goal came so late, officials had to review it to make certain it had beaten the final horn.
Doan had 308 career goals and 38 two-goal games before cashing in — falling  just short of Scott Mellanby's 319 career goals without a hat trick.
"It was kind of cool it lasted as long as it did," Doan told reporters afterward. "It gave you a good story."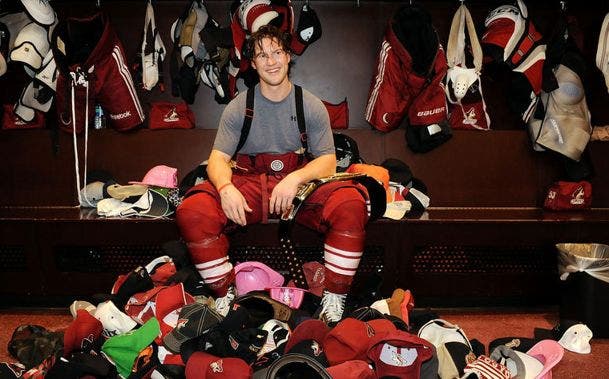 Jan. 6
2004
The WNBA holds a Dispersal Draft to disseminate the players from the Cleveland Rockers. The Phoenix Mercury select forward Penny Taylor with the first overall selection.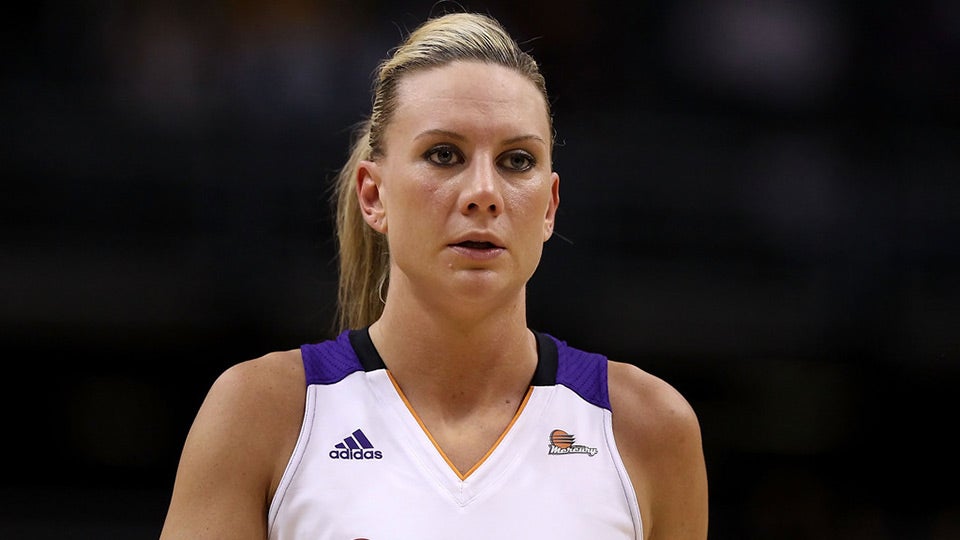 Jan. 5
2004
Lagging in the standings with a 12-23 record, the Suns  trade Stephon Marbury and Anfernee Hardaway to the New York Knicks for a return that includes Antonio McDyess and two first-round draft picks — signaling their intention to rebuild around Shawn Marion and Amar'e Stoudemire.
2007
After two mostly disappointing seasons in New York, Randy Johnson returns to the Diamondbacks in a trade that sends Luis Vizcaino and three minor-leaguers to the New York Yankees.
Jan. 4
1999
Quarterback Tee Martin threw a pair of touchdown passes as top-ranked Tennessee capped an undefeated season with a 23-16 victory over Florida State in the Fiesta Bowl to claim the national championship.
2004
Brian Boucher records his third consecutive shutout in a 3-0 Coyotes' victory over the Hurricanes in North Carolina.
Jan. 3
2003
In the college football championship's first overtime game, Ohio State takes advantage of a controversial pass-interference call to prevail, 31-24, over defending national champion Miami in the Fiesta Bowl.
It was the first loss for Miami, an 11½ point favorite, in 35 games.
Miami needed a 40-yard field goal on the final play of regulation to send the game into overtime, but the Hurricanes went ahead 24-17 in the first overtime and thought they had the game won when Ohio State's fourth-down pass to Chris Gamble fell to the turf. Instead, a late flag was thrown, pass interference was the call, and Ohio State got a new set of downs and a chance to extend the game into a second extra session.
Maurice Clarett put the Buckeyes back on top with a 5-yard touchdown, and the Buckeyes' defense did the rest, sacking Miami quarterback Ken Dorsey on fourth-and-goal from the 1.
2009
The Cardinals entered the postseason with a 9-7 record, but by virtue of finishing first in the NFC West, that was good enough for home-field advantage against the 11-5 Atlanta Falcons in the wild-card round of the postseason. Playing a home playoff game in Arizona for the first time in franchise history, the Cardinals defeated the Falcons 30-24 to advance to the NFC semifinals.
The Cardinals defense forced three Falcons turnovers, Kurt Warner passed for 271 yards and two TDs and Larry Fitzgerald had six catches for 101 yards as the Cardinals scored 16 consecutive points to wipe out a 17-14 halftime deficit.
2015
Injuries to Carson Palmer and Drew Stanton left the Cardinals with no choice but to start seldom-used reserve Ryan Lindley at quarterback in their wild-card round playoff game against the Carolina Panthers, and the end result was might have been expected.
The Panthers, playing at home despite a 7-8-1 record that was good enough to win the NFC South, had enough defense and running game to throttle the Cardinals 27-16. The Cardinals somehow took a 14-13 lead into halftime, but they completely ground to a halt in the second half, finishing the game with a paltry 78 yards of offense, worst ever in an NFL playoff game.
Jan. 2
1998
The Cardinals win a playoff game for the first time since 1947, traveling to Dallas to defeat the Cowboys 20-7 in an NFC wild-card game. Jake Plummer threw a pair of touchdown passes and the defense forced three turnovers, including a pair of interceptions by Aeneas Williams.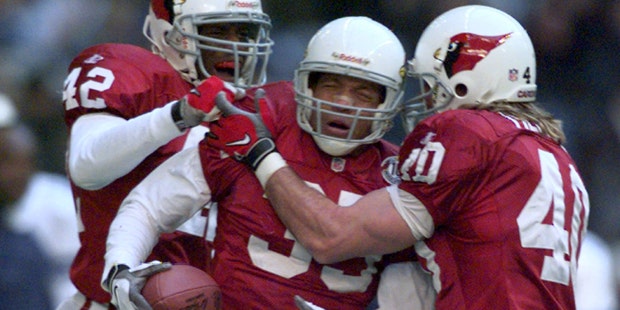 2001
Tony Delk scores an ARCO Arena records 53 points for the Suns in a 121-117 overtime loss to the Kings — more than doubling his previous career scoring best.
2005
Amar'e Stoudemire scores a career-high 50 points for the Suns in a 117-98 victory over the Portland Trail Blazers.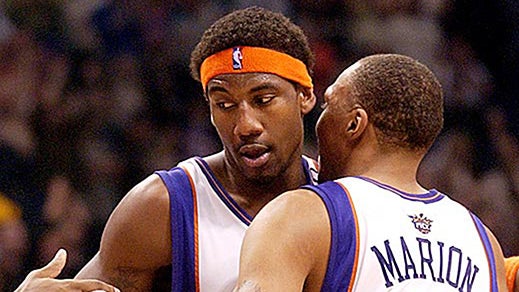 Jan. 1
1997
ASU's bid for a perfect season and national championship falls short as they suffer a crushing 20-17 loss to Ohio State in the Rose Bowl.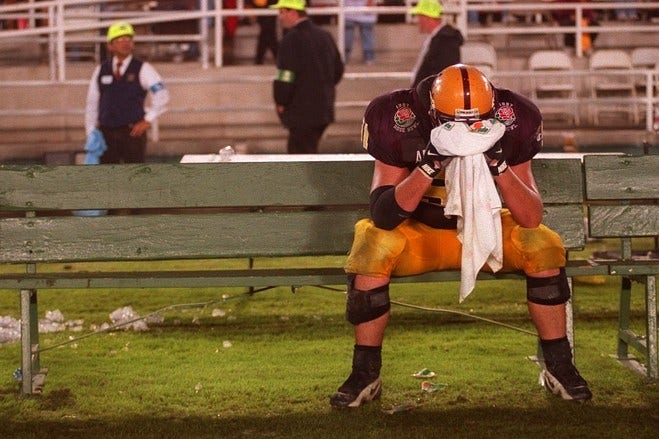 Jake Plummer scrambled for a go-ahead touchdown with less than two minutes to go, only to see reserve quarterback and Mesa native Joe Germaine drive the Buckeyes downfield for the winning touchdown with 19 seconds to play, connecting with receiver and future Arizona Cardinal David Boston for the winning score. The Buckeyes were coached by John Cooper, who 10 years earlier had coached ASU to its only Rose Bowl victory in school history.
2007
It what many rank as one of the greatest college football games of all time, Boise State signals its arrival as a national power by pulling out every trick play in the book to beat Oklahoma 43-42 in overtime in the Fiesta Bowl.
Boise State used a "hook-and-lateral pass" to score with seven seconds left in regulation and send the game into overtime, used a wide-receiver pass to score a touchdown in overtime, then shunned an extra-point kick that would send the game into a second OT, instead scoring the winning two-point conversion on a Statue-of-Liberty play, with quarterback Jared Zabransky faking a pass, concealing the ball behind his back, and running back Ian Johnson taking it from Zabransky and scooting untouched into the end zone.
Shortly thereafter, Johnson would propose to his fiancé on national television to cap an unforgettable evening.