This date in FOX Sports Arizona history
On Sept. 7, 1996, FOX Sports Arizona hit the airwaves with our first telecast — a Pac-10 football showdown between Washington and Arizona State. Check back with us daily as we recount some of the top sports moments in Arizona during our 20 years of serving the state's sports fans.
July 30
1998
Omar Daal pitches the first complete-game shutout in D-backs history, limiting the Cubs to four hits in a 4-0 win.
2010
The Diamondbacks trade pitcher Edwin Jackson for pitchers Daniel Hudson and David Holmberg.
2012
Chris Johnson, just acquired from the Houston Astros, becomes the first D-back to hit a grand slam in his first game with the team, leading Arizona to a 7-2 win over the Dodgers in Los Angeles.
July 26
2000
The Diamondbacks acquire pitcher Curt Schilling from the Philadelphia Phillies in a trade for first baseman Travis Lee and pitchers Omar Daal, Vicente Padilla and Nelson Figueroa.
2015
Randy Johnson is inducted into the National Baseball Hall of Fame in Cooperstown, N.Y., along with Craig Biggio, Pedro Martinez and John Smoltz.
July 25
2010
The rebuilding Diamondbacks trade starting pitcher Dan Haren to the Angels in exchange for pitchers Joe Saunders, Rafael Rodriguez and minor-leaguers Patrick Corbin and Tyler Skaggs.
July 21
1999
With the bases loaded in the eighth inning, Tony Womack's line drive off of Houston closer Billy Wagner gets past Astros left fielder Lance Berkman, and he circles the bases with an inside-the-park grand slam to give the D-backs a 7-4 victory.
2012
Jason Kubel becomes the seventh different Diamondback to homer three times in one game, driving in six runs in a 12-3 win over the Astros.
July 16
2009
The D-backs and Colorado Rockies join forces with the Salt River Pima-Maricopa Indian Community and announce plans for a new spring training facility, which opened in 2011.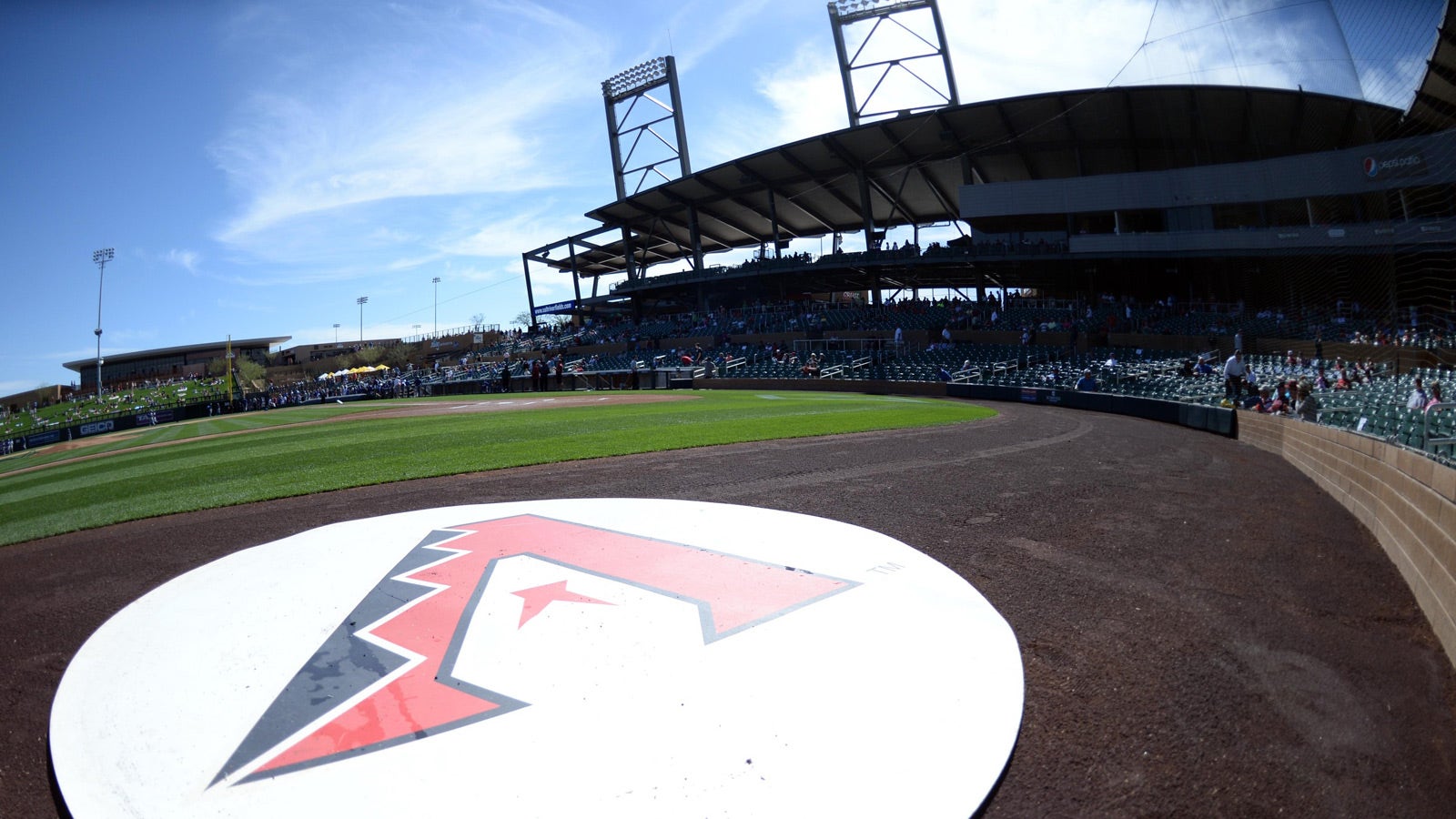 July 12
2011
D-backs host the 82nd All-Star Game at Chase Field, with outfielder Justin Upton, catcher Miguel Montero, manager Kirk Gibson and trainer Crenshaw representing the home team. Prince Fielder wins the Most Valuable Player Award, leading the National League to a 5-1 victory.
July 11
1999
Jay Bell hits a grand slam in the 6th inning of a 7-5 victory over Oakland, earning a $1 million prize for Gylene Hoyle of Chandler, who successfully predicted the player and inning before the game as part of Shamrock Farms' Grand Slam Sundae promotion.
"It's like next to impossible," Hoyle said. "I didn't actually see the ball go over fence because I had my eyes closed at that point. I didn't actually know until the people around me starting yelling."
Hoyle was attending her first Diamondbacks game and won a radio contest to take part in the promotion. She said she picked Bell because "he had the most home runs on the team," and her husband picked the sixth inning because six is his lucky number. Her selections were announced before the game, so everyone knew what was at stake.
"That was kind of fun," said Bell, who pumped his fists while rounding first base but made a point of telling reporters that he wasn't trying to show up the pitcher. "I was extremely excited, not necessarily for me as I was happy to get the home run and happy to get the lead, but I was elated that a home run could win someone that kind of money."
July 9
2001
Luis Gonzalez, who hit .417 with 12 home runs in the month of June, continues his power display by winning the Home Run Derby at the All-Star Game in Seattle. Gonzalez, pitched to by D-backs bullpen catcher Jeff Motusaz, defeated Barry Bonds in the semifinals and Sammy Sosa in the final round.  "I was kind of in a fog, especially considering the guys I was going against the last couple of rounds," Gonzalez said. "I was so nervous in my first Home Run Derby."
July 7
1998
Devon White, the first Diamondback selected to play in the MLB All-Star Game, goes 3 for 3 in the National League's 13-8 loss at Coors Field.
2003
Shea Hillenbrand becomes the sixth player in Major League history to homer in 3 consecutive innings and sets a club-record with 15 total bases in 14-6 win vs. Rockies.
July 5
2000
Luis Gonzalez homers in the ninth inning of a 12-9 victory over Houston to become the first Diamondback to hit for the cycle.
July 2
2004
Bob Brenly, who managed the D-backs to the World Series championship in 2001, is fired with the team in last place with a 29-50 record. Al Pedrique takes over for the rest of the season.
2010
Kirk Gibson makes managerial debut in a 12-5 win over the Dodgers. Gibson took over as manager after the firing of general manager Josh Byrnes and manager A.J. Hinch.
 Previous months