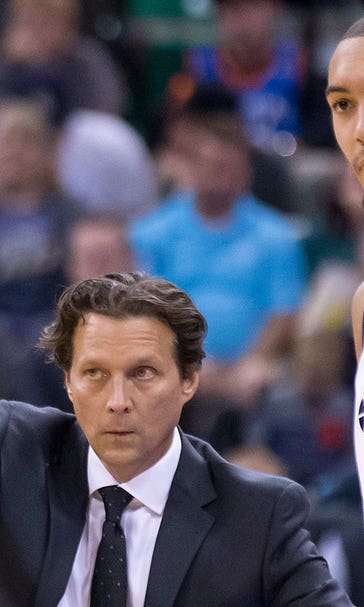 Youthful Jazz visit Palace for Pistons' home opener tonight
October 28, 2015

The buzz around the Utah Jazz is that of an up-and-coming team ready to make a push into the playoffs after a strong finish to the 2014-15 season. The Jazz, however, are the fourth-youngest team in the league and coach Quin Snyder warns against penciling them into the postseason.
The Jazz, who kick off the season against the Detroit Pistons on Wednesday (6:30 p.m. pregame, 7:30 tipoff on FOX Sports Detroit), had the sixth-best winning percentage (65.5) in the NBA after the All-Star break, setting up some of those expectations.
Expectations and real life met in the second to last preseason game when Oklahoma City ran the Jazz out of the gym in a 113-102 game that wasn't as close as the score indicated. Snyder didn't mince his words.
"We've got an opportunity to be a good team, but it's not like anybody or our team has done anything," Snyder said. "... We were a good team for about two months. And we were a good team when other teams sometimes were resting a player ... we weren't playing teams that were competing for the playoffs very often.
"I'm not dampening any enthusiasm, but I'm being realistic about who our group is. And that's what our group needs. We need to be realistic about the level that's out there and if we want to reach it, it's a hard road."
The average age on the Jazz roster is 24 years and 206 days. Only the Trail Blazers, Bucks and 76ers are younger - and only the Bucks are considered playoff contenders.
Snyder used the Thunder as an example of everything they haven't experienced. The Thunder lost to the Heat in the 2012 Finals. Kevin Durant is a former MVP coming off an injury and hungry for a title. Russell Westbrook is a four-time All-Star scheduled to become a free agent, with a big decision to make, in 2017.
"That's a team with an appreciation for how difficult it is to win in this league," Snyder said. "They know you have to do everything and sometimes that's still not enough on a given night unless you get lucky. We don't understand that. Why would we? We haven't been in that situation."
The Jazz, who finished 38-44 last season, are basically NBA babies. Gordon Hayward and Derrick Favors are the elder statesmen and they're both just entering their sixth seasons.
Still, both Hayward and Favors are expected to have career-type years. So is third-year center Rudy Gobert, who averaged 11.1 points, 13.8 rebounds and 2.6 blocks after the All-Star break. So is point guard Trey Burke, who seemed to get the starting job back when Dante Exum suffered a season-ending knee injury during the summer. General manager Dennis Lindsey considers fifth-year guard Alec Burks' return from injury their star free-agent signing.
Players are taking the expectations in stride.
"It's a learning experience, learning process for us as a team. I think we've realized we really haven't accomplished anything," said Hayward, who averaged 19.3 points, 4.9 rebounds and 4.1 assists last season. "(The media) are really hyping us up and hyped us up all offseason, and we really didn't deserve any of that."
Snyder is just in his second year himself. He had this conversation many times with the roster before opening up after the Thunder game. Snyder preached a balance between "enthusiasm and realism." They want to dream big, but also understand where they are in the process.
The Jazz have won 17 of 19 meetings with the Pistons since 2005-06, including eight of nine in Detroit.
The Pistons, however, are looking to start a season 2-0 for the first time since winning their first four games in 2008-09, the last season they made the playoffs.
They beat Atlanta 106-94 on Tuesday, dominating the boards 59-40 while all five starters scored in double digits.
"We had a hard training camp, you know what I'm saying?" said forward Marcus Morris, who had 18 points and 10 rebounds. "We didn't put in as much hard work as we did to just come out here and lay an egg."
Kentavious Caldwell-Pope is looking to build on his 21 points from Tuesday, while Andre Drummond had 18 with 19 boards.
---
---