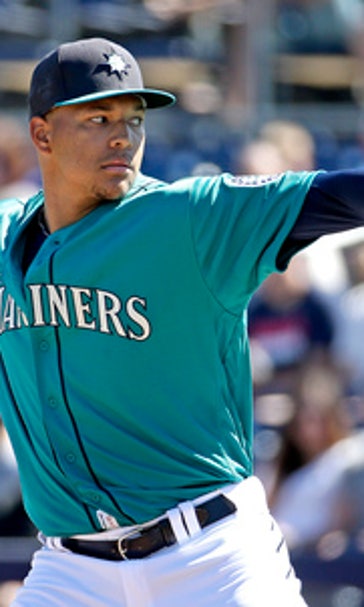 Fantasy baseball injury report analysis Taijuan Walker, Lance McCullers
May 11, 2016

Taijuan Walker
After the first five weeks of the season, the Mariners find themselves in first place in the American League West. Walker's hot start has helped pace the team, as he currently holds a 1.97 ERA through six starts. Unfortunately, neck spasms prematurely ended his most recent start, limiting the right-hander to just two innings.
The spine is divided into four main segments, the cervical spine, the thoracic spine, the lumbar spine and finally the sacral region. The cervical region makes up the neck of the body and is comprised of seven vertebrae and six intervertebral discs. An assortment of muscles attach to the cervical spine allowing for head movement in flexion and extension (looking up and down), rotation, and side-bending.
Since the Mariners specified that Walker's spasms are in his neck, it appears likely the problem involves one of the aforementioned structures. However, spasms are a symptom and not a true injury diagnosis. A strain to one of the cervical muscles or inflammation in one of the discs could result in spasms.
Whatever the cause, the issue is resulting in a functional limitation, meaning Walker is having trouble moving his neck through its normal ranges of motion. He did report a bit of improvement in movement on Saturday and was able to throw off of flat ground on Sunday. If he can continue to progress and complete a bullpen session, Walker should be in line to start on Wednesday against the Rays. His quick response to treatment is a promising sign that this is an isolated incident. However, keep a close eye on Walker's performance over his next few starts to get a better idea if this will linger moving forward.
Jacoby Ellsbury
Ellsbury is dealing with a lower extremity muscular strain, though the Yankees haven't revealed the involved muscle. The veteran outfielder injured his right hip Friday against the Red Sox when he made a quick, hard stop while rounding third. He hasn't played since, as he battles what is being called a hip strain. It seems likely Ellsbury is dealing with a hip flexor strain and it sounds as if it could result in a trip to the disabled list. Manager Joe Girardi said a DL stint would "probably make sense" if the injury didn't show significant improvement after five or six days. Considering that Ellsbury was still walking with a noticeable limp on Sunday and reporting pain with walking, fantasy owners would be wise to lineup suitable replacements.
The situation is only worsened by the fact that lower leg strains are particularly problematic for players dependent on their speed. Couple this Ellsbury's history of lower leg strains, including a right hamstring strain, and the likelihood of an extended absence is increased. Bench Ellsbury in weekly formats and hope the strain is mild.
Check Swings
Lance McCullers: The Astros could get a much-needed boost with the impending return of McCullers. The right-hander has pitched well for Triple-A Fresno and could be back with the big league club as early as the weekend. McCullers hasn't pitched this season since reporting soreness in his shoulder during spring training. He will carry a bit of increased risk in his first few starts but he's worth a stash for teams in desperate need of starting pitching.
Nelson Cruz: After starting Seattle's first 30 games, Cruz received a game off Sunday to rest a sore right forearm. A pitch hit the hard-hitting outfielder in his arm earlier in the week, and the team opted to give him time to receive treatment and recuperate. Look for Cruz and his boomstick to be back in the lineup Monday against the Rays.
Yu Darvish and the Rangers rotation: Texas continues to be pleased with Darvish's progress but gave him an extra day of rest over the weekend. The right-hander is now slated to take the mound Thursday with Triple-A Round Rock following five days off. He's expected to pitch an allotted four innings during the appearance.
The Rangers have yet to reveal when they'll bring Darvish back to the big league club and won't rush his recovery despite an open spot in the rotation. Instead, the team will utilize a four-man rotation through the end of May following A.J. Griffin's shoulder injury. Griffin was placed on the 15-day DL with shoulder stiffness after reporting a "twinge" in the area in Saturday's start against the Tigers. Griffin has a lengthy history of shoulder and elbow problems, and the team opted to take the proactive approach in evaluating and treating his latest issue.
Travis d'Arnaud The Mets catcher suffered a setback in his rehab for a strained rotator cuff, pushing back his estimated timeline of recovery. During his first throwing session since late April, d'Arnaud reported discomfort in the area, which forced him to stop the outing. He will continue to work with the Mets medical staff, but this season is starting to look a lot like last year when injuries limited d'Arnaud to just 67 games played.
Devin Mesoraco: After attempting to play through a torn labrum in his hip last year, Mesoraco wasted no time in electing for surgery on this year's injury. The Reds catcher will undergo shoulder surgery on Tuesday to repair a complete tear in his left shoulder labrum. The decision was not easy, as the associated recovery will fall somewhere between four and six months, making it likely he sits through another wasted season. Fantasy owners should act just as quickly and cut Mesoraco loose in favor of a more reliable option.
Alex Rodriguez: The Yankees veteran has been added to the 15-day DL with a low-grade hamstring strain. A-Rod is optimistic about returning following the initial 15 days, but that seems an unlikely scenario. A Grade 1 designation does make it the least severe strain possible, but keep in mind that Rodriguez has needed operations on both of his hips and is in the middle of his 22nd season. Extra time likely will be needed to insure he's able to return without limitation and insure a reduced chance of reinjury.
---
---