Detroit Pistons
Detroit Pistons
Pistons-Rockets Preview
Updated
Mar. 4, 2020 9:09 p.m. ET

There was a time when Houston's Dwight Howard could teach a thing or two to Detroit's Andre Drummond in the post, but the torch seemed to be passed in November.
Having turned back the clock in recent weeks, Howard will try to avenge that meeting and lead the Rockets to a 10th straight home win over the Pistons on Wednesday night.
Given their similar bruising style and inability to hit free throws, Drummond drew comparisons to Howard when he came out of Connecticut in 2012. Now he's enjoying a breakout fourth season with the Pistons (22-19), leading the league with 15.5 rebounds per game and ranking second among all centers with an average of 17.6 points.
Drummond announced his arrival as a budding star Nov. 30, finishing with 24 points and 13 boards despite going 4 for 18 from the free-throw line while helping Detroit pull out a 116-105 home win over the Rockets. He had his way with one of his idols as Howard battled foul trouble and ended up with just eight points and 10 boards.
"I remember when he was a little bit younger and he said I was his favorite player. That meant a lot to me and I'm really happy for his success," Howard said. "He's doing a great job down in Detroit. He's playing really good basketball. ... I'm real proud of him and the progress he's made in the last couple of years."
Howard, who is in his 12th season, has made progress of his own over the past three weeks. He's averaged 20.6 points and 14.7 rebounds while posting 10 straight double-doubles - the NBA's longest active streak - despite dealing with back and oblique injuries. It's his longest double-double string since a 14-game run late in 2012-13.
Howard is coming off his first career 35-point, 25-rebound effort with 36 and 26 in a 140-132 overtime loss to the Los Angeles Clippers on Monday. He also went 14 of 18 on free throws and is shooting 69.6 percent from the stripe in his last five games.
James Harden, the league's second-leading scorer at 27.5 per game, had 20 as the Rockets lost for the second time in three games after a season-best five wins in a row.
Harden, who had 29 points, nine rebounds and seven assists against the Pistons, is averaging 28.3 points, 9.0 assists and 7.3 boards over his last six in the series.
The Rockets (22-21) will try to bounce back defensively as they go after their 20th win in the past 23 home meetings. They let the Clippers hit 22 3-pointers, but Detroit hit just 5 of 26 from long range in Monday's 111-101 home loss to Chicago.
Drummond had his fifth straight double-double with 13 points and 16 rebounds. Reggie Jackson and Ersan Ilyasova scored 19 apiece as the Pistons lost their third in four games and failed to build on Saturday's 113-95 home win over NBA-leading Golden State.
"I'm happy where we are in terms of making progress, we've just got to be more consistent," coach Stan Van Gundy told the team's official website. "If you're consistent in terms of winning every night, then you're San Antonio or Golden State."
The Pistons have allowed 104.5 points per game in their last four after giving up 91.2 over a five-game span. They held Houston to 39.8 percent shooting Nov. 30.
Jackson was a handful for the Rockets, finishing with 31 points and eight assists.
---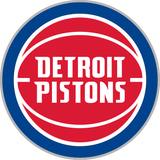 Get more from Detroit Pistons
Follow your favorites to get information about games, news and more
---