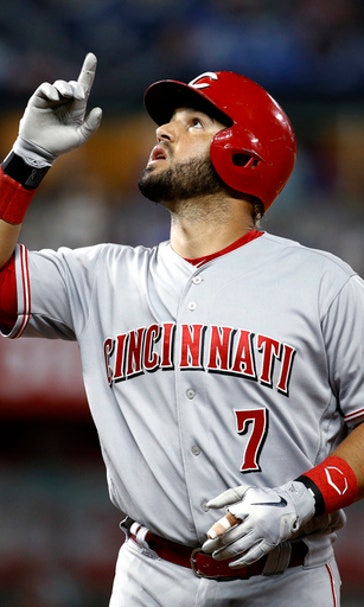 Votto 3B follows Hamilton's rundown magic, Reds top Royals
June 13, 2018
KANSAS CITY, Mo. (AP) Billy Hamilton eluded a rundown tag, and the Cincinnati Reds escaped with a victory.
Joey Votto hit a bases-loaded triple in the 10th inning after Hamilton slipped out of a rundown, and the Reds beat the Royals 5-1 on Tuesday night.
''Billy showed his athleticism and got out of that jam there and set it up for Joey,'' Reds manager Jim Riggleman said.
Hamilton got hung up between third and home when pitcher Kevin McCarthy (4-3) tipped Tucker Barnhart's line drive with his glove. McCarthy picked up the ball behind the mound and threw home, and Hamilton looked done until he sidestepped Alcides Escobar's tag and dived back safely into third base to leave the bases loaded with one out.
''I see the guy running back toward third base, I said, `Gimme the ball,''' Escobar said. ''When I tried to tag him I thought, `Oh my God, where did the guy go?' That was a great move right there.''
Hamilton's speed and maneuvering set up the victory.
''That goes down as one of the more crazy things I've seen him do,'' said Barnhart, who homered in the ninth to tie it.
Royals manager Ned Yost argued with third base ump Jeff Nelson that Hamilton ran out of the base path.
''In their judgment he didn't leave the baseline,'' Royals manager Ned Yost said. ''I said, `In my judgment he did. Can you check with Laz (Diaz, plate umpire)?' Laz was of the same opinion. You don't really have much ground there.''
Votto then tripled on a 2-1 count to the right-center wall, and Eugenio Suarez singled home Votto.
''I was looking for a quality pitch that I could put a little air on,'' Votto said. ''Can't hit the ball on the ground there. Can't hit it too shallow. I got a good pitch and put a good swing on it.''
Dave Hernandez (2-0) hit a batter and struck out two.
Barnhart drove a 2-2 pitch by Kelvin Herrera over the right-field fence into in the Royals' bullpen to lead off the ninth.
It was Herrera's second blown save in 16 opportunities.
After Barnhart's home run, Herrera walked Votto for his first walk of the season in his 27th relief appearance. He also walked Jesse Winker with two outs before retiring Adam Duvall on a groundball to end the inning.
Ian Kennedy, who has won one of his last 27 home starts, pitched eight scoreless innings, allowing three singles. He was removed after 104 pitches and the Royals holding a 1-0 lead.
''I leave it up to the staff to make that decision, not me,'' Kennedy said on coming back for the ninth. ''I kind of felt like Kelvin has been so good this year I imagined that was probably my last inning.''
Kennedy retired 12 straight after navigating his way out of a bases-loaded jam to end the second.
The Reds loaded the bases in the second inning on Scooter Gennett's leadoff single and walks by Suarez and Duvall. Kennedy got out of that jam when Jose Peraza flied out to center fielder Abraham Almonte, who threw out Gennett attempting to score.
Hunter Dozier led off the fifth with a 425-foot homer to left on a 2-2 pitch by Sal Romano.
That was the only hiccup for Romano. He allowed only three singles outside of Dozier's home run in eight innings.
The Royals have dropped eight of nine and have lost 22 of 32 home games.
SPELLING LESSON
The Kaufman Stadium scoreboard spelled the opposing team as ''Cincinatti.''
ROSTER MOVES
Royals: RHP Justin Grimm (low back stiffness) was recalled from his minor league injury rehab with Triple-A Omaha and activated. The Royals optioned rookie RHP Trevor Oaks to the Storm Chasers. OF Jorge Bonifacio, who is finishing an 80-game suspension, will begin a minor league rehab assignment Tuesday with Omaha. Major League Baseball suspended Bonifacio for testing positive for a performance-enhancing drug.
TRAINER'S ROOM
Reds: RHP Homer Bailey (right knee inflammation) allowed five runs on six hits in three innings in a rehab start Sunday for Triple-A Louisville. All the runs scored in the fifth when Bailey allowed two doubles and a triple. ''I talked to (Louisville bench coach) Dick Schofield and he basically said the first two innings looked good and then he got hit hard,'' Reds interim manager Jim Riggleman said.
Royals: Jorge Soler (bruised left big toe) returned to the lineup for the first time since Friday.
UP NEXT
Reds: RHP Tyler Mahle has allowed two earned runs over 10 innings in his first two June starts, going 1-0.
Royals: RHP Jason Hammel is 2-1 with a 2.59 ERA in his past four starts.
---
More AP baseball: https://apnews.com/tag/MLBbaseball
---
---