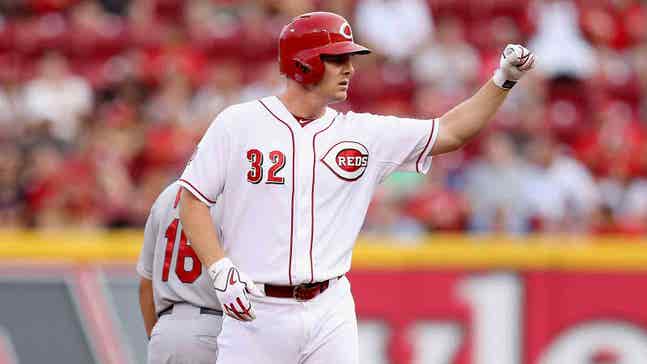 Reds looking to remain competitive while they remake their roster
Published
Mar. 13, 2016 6:00 a.m. ET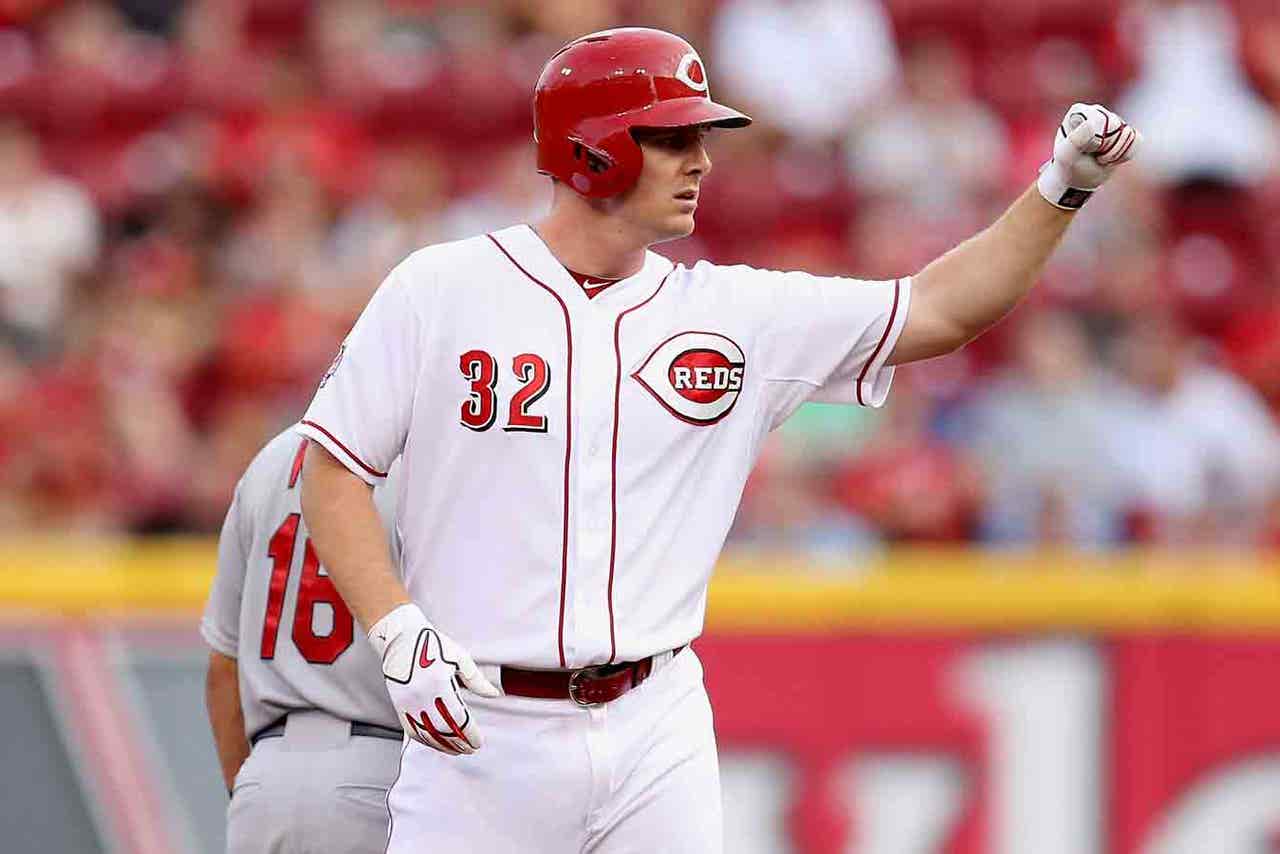 No one should accuse the Reds of tanking. If anything, the rap against them is that they haven't gone far enough in dismantling their roster.
Some of their efforts failed due to factors beyond their control -- second baseman Brandon Phillips rejected trades to both the Diamondbacks and Nationals, and an agreement to send right fielder Jay Bruce to the Blue Jays collapsed when at least one other player in the three-team deal failed to check out medically.
But the Reds, entering Walt Jocketty's last full season as president of baseball operations, also do not intend to concede.
"I think we're going to be a very good ball club this year," Jocketty said Sunday. "I think we're going to surprise some people, especially if we can (fortify) our bullpen, make some moves at the end of camp or during the season to strengthen that."
That's right, the Reds might look to add rather than subtract before Opening Day. Time will tell whether they are taking the right approach, or whether they should have pursued a more extensive teardown all along.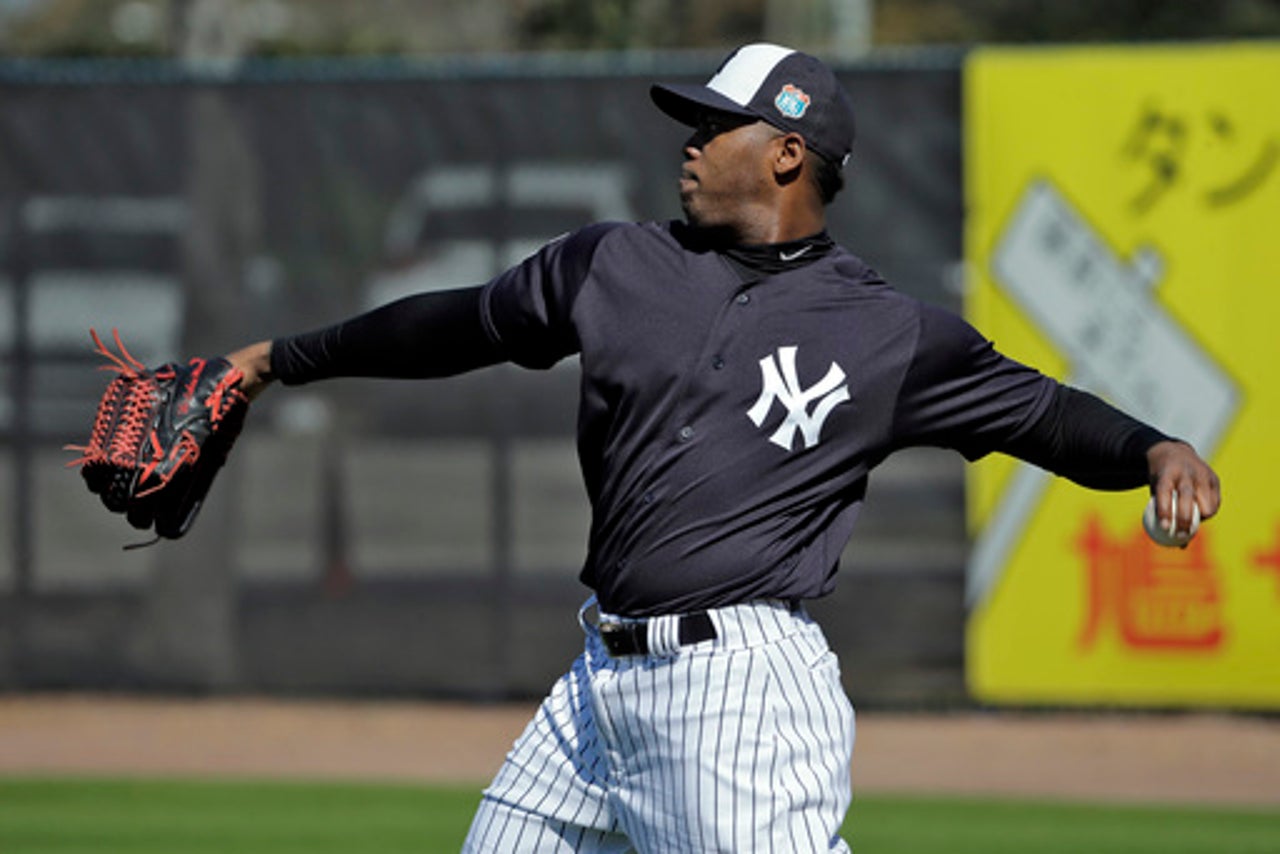 The Reds sent Aroldis Chapman to the Yankees in the offseason.
Some around the team believe that Jocketty does not want to endure another 98-loss embarrassment in his final season before moving into an advisory role. Dick Williams, the son of one minority owner and nephew of another, has taken on expanded duties since being named general manager on Nov. 4, but Jocketty remains the team's principal decision-maker.
"Whether it was my last year or not, it would be important -- we want to be competitive," Jocketty said. "Last year was a very tough season to go through and endure. It was one of the toughest years I've had. But reality set in, and we knew it was time to start trading some of our assets and build for the next couple of years. I think we're in a good position to do that now."
In the past 16 months, the Reds have traded right-handers Mat Latos, Alfredo Simon, Johnny Cueto and Mike Leake, plus outfielder Marlon Byrd, third baseman Todd Frazier and closer Aroldis Chapman.
Some of those deals drew mixed reviews within the industry; the Reds almost certainly received less for Chapman in December -- after news broke of the pitcher's involvement in a domestic-violence incident -- than they would have last July.
"There is a lot of talk about why we didn't get more for this guy or that guy," Jocketty said. "I can honestly tell you, there wasn't a lot offered."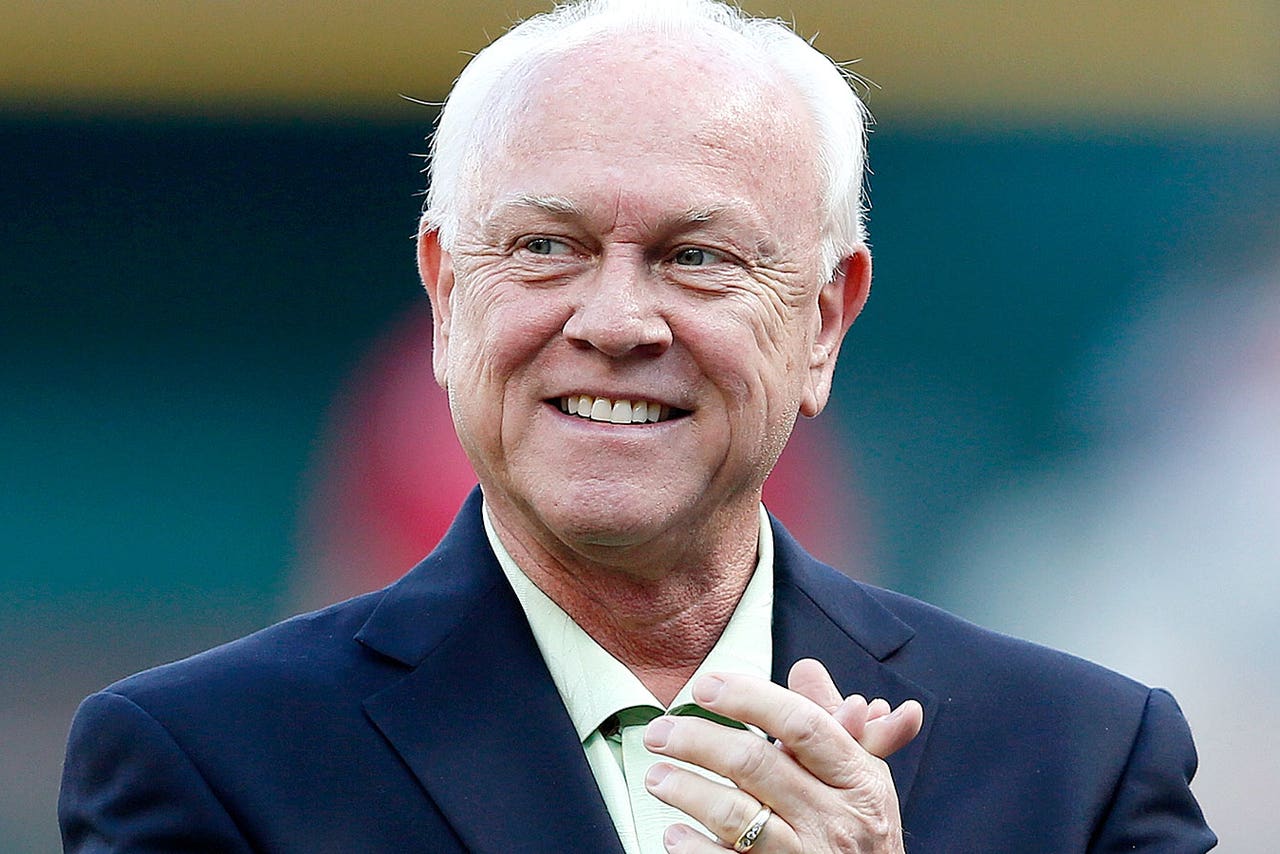 'This was more of a transition and an attempt to retool and add to what we have,' Walt Jocketty said.
Yet to this point, the Reds have declined to move younger players such as catcher Devin Mesoraco along with veterans, refused to acquire high-ceiling youngsters rather than prospects closer to the majors in trades.
Jocketty explained his thinking on both fronts Sunday.
On holding on to Mesoraco, who is under contract through 2018, and center fielder Billy Hamilton, who is under club control through '19:
"We didn't want to take it back too far. Mesoraco is still young (27) and under control. Same with Billy. We didn't want to do a complete teardown and rebuild. This was more of a transition and an attempt to retool and add to what we have.
"We still feel we have a very good everyday lineup, without Frazier. (Eugenio) Suarez, I think, is going to have a very good year (at third) -- we like him a lot. Getting (shortstop Zack) Cozart and Mesoraco back will make a huge difference in our offense. A lot depends upon Billy and his ability to get on base and do the things he's capable of doing."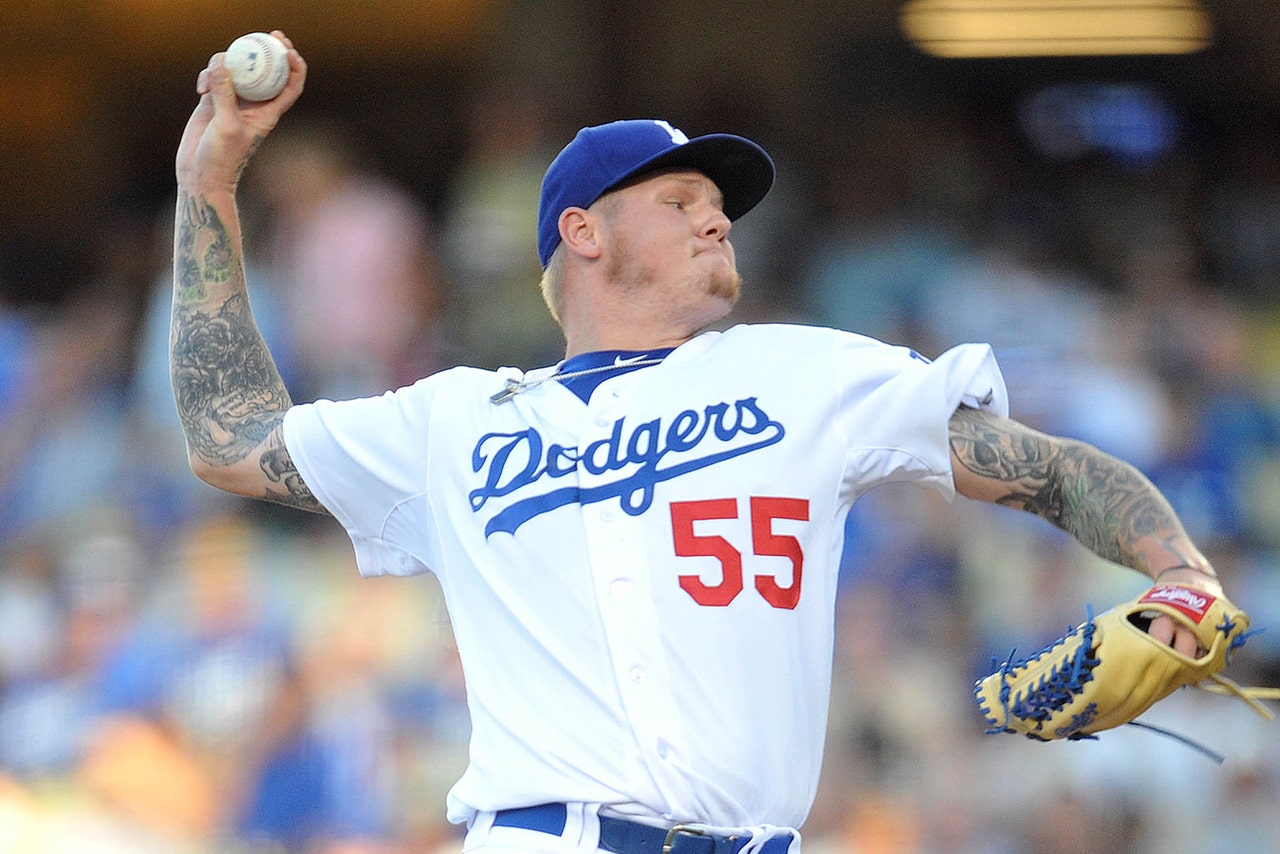 Mat Latos was one of a number of players the Reds have moved in the past 16 months.
On the types of prospects the Reds pursued:
"We went for guys close to the major leagues because we felt in our organization we had depth with guys who are probably three or four years away. We needed to get some players who were closer to helping us now in '16, '17 and '18.
"Plus, it's very hard to always project on a player who might be in A ball. Sometimes, you try to get guys who have established themselves a little bit more."
Jocketty remains excited about the package he acquired from the Royals for Cueto -- left-handers Brandon Finnegan, John Lamb and Cody Reed. The Reds were short on left-handed pitching in their organization, and as Jocketty put it, "We got three guys who we think are going to be outstanding. Finnegan and Lamb will give us some early returns, and Reed in the long run might be the top guy."
That deal, Jocketty said, enabled the Reds to pursue young position players in subsequent trades. Jocketty is particularly high on second baseman Jose Peraza, who was part of the return for Frazier. He even is pleased with the four-player package Chapman fetched, which Yankees GM Brian Cashman said was "modified" downward due to the closer's off-field issues.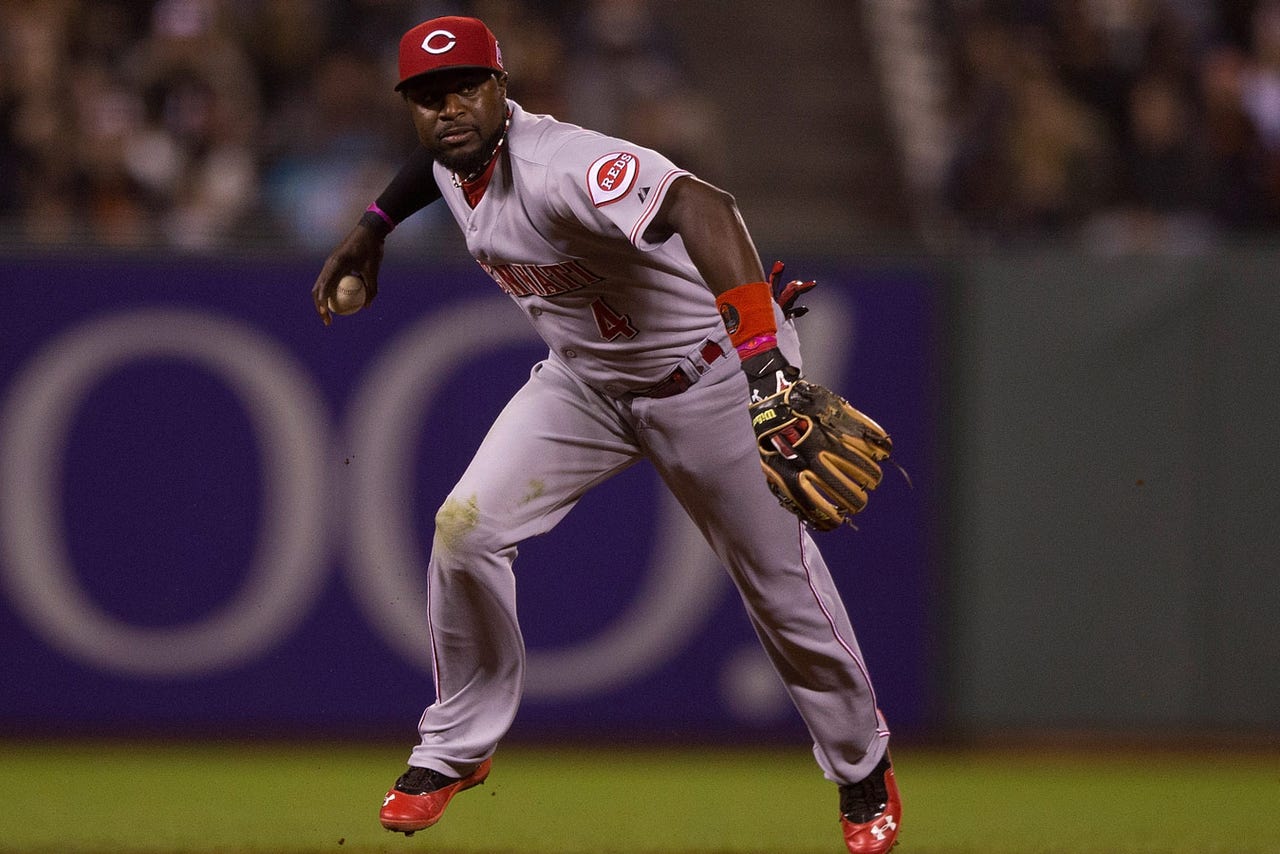 Brandon Phillips is one of the rare veterans on the Reds.
"We really liked (right-hander) Rookie Davis," Jocketty said. "(Third baseman Eric) Jagielo has got a big future. And Caleb Cotham can be part of our bullpen this year."
Davis is ninth on the Reds' list of top 10 prospects, according to Baseball America. Three other trade acquisitions also made the top 10 -- Reed (No. 2), Peraza (No. 4) and right-hander Keury Mella (No. 10), who was part of the Leake deal.
Meanwhile, Suarez arrived in the trade for Simon, while right-hander Anthony DeSclafani -- the team's likely Opening Day starter -- arrived in the trade for Latos.
The lingering question is whether the Reds would have been even more aggressive if they had made a clean break to Williams, the way the Brewers did in changing GMs from Doug Melvin to David Stearns.
Melvin left Stearns with three potential cornerstones -- shortstop Orlando Arcia, whom the Brewers signed out of Venezuela; and outfielders Brett Phillips and Domingo Santana, who joined the organization along with another top 100 prospect, left-hander Josh Hader, in a trade for center fielder Carlos Gomez and right-hander Mike Fiers.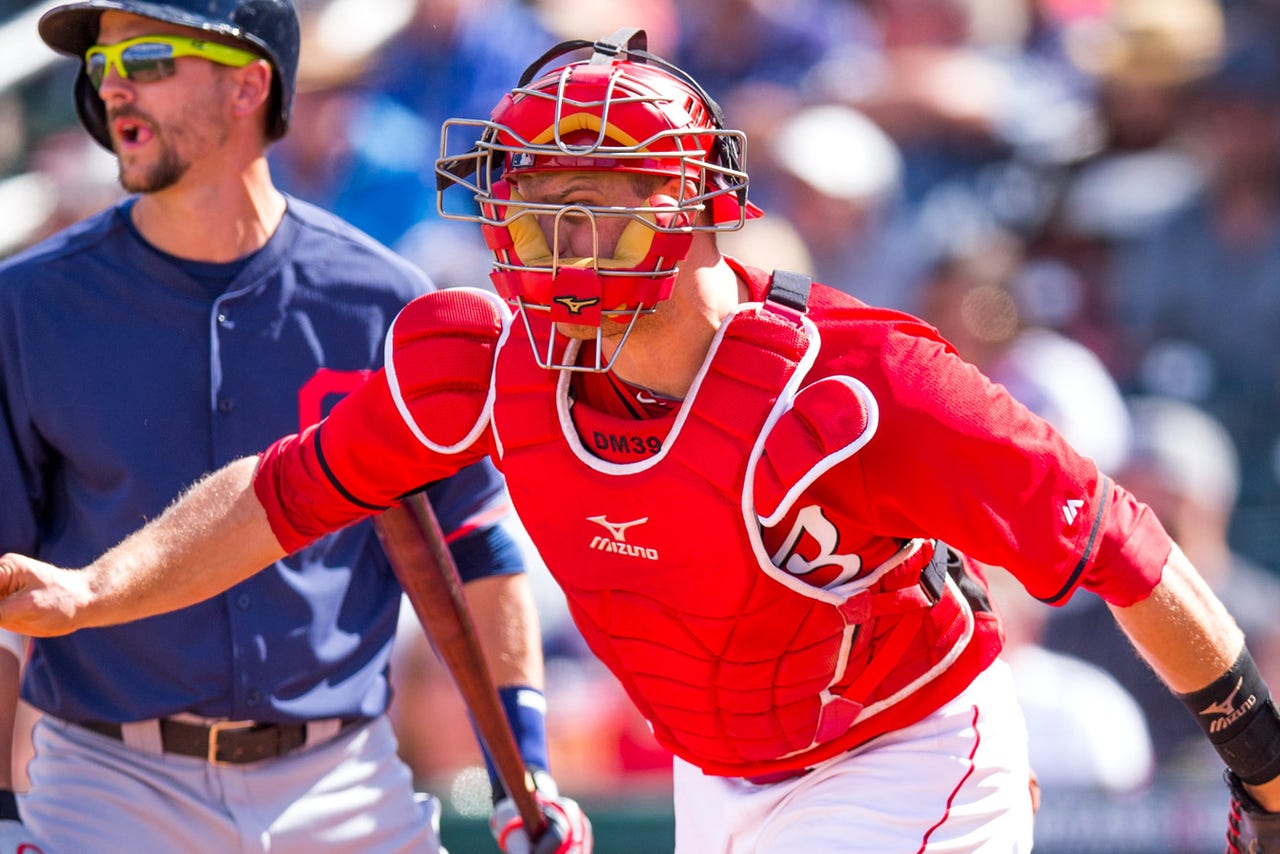 The Reds aren't interested in moving Devin Mesoraco. 
Stearns added two other highly regarded position prospects, catcher Jacob Nottingham and infielder Isan Diaz, and also made a series of lesser trades, improving the Brewers' farm system from 21st a year ago to ninth, according to BA.
The Reds' farm system did not require as much repair -- it ranked 16th the past two years, and since has moved up to 12th. What's more, owner Bob Castellini initially was reluctant to rebuild, in part due to his competitive nature and concerns about the potential impact on ticket sales, according to some with knowledge of his thinking.
The gradual shift in power from Jocketty to Williams presents a delicate dynamic, but Williams has worked for the Reds for more than a decade, most recently as Jocketty's assistant GM.
Williams, who remains deferential to Jocketty, did not respond to requests for comment.
"I don't think it's awkward," Jocketty said. "I still have the responsibility of the department this year, the final decision. That's pretty clear to everybody.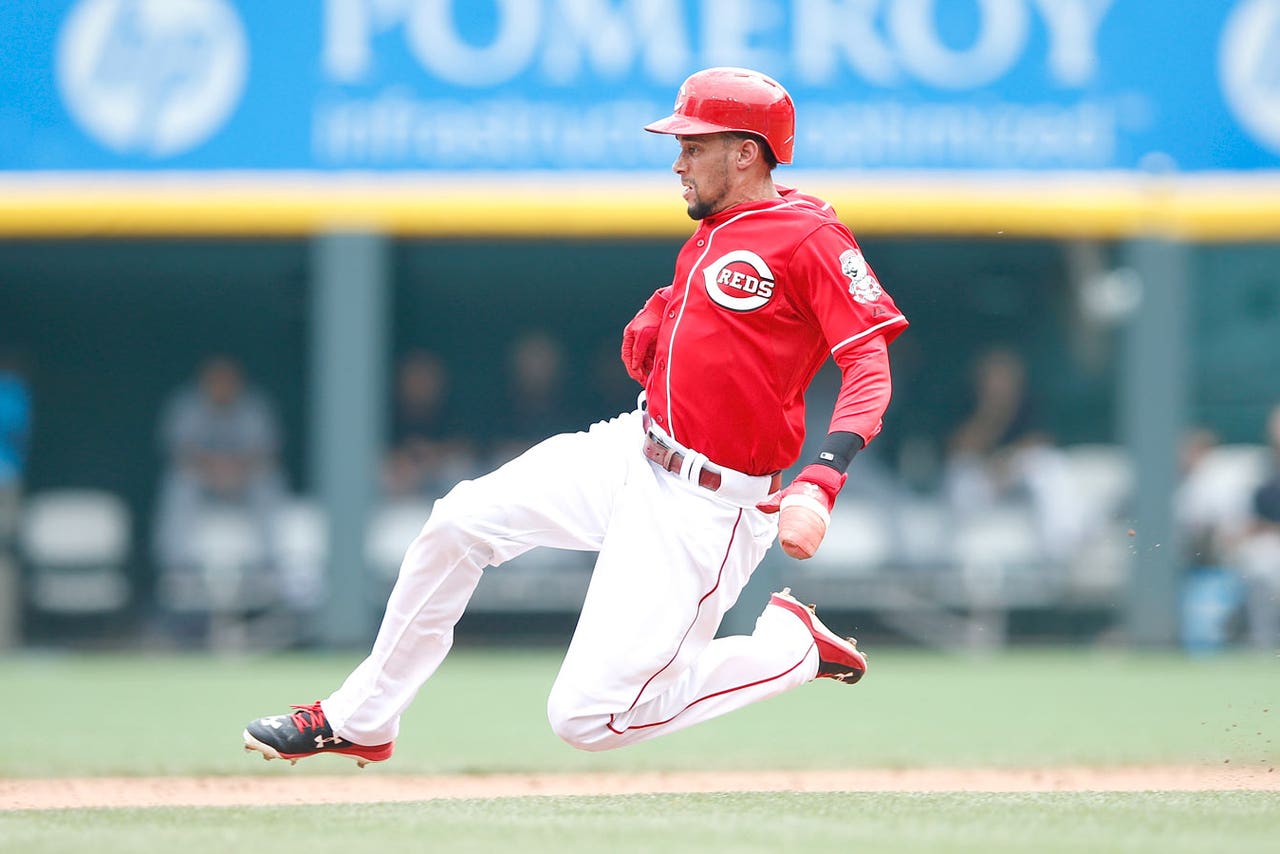 The Reds are sticking with speedy outfielder Billy Hamilton.
"It's not like bringing in someone I don't know, or him not knowing me. It's been a very smooth transition."
The more public transition -- the transition on the field -- comes next.
Jocketty calls the Reds' post-Chapman bullpen "our big question mark," but he likes the depth of the rotation and believes the team is on the correct path.
"I think in the next couple of years we're going to be right back in contention," Jocketty said. "The Cubs obviously are the strength of the division this year. Pittsburgh and the Cardinals will be strong again. But I think in the next year or so, we're going to be the right there."
---
---