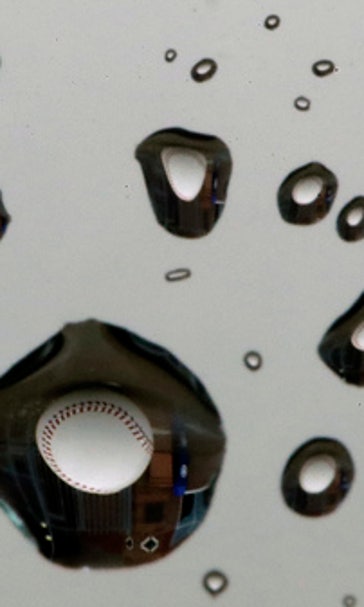 Mariners adopt 'Whatever It Takes' mantra for season
February 19, 2017

PEORIA, Ariz. (AP) The words are displayed prominently inside the Seattle Mariners' spring training clubhouse. In two languages.
Whatever It Takes. Lo Que Sea Necesario.
It's a sign of raised expectations for the Mariners after coming close to a wild-card spot and finishing 86-76 last season.
''We've got to stay on the process. It's controlling the zone. It's how we play. If you stay with that, the results kind of take care of themselves,'' manager Scott Servais said before meeting with the team Sunday, when the first full-squad workout of spring training was held. ''Chasing the numbers of wins, chasing your ERA, chasing how many homers, that stuff, it takes care of itself.
''Pressure's a privilege,'' Servais added. ''Expectations are great. They should be. That's what we're shooting for. That's what (GM) Jerry (Dipoto) spent all offseason working on, was to get our team a little bit better. It's a good thing.''
Robinson Cano and Nelson Cruz are two of the team's leaders, and both figure to miss considerable bonding time with their many new teammates at camp while playing in the World Baseball Classic.
They'll join the Dominican Republic team the first week of March and could be gone a couple of weeks if the team makes another deep run in the WBC.
''For all the guys that go there and represent their countries, we take a lot of pride in that,'' Cruz said. ''The whole country is excited. Wherever you go, kids to adults, everybody's looking forward to the moment.''
Another main presence in clubhouse, ace Felix Hernandez, will head off to join Venezuela's team.
''It's not great, but important for them, they're not going to be on those teams sitting on the bench,'' Servais said of the three. ''They're going to be playing and getting their at-bats. They'll be in very competitive situations. It should help them once the season starts.
''As far as the chemistry in the clubhouse, those guys are a big part of what we're doing, so that's a little bit challenging. But we'll rev it up early here in camp to make sure they have a good feel, but more importantly, the new players have a good feel for them. Because it's their team and their clubhouse, and our leadership is really important to that.''
Servais worked on developing that chemistry in the offseason when he made a surprise visit to Cruz in the Dominican Republic, where he had dinner with Cruz, Cano and new shortstop Jean Segura.
Cruz, Seattle's designated hitter, is coming off a 43-home run, 105-RBI season.
For Cruz, the slogan ''Whatever It Takes'' means that even when a player doesn't want to think about the higher expectations, they are there for the Mariners. He recalled how much fun he and his teammates had the last few days of last season, when every pitch and every at-bat was meaningful as the Mariners chased the postseason.
''But we came up short, so we'll make sure this year we can be on top and clinch early,'' Cruz said. ''Sometimes you have to leave your comfort zone. If that means I have to hit a ground ball to second base, whatever it takes. If you have to take one for the team, you take it. You have to go out there every day and compete and just find a way to get it done.''
NOTES: The Mariners have players from 10 different countries plus Puerto Rico in camp: U.S., Canada, Dominican Republic, Panama, Mexico, Venezuela, Cuba, Brazil, Japan and South Africa. ... LHP Ariel Miranda, 5-2 with a 3.88 ERA in 10 starts last season, will continue to work as a starter. With the five-man rotation set for now, Miranda figures to be the first one to get the call if a replacement is needed. ''Certainly based on what he did for us last year, at this point I think he's earned that,'' Servais said. ... All five projected starters - Hernandez, Hisashi Iwakuma, Drew Smyly, James Paxton and Yovanni Gallardo - threw a bullpen session Sunday.
---
---