John Axford's young son to throw out 1st pitch after snakebite treatments
Published
May. 7, 2015 2:18 a.m. ET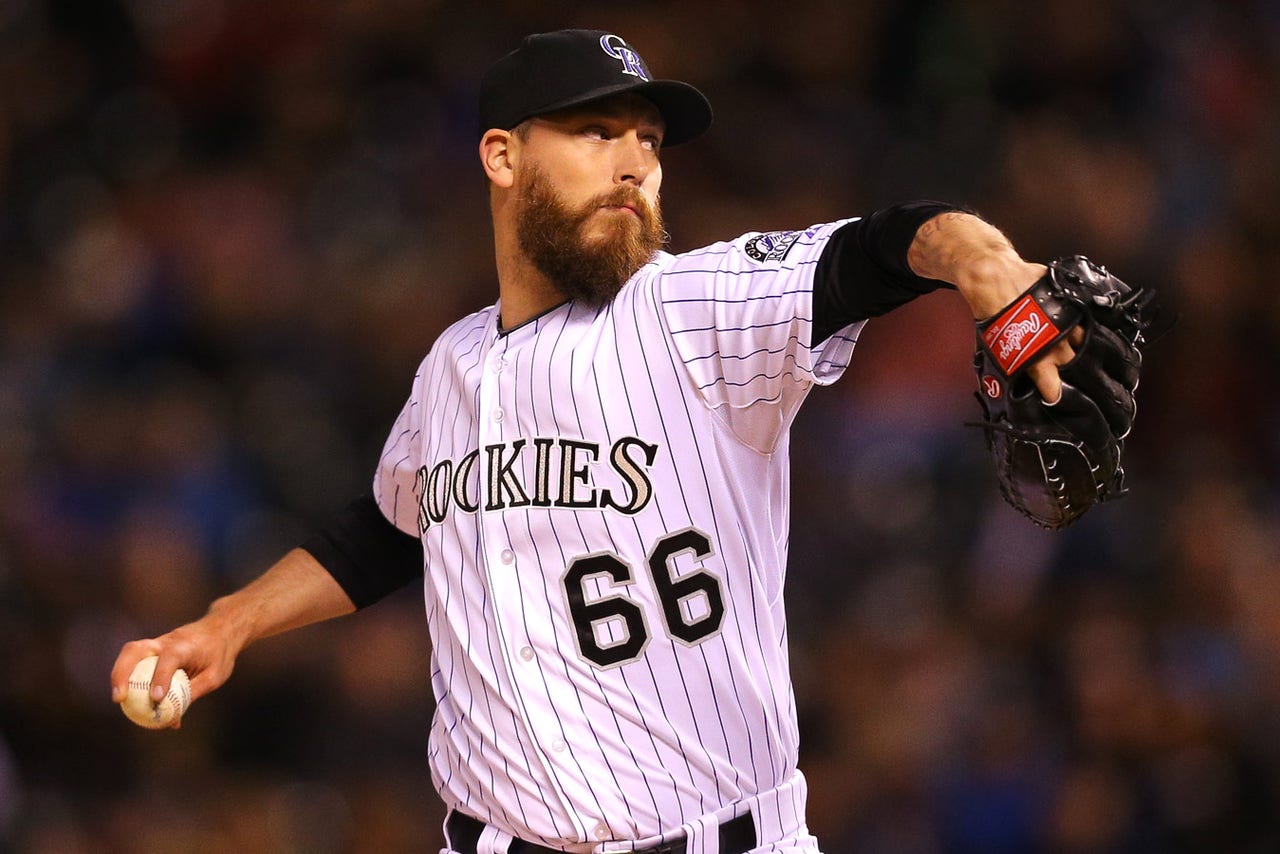 The young son of Colorado Rockies closer John Axford will finally get to see his dad pitch in person after spending the last two months in and out of hospitals for treatment of rattlesnake bites.
Two-year-old Jameson Axford will be the guest of honor as he throws out the ceremonial first pitch Friday at Coors Field before a game against the Los Angeles Dodgers.
The catcher? His father, of course.
''I wouldn't let anybody else do that,'' said Axford, whose wife, Nicole, and 3-year-old son will be in attendance as well.
This has actually been in the works for a while, said Jim Kellogg, the team's vice president of community and retail operations. The Rockies were just waiting for the right time.
''We want to make it special for the family and let the fans know that all the thoughts and prayers have helped the family,'' Kellogg said.
Jameson Axford was bitten twice on the right foot two months ago in the yard of the house the family rented in Scottsdale, Arizona, for spring training. Since then, he's gone through one procedure after another to fix the foot.
A trip to the ballpark will definitely ''lift his spirits,'' his father said. Jameson remains in a wheelchair while the foot heals.
''Just to see my son out there and with a smile on his face, being able to do something that he loves to do, which is come to a baseball game - that's something that's kind of rare right now, with what's going on,'' John Axford said. ''He's gone through so much already.''
Jameson undergoes procedures twice a week on his foot, but here's encouraging news: His foot is starting to grow tissue.
''Looks like it's going to be fine,'' his father said. ''Just a matter of how much more work he will need.''
As for when his son will be able to walk on his own again, Axford said that's still unknown.
''It could be months or a year or a couple of years,'' he said. ''He did have to have his bone in his foot shaved down, because the staph infection took over part of the bone. And then one of the tendons in his foot collapsed.
''We really don't know if his foot will be stable right away or stable after a few months or never be stable. If it's not, that means he'll be with a brace for a while, until he's older and stronger to have more surgeries.''
Axford isn't sure whether Jameson will throw his first pitch Friday as a righty or a lefty. He's equally adept at both.
''This is going to be exciting,'' Axford said.
---
---