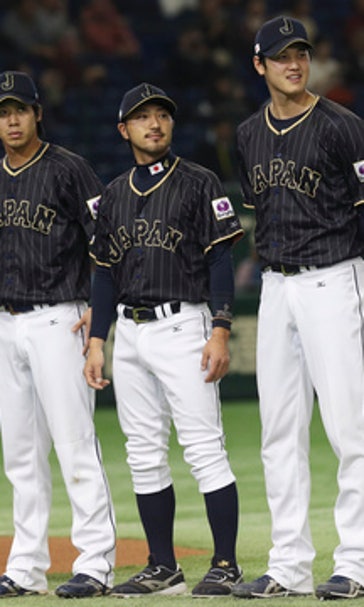 AP source: MLB, Japanese, union reach posting deal
BY AP • November 22, 2017
NEW YORK (AP) Major League Baseball, its players' union and the Japanese commissioner's office agreed Tuesday to a new posting system that could allow star pitcher-outfielder Shohei Ohtani to be put up for bid next week, a person familiar with the deal told The Associated Press.
The agreement is still not in writing and must be ratified by Major League Baseball, Nippon Professional Baseball and the Major League Baseball Players Association, the person said on condition of anonymity because no comments were authorized.
MLB owners are scheduled to vote for ratification on Dec. 1, and Ohtani is expected to be posted then or the following day, the person said. The deal calls for the negotiating period this offseason to be cut to 21 days from 30. The posting fee limit this offseason remains $20 million, and Ohtani's club, the Pacific League's Nippon Ham Fighters, is expected to seek the maximum for the 23-year-old star.
As part of the deal, a tiered system for posting fees will start next Nov. 1. The fee will be 20 percent of the first $25 million of a major league contract, including earned bonuses and options. The percentage drops to 17.5 percent of the next $25 million and 15 percent of any amount over $50 million.
For minor league contracts, the fee will be 25 percent of the signing bonus.
Starting next offseason, the posting period will be shortened to Nov. 1 through Dec. 5. Under the previous agreement, the time period was Nov. 1 through March 1.
As part of negotiations this week, NPB dropped its stance that a Japanese team be able to withdraw a posting before the process is complete.
The players' association wanted that provision eliminated and also desired the shorter posting period. The union believes Japanese free agents entering the market late potentially could impact negotiations with major league free agents.
Ohtani is the reigning Pacific League MVP and was 3-2 with a 3.20 ERA this year for the Fighters, limited because of thigh and ankle injuries. He hit .332 in 65 games with 16 doubles, eight homers and 31 RBIs.
A right-hander, Otani has a 42-15 record with a 2.52 ERA and 624 strikeouts in 543 innings over five seasons, and a .286 batting average with 48 homers and 166 RBIs.
Under baseball's labor contract that started last Nov. 30, Otani is restricted to a minor league contract subject to signing bonus restrictions because he is under 25.
Texas has the most money remaining to sign international players under age 25 in its pool for the period running through June 15 at $3,535,000, followed by the New York Yankees at $3.5 million, Minnesota ($3.07 million), Pittsburgh ($2,266,750), Seattle ($1,557,500) and Miami ($1.49 million).
---
More MLB baseball: https://apnews.com/tag/MLBbaseball
---
---