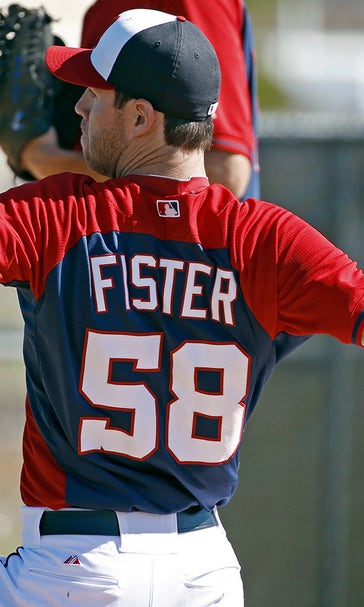 2014 Nationals preview: Club needs to avoid slow start
February 21, 2014

WASHINGTON NATIONALS
Offense: The Nationals essentially return the same lineup from last season, and that's not necessarily a bad thing. Denard Span, the speedy outfielder who hit .279 with 20 steals, heads back to the leadoff spot in front of the impressive Ryan Zimmerman-Bryce Harper-Jayson Werth trio. Those three guys combined for 71 home runs and an 11.4 fWAR in 2013. Backed by Adam Laroche, Ian Desmond and Anthony Rendon, there's plenty of potential for this lineup to be one of the highest-scoring units in baseball.
Rotation: With the addition of Tigers standout Doug Fister, who was acquired in a December trade, there's little reason to doubt Washington's bevy of arms. Fister went 14-9 with a 3.67 ERA in 208 2/3 innings. Adding that productivity to the team's returning Big Three of Stephen Strasburg, Gio Gonzalez and Jordan Zimmermann (combined 22.5 fWAR over past two seasons), the Nationals look like the most loaded starting staff in the National League. The fifth starting spot could turn into a battle with Ross Detwiler, Tanner Roark and Taylor Jordan — three capable options — but does it really matter that much behind four front-end guys?
Bullpen: The relief corps finished around the middle of the pack in value among MLB bullpens last season, with Roark, Craig Stammen (2.76 ERA in 81 2/3 innings) and closer Rafeal Soriano (43 saves, 3.11 ERA) putting up the best numbers. Those relievers are back in the fold, along with talented setup men Tyler Clippard and Drew Storen who have plenty of ability to hold onto leads late in games. And with such a talented rotation and lineup, there should be plenty of leads to hold on to.
Player to watch: Bryce Harper is already the superstar he was expected to be coming out of the minors, but after a wildly successful rookie year (22 homers, 4.5 fWAR) he ran into some injury issues last season, playing in only 118 games. But he cranked 20 homers, hit .274/.368/.486 and swiped 11 steals. Among players who compiled 450 or more plate appearances last season, he finished tied for 21st in weight runs created. Is this the year he makes the leap into the sport's highest stratosphere?
Why they will win: The easiest answer? The Nationals live up to their potential from Day One. Washington stumbled out of the gate last season and didn't turn "it" on until the tail end of 2013, when it was already too late to catch up in the division and wild-card races. By improving an already loaded staff and returning a talented lineup, the Nationals are going to be early favorites once again.
Why they will lose: Barring injuries, which can derail any World Series hopes, the Nationals rotation does not see any leap in production by replacing Haren with Fister and the lineup continues to be hot and cold. A slow start under first-year manager Williams would not help matters, as the NL East looks formidable.
Ken Rosenthal's outlook: I still can't figure out how the Nationals won only 86 games last season, so it's not a stretch to see them winning 96 this season — or more. The trade for right-hander Fister makes a fine rotation even better. The signing of free agent McLouth makes a strong outfield even deeper. And while Williams has not managed previously, his attention to detail is a welcome change for a team that seemed to lose focus last season under Johnson. The Nats are loaded, a reasonable choice to represent the NL in the World Series.
---
---