You better not count the Philadelphia Eagles out on Sunday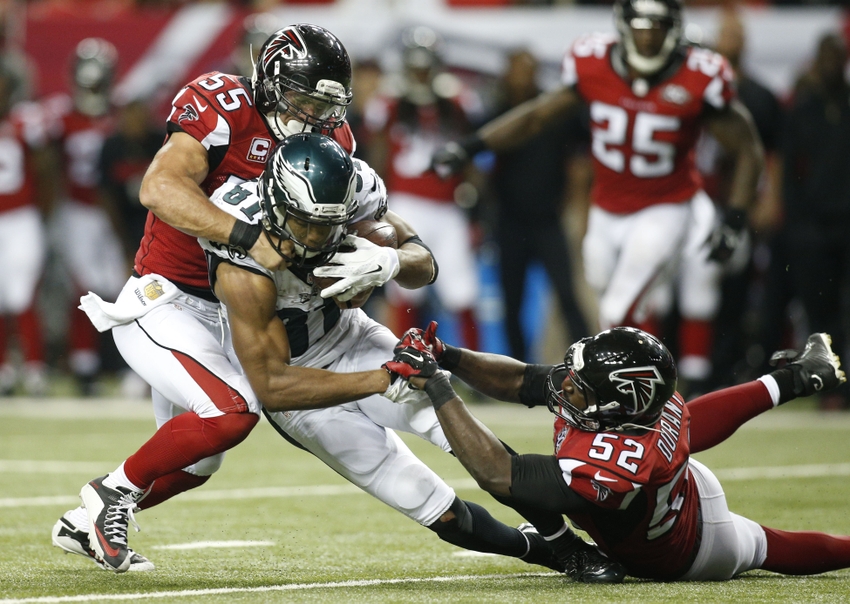 On Sunday, the Philadelphia Eagles face an Atlanta Falcons squad that has been lenient on opposing offenses.
The Eagles (4-4) enter a matchup with the Falcons (6-3) that doesn't look to be favorable when you look at it initially. Julio Jones is likely salivating about the opportunity to ravage one of the worst cornerback corps in the league. Jones is seventh in the NFL in catches (51), first in yards (970), and sixth in touchdowns (5).
The Eagles may find themselves with favorable matchups offensively. Desmond Trufant, Atlanta's best corner, has yet to practice this week, which doesn't bode well for Sunday. Jalen Collins, a second-year corner, has been slated as the replacement for Trufant. Aiding in the likely opportunities that will be available for Eagles receivers Sunday.
Inside the numbers
Matt Ryan leads the NFL in passing yards (2,980), touchdowns, (23), and is second in quarterback rating (119.0). The Boston College product has dazzled opposing defenses. Most importantly, he's only thrown four interceptions. One of his best weapons, running back Tevin Coleman, is likely out again on Sunday. The Eagles haven't allowed more than 10 points and haven't lost a game at Lincoln Financial Field this season.
Rookie quarterback Carson Wentz has thrown five touchdown passes to only two interceptions when playing at home. Atlanta's defense will, most likely, also allow opportunities as they have all season. They're ranked 29th in total (yards) defense in the NFL. They also rank 30th in the NFL in points allowed (259) and 31st in pass yards allowed per game (289.9). This means that Wentz should be able to get comfortable in the pocket early and get into a rhythm with his receivers facing a depleted secondary.
Schwartz takes note
In a recent interview, Defensive Coordinator Jim Schwartz told the press that Bennie Logan's return is "huge". His absence disrupted the four-man rotation that Schwartz utilizes to keep his linemen fresh. Fellow defensive linemen Brandon Graham, and Fletcher Cox will be needed as well. As a trio, they've accumulated the fifth-most sacks in the NFL (23). They'll need to expose Atlanta's offensive line. Ryan is the fifth-most (22) sacked quarterback in the league. Disrupt the MVP-candidate's rhythm is key to a victory in this one.
Philly may also be able to create momentum in their own running game. This would be essential to the Eagles keeping Atlanta's high-powered offense off the field. From there, the seams and middle of the field could open up nicely for Zach Ertz and Trey Burton. Tight ends have had consistent success against the Falcons' defense. After last week, Ertz and Wentz have shown signs of emerging, and they could help this young squad may find itself in a position to win a game that many have already counted them out of.
More from Inside the Iggles
This article originally appeared on