What's Marvin Lewis' Future After the Giants Loss?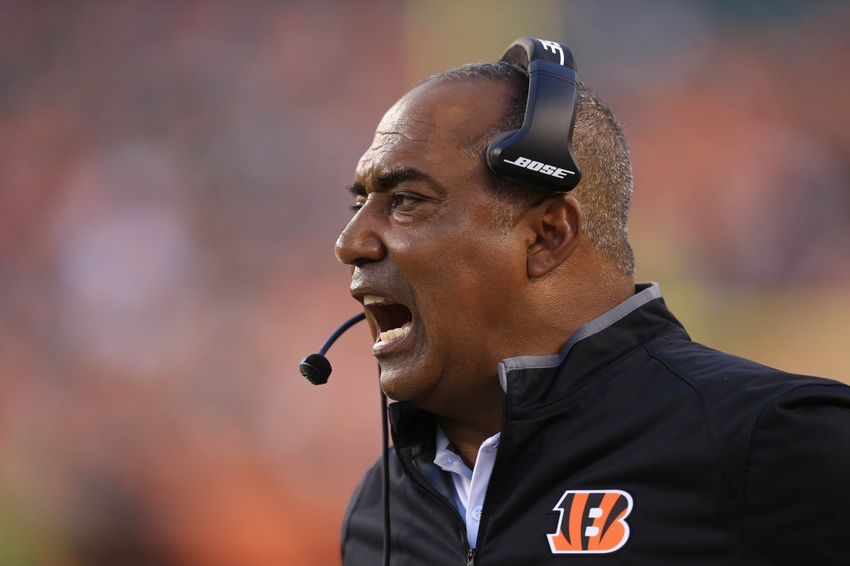 The Bengals dropped a close game last Monday night. Cincinnati traveled to MetLife Stadium, to play the Giants. Does the loss bode well for Marvin Lewis?
As I sat in the stadium Monday night, I took some major heat from all of the Giants fans surrounding me. Although, in the brief moments of silence and gloating,  I realized a couple things. For one, Andy Dalton is a much better quarterback than the two-time Super Bowl winning Eli Manning. Sure, Dalton has his mistakes, such as the interception that he threw in the Giants game, but I'll take him over Manning any day.
During the game, the Red Rifle threw the ball down the middle of the field into double coverage and was picked off by safety Landon Collins, however, literally the next play, Manning did the exact same thing, except he threw into triple coverage. With that throw, Manning marked his second interception of the game.
Manning is now in his 13th season and has been doing the same thing his entire career. At least when Dalton throws interceptions, they're not terrible interceptions, they ironically put the Bengals in much better field position.
Hard To See Him Staying
Another thing that the Bengals showed me was Lewis is in his last season as head coach in the Queen City. The defense is not playing up to par, the offense cannot score in the red zone and if the Bengals miss the playoffs, the NFL and fans would be calling for his removal.
The Giants game made this very clear. If the Bengals were playing like the Bengals from the previous couple years, there's no way the Giants would have even been able to hang with the orange and black. Prior to Monday, New York hadn't beaten one team that made the playoffs last season. They also lost to every team they played that did make the playoffs.
The Bengals are on the decline. Even though the Bengals still have a shot to make the playoffs, it's going to  be hard. The Bengals have to win the division in order to make the playoffs. The Oakland Raiders, Broncos, and Kansas City Chiefs are primed to take three spots in the playoffs leaving room for only three divisional winners.
After having such an amazing season last year for the Bengals then churning out a season like this, it doesn't look good for Lewis or the rest of the coaching staff. Changes need to be made and they're going to have to start with the head coach. Lewis hasn't won a playoff game in 13 years. Marvin Lewis came into the season on the hot seat. Taking everything into consideration, it's hard to see him as the coach next season. His best shot is to make the playoffs somehow.
This article originally appeared on