NFL Rumors: Jamaal Charles could return this season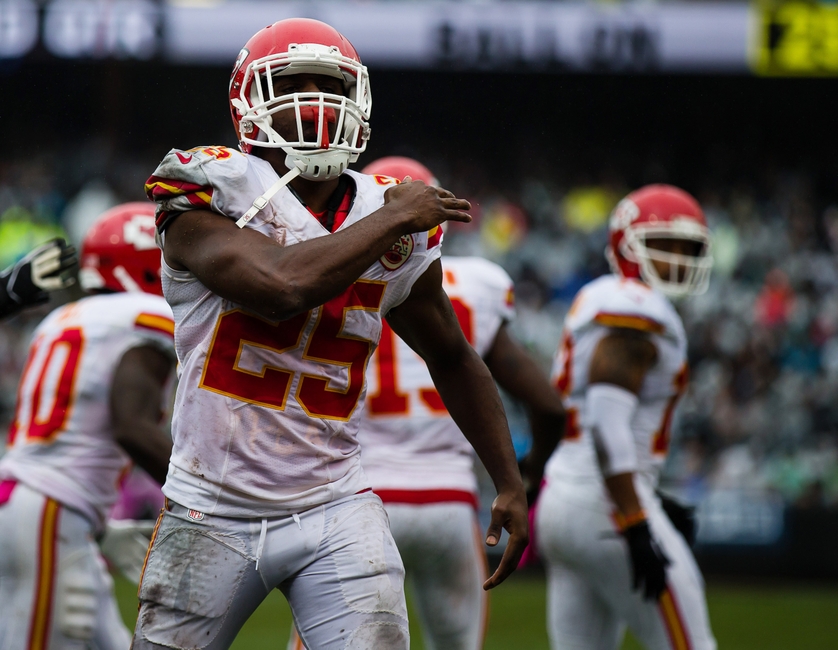 Kansas City Chiefs running back Jamaal Charles could still play this season after he successfully underwent knee surgery.
It's been a horribly unlucky season for Jamaal Charles, the Kansas City Chiefs running back who was the NFL's rushing leader just three years ago. But after suffering an ACL injury last season, he started the season on the shelf. He returned in Week 5, then only lasted three games before suffering another setback to his knee, prompting the Chiefs to place him on the injured reserve. Up until that point, he only had 54 scrimmage yards and two touchdowns.
Charles is only 29, so it's not like he's in the twilight of his career. Nevertheless, suffering two devastating injuries in back-to-back seasons is always detrimental to one's continuing prospects. While it seemed like his move to IR would end his season, Ian Rapoport is saying that he could still play this season:
#KCChiefs RB Jamaal Charles' knee surgery today went as well as expected, I'm told. So much so, there is a shot to come back this year.

— Ian Rapoport (@RapSheet) November 2, 2016

Of course, by virtue of being on IR, Charles will miss at least eight weeks. That means he won't be eligible to return until Week 17, at the earliest. It's not like the Chiefs have missed him either. As was the case when he went down last year, Spencer Ware emerged as their best weapon out of the backfield. He got off to a great start again this year, and even when Charles was playing, Ware was the primary rusher.
The Chiefs are off to a great start, having amassed a 5-2 record. But in the insanely stacked AFC West, they're still third behind the Oakland Raiders and Denver Broncos, although they already beat the Raiders once this year. The Chiefs' locker room is starting to resemble an infirmary, as both Alex Smith and Ware got injured in last week's win against the Indianapolis Colts. While Nick Foles looked great in relief of Smith, their running game takes a big hit without Charles or Ware.
With more and more players going down each week, Charles' return would give them a big boost. And even though he wouldn't return until Week 17, in what may be a meaningless game, his return would pay immediate dividends in a potential playoff run.
This article originally appeared on