New York Jets: Week 3 Report Card, Grades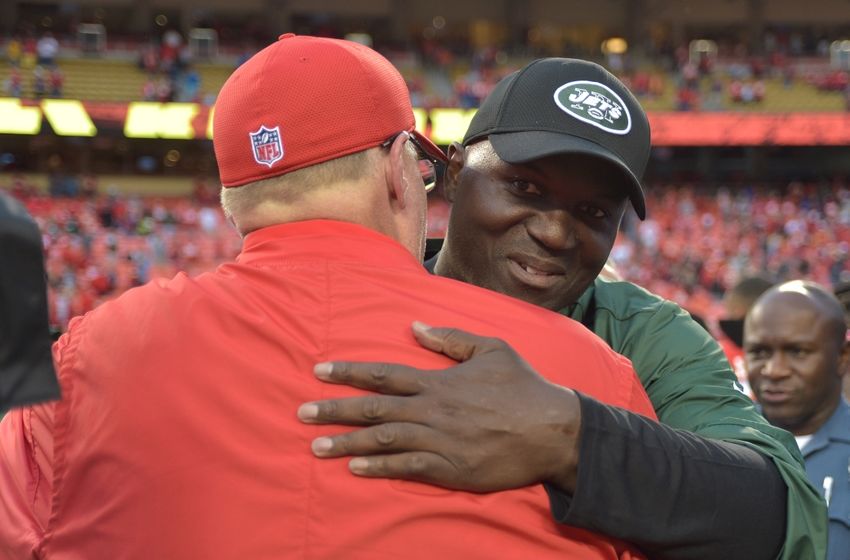 How did the New York Jets grade out in their week three loss to the Kansas City Chiefs?
Okay, New York Jets fans. You have had some time to digest that game on Sunday. You needed it, I understand. Eight turnovers are hard to accept, and six interceptions from the quarterback are nauseating. Jets' fans pushed hard for Ryan Fitzpatrick to be re-signed and they certainly didn't expect a performance like this.
But, it wasn't all bad. It really wasn't. There were still some bright spots and 21 other starters that didn't throw six interceptions. In fact, there are even a few positives to take away from a game as disappointing as Week 3's.
After sitting back and really thinking about the game, it's time to hand out some grades. There are some bad ones, don't get me wrong. But some of the grades aren't so bad.
Let's get to it. Here is the Week 3 report card for the New York Jets
Quarterback: F
Ryan Fitzpatrick entered the game against the Chiefs on a hot streak. He tore up the Buffalo Bills for nearly 400 yards in week two, and Jets Nation was ready for a repeat performance in week three.
Well, that is not what happened, is it?
The "Fitzmagic" never got off the plane in Kansas City. He went 20-of-44 for 188 yards, no touchdowns and six interceptions. Granted, they weren't all entirely his fault. Marcus Peters made a great play on the first interception. There were red zone interceptions on tipped passes. It's not like the wide receivers got any separation, which we will talk about in a couple of slides.
But the decisions that Fitzpatrick made were simply bad. He threw into too many passes into tight windows. He threw too many passes where there were Chiefs surrounding his target. For one week, he forgot that it's okay to throw a pass away and live to play another down.
That is why he gets an "F."
Running Backs: B-
The men behind Fitzpatrick didn't play badly at all.
Matt Forte has proven me wrong again and again and he did so on Sunday at Arrowhead. The fact that he was able to find 65 yards in 15 carries was mind-boggling, considering how bad the Jets' offense was overall. They couldn't get out of their own way in the passing game, but Forte just keeps running. He has proven to be an excellent signing.
Bilal Powell was more involved in the game plan, as the coaching staff promised. He looked fast, running the ball three times for 22 yards. He also led the team in receiving, with six catches for 41 yards. That will be addressed in the next slide when we talk about the wide receivers, but for Bilal, he did a good job.
The running game remains strong.
Wide Receivers: F
Where did the receivers go? Did they remain in Buffalo for an extra week? They certainly didn't show up in Kansas City. After three receivers went over 100 yards in Buffalo, nobody came anywhere near it in Kansas City. Eric Decker and Brandon Marshall combined for four catches and 58 yards. Add Quincy Enunwa's four receptions for 37 yards, and the big three didn't combine for 100 yards.
What a difference a week makes.
It's not just the numbers that were troubling; it's the fact that nobody was able to get open. They weren't even able to get separation from linebackers. It was bad. Fitzpatrick made bad decisions, but it's not like he had guys wide open to throw to. The passing game was dysfunctional.
Offensive Line: B
The offensive line performed fairly well.
It's hard to be terribly critical here. Believe it or not, Fitzpatrick played a clean game, not being sacked once. With six interceptions, you would have thought he was under siege. He wasn't. It seems crazy to think that the entire sextet of picks can be blamed on the quarterback. With how the Harvard-man played under center, though, that's undoubtedly the case.
He was clean. The Jets also ran the ball at a 5.3 yards per carry clip. That's a good number, and kudos to them for establishing the run so solidly.
However, there wasn't always a clean pocket. Fitzpatrick was hurried, at times, and some of his poor throws came from those closing pockets. It wasn't a perfect day for the boys up front. But it wasn't terrible. That distinction lies for elsewhere on the Jets roster coming off of this loss.
Defensive Line: B
It's hard to get on the Jets' defense too badly. After all, the defense actually only gave up 10 points. I'd say that's not too shabby.
Let's look more closely at the line. Against the run they were as stout as usual. The Chiefs only managed an average of 2.7 yards per carry on the ground. Holding your opponent to 72 yards on the ground is a good day at the office.
Leonard Williams and Sheldon Richardson did post a half sack each. But they couldn't get consistent pressure on Alex Smith. Part of it was the game plan on the Chiefs' part, don't get me wrong. They utilized the aggressiveness of the Jets perfectly. But that doesn't excuse the fact that they weren't able to get to the backfield with any regularity.
Linebackers: C-
Again, the defense was good, on a whole. But, the linebackers were the worst of the group.
The Jets did a lot of work to get faster in the linebacker group. Darron Lee is here, as is Jordan Jenkins, both via the draft. Erin Henderson was retained from last year due to his speed, as Demario Davis was let go. They worked to clear the problem they have dealt with for years. That problem is defending the tight end.
Well, Travis Kelce led all receivers with six receptions for 89 yards and a touchdown. Something went wrong on Sunday. The group looked slow and frankly, looked like the group of old. Yes, they stepped up in stopping the run and shared one sack, but they were too slow in stopping the attack through the air.
Defensive Backs: B-
The backs were not terrible. Look at the numbers for the Chiefs' wide receivers. Jeremy Maclin caught four passes for 35 yards. Chris Conley caught three passes for 44 yards. They never got burned deep, which was a welcome change from previous weeks.
As far as tackling goes, Marcus Gilchrist and Darrelle Revis were two of the Jets' leading tacklers. They weren't bad.
But again, it wasn't perfect. They too were beaten badly in the short passing game. Part of the problem was the coaching not making any adjustments to the Chiefs' game plan. But they were unable to disrupt the flow either, however.
Special Teams: D
This was the roughest outing of the year for the Jets' special teams unit.
There were a couple of good kickoff returns, especially the one that went for 54 yards by Quincy Enunwa. But Lachlan Edwards was up and down, averaging just over 28 yards per punt. And when you have a fumbled kickoff return for a touchdown, it's a very bad day at the office. Sorry, Jalin Marshall. You will have better days.
It was a bad day at the office for the Jets, no doubt. Todd Bowles is absolutely right when he said in the post game press conference that there were a lot of things to fix. With the Seahawks coming to town, those fixes need to come quickly, because 1-3 will be a bad place to be in the AFC East.
But it wasn't all bad. All is not lost.
This article originally appeared on