Matchups to Watch: Oakland Raiders vs. Carolina Panthers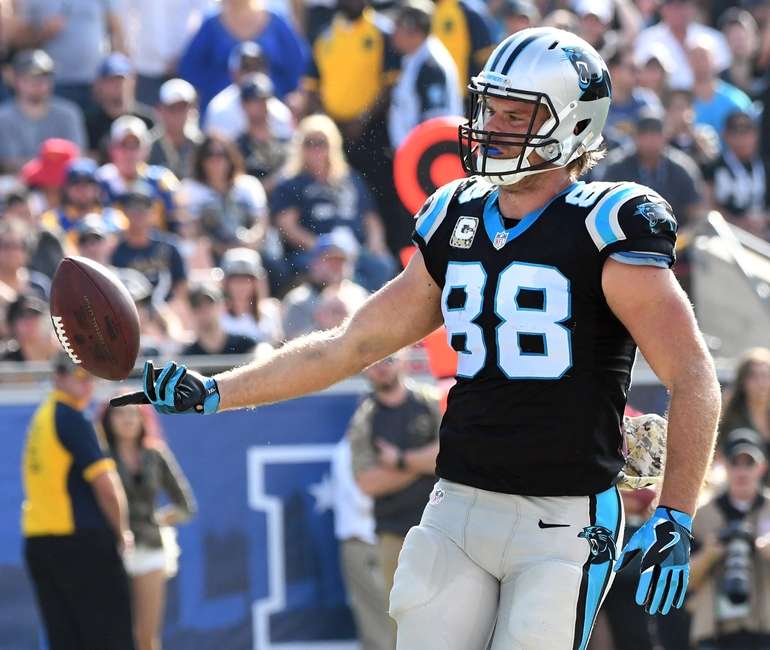 The Oakland Raiders, on the verge of ending a non-winning season drought that has spanned 13 seasons, are back stateside for a home game against the Carolina Panthers. Here are four matchups to watch.
As the Oakland Raiders look to end their playoff drought, the Carolina Panthers simply look to get back into the playoff picture.
Here are four matchups to watch in their Week 12 matchup.
Karl Joseph vs. Greg Olsen
Karl Joseph has truly been a breath of fresh air to the stagnant stench of the Raiders secondary. Joseph is truly coming into his own this season, shaking off the rust that accumulated while he recovered from a torn ACL during his final season at West Virginia.
Joseph's emergence has come at an ideal time, with a slew of division games just around the corner. Joseph makes a splash as a hard hitter in the running game, as a solid tackler with great closing speed. And coverage ability often goes unnoticed due to his run stopping prowess, but it has been a major component to the team's recent success.
Greg Olsen has been a perennial All-Pro candidate since joining the Panthers. Some Raider fans may remember Olsen from the 2007 draft, when Oakland took TE Zach Miller in the second round after Olsen was taken by the Bears in the first.
For a few seasons it looked like Oakland benefitted from Chicago's selection, but since that time, Olsen has left Chicago for Carolina while Miller traveled up the coast to Seattle. It's clear that Olsen is one of the best TEs of his generation, perhaps behind only Gronk.
In order for Oakland to slow Olsen, Joseph will have to play at the same Pro Bowl level that is consistently displayed by the veteran Olsen. Olsen has been hung up in practice with what seems to be a bit of a mystery injury.
A glance at the injury report suggests that Olsen's status for Sunday is in jeopardy but my guess is that the vet will battle through and be available for Cam Newton. Joseph has a distinct height (and overall size) disadvantage matching up with Olsen, but Joseph is a gladiator. If Olsen is going to be slowed down it has to start with Joseph.
Perry Riley Jr. vs. Cam Newton
Karl Joseph's progression hasn't been the only reason for a much improved Raider defense — Perry Riley Jr. has also been a key addition. Riley has been extremely productive since joining the team.
Riley's strength as a run defender has been particularly valuable to a defense that at one time ranked dead last in that category. He has been an exceptional midseason addition and his play will be crucial to the success of the defense.
Cam Newton, the reigning league MVP, has been having what can only be described as a down year. But as we have seen this season, the Raiders defense has a knack for letting talented playmakers run wild. Newton and the Panthers running game is serious. Newton gives the Panthers the ability to essentially play with an extra blocker, using Newton on QB power runs.
It will be important for the Raiders front-seven defenders (DL and LBs) to occupy and shed blockers. That will start in the middle with Riley, who will often be responsible to account for Newton on option and power running plays. A missed tackle or two and the Raiders could be seeing last year's MVP version of Cam Newton.
D.J. Hayden vs. Ted Ginn Jr.
D.J. Hayden has had what most would describe as a career year, but you wouldn't know it watching the Monday night game. When the Texans needed a first down they consistently targeted Hayden with great success, or even better, found a way to get him lined up against DeAndre Hopkins.
Hayden will need to have a bounce back game or the Raiders pass defense will hemorrhage yards.
Ted Ginn Jr. has followed a career trajectory very similar to Hayden's. Both were over-drafted as high first round picks, struggled early in their career and have begun to hit their stride. Ginn is in a great situation in Carolina where he can work as a big play threat for Newton. His skill-set is a real threat for a Raiders secondary that struggles with speed.
David Amerson and Sean Smith are great matchups for the bigger wideouts Kelvin Benjamin and Devin Funchess, meaning that Hayden should see plenty of matchups with Ginn in the slot.
Hayden is also perhaps the only player capable of keeping up with Ginn in a foot race. He needs to play with his feet under him and maintain the same technical skill and balance that made him a high draft pick. All it will take is one play for the Panthers to light up the score board.
Raiders Interior OL vs. Panthers DTs
It is no secret that the Raiders have one of the best interior offensive lines in the league. Kelechi Osemele, Rodney Hudson and Gabe Jackson are a group of maulers that can pave the way for the Raider's stable of RBs as well as keeping Derek Carr upright.
This group continuously imposes their will on any interior DL that they face. They are as dominant as any positional group in the league and have personally accounted for at least a couple of wins in my estimation.
While the Raiders interior offensive line is a trio of monsters, the Panthers have a duo that is equally terrifying. Kawann Short and Star Lotulelei are downright dominant and will give the Raiders interior OL fits if they get on a roll.
Both DTs are excellent as pass rushers and run stuffers. Short — even during a down year — causes headaches with quick pressure on QBs that causes sacks or bad passes, which often result in turnovers.
Star is more a run stuffer and can be as dominant as any 1-technique when it comes to driving interior OL backwards. This will truly be a clash of the titans that I for one am incredibly fascinated with. For my money, this will matchup will be the most crucial towards the outcome of the game.
http://justblogbaby.com/2016/11/26/preview-and-prediction-oakland-raiders-vs-carolina-panthers/
This article originally appeared on