Green Bay Packers: Week 7 fantasy football profile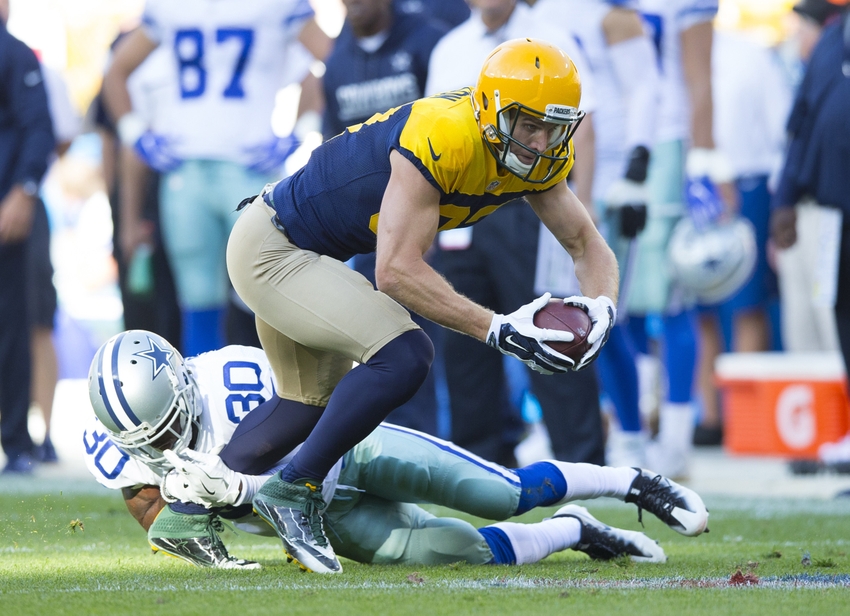 The Green Bay Packers had a pretty awful outing against the Dallas Cowboys in Week 6, shining a spotlight on problems we already knew about while unearthing entirely new ones.
With many of the team's stalwart producers falling short of their expected heights and a wave of injuries continuing to strike key positions all around the roster, this team has a ton of questions to sort out.
They have to figure out this problem on a quick turnaround, with a matchup against the Bears coming up tonight.
With the struggles seeming to get worse by the week, who here can you trust to produce for your fantasy teams?
I have some thoughts on that.
Disclaimer: For any fantasy scoring numbers, I will be using those generated by Yahoo! fantasy football. It is the system on which I've played a majority of my fantasy football over the years – and currently play. Other setups are fine – I've worked with ESPN and NFL fantasy football teams in the past – but seeing as I have the most experience using this scoring system, I'll stick with using their methods of scoring.
Week 6 Statistics: 
31/42, 294 passing yards, 1 passing TDs, 7 rushing yards, 1 fumble lost, 1 INTs; 13.46 fantasy points
It's been discussed and dissected ad infinitum: something is wrong with Aaron Rodgers.
Now, some of the takes have been getting well beyond ridiculous (anyone out there suggesting to bench or trade him: stop it), but there is plenty of evidence that something just hasn't been right with him for nearly a full season's worth of games, and it has had a sizably negative effect on his value both on the field and in the fantasy realm.
There's a whole list of areas he is struggling in — all of which reared their ugly heads during the game against Dallas. He's getting jittery despite excellent protection (per Pro Football Focus, Green Bay's offensive line has a collective 89.4 pass blocking rating — well above the 86.8 exhibited by the next-best team).
He's missing receivers high (his missed throw to Cobb in the endzone). He's struggling with his ball placement (most poignant: at least three different throws to Cobb on likely TDs, a short pass to Ty Montgomery which he had to reach low for mid-run, and multiple throws behind both Richard Rodgers and Jordy Nelson).
Even his usually-stellar decision-making (choosing the wrong spot to aim for two of Cobb's would-be TD routes, as well as multiple cases of not pulling the trigger while searching for a bigger play) and field awareness (his interception and lost fumble) have dropped off significantly.
At this point it is fair to wonder if he can become the guy he used to be, but even if he isn't, we may not be as bad off as it feels. It's a matter of perspective based on our perspective. Prior to the past year of games, he's basically been on a level all his own; now, he's fallen back towards the pack — and because of how high above it he was before, it feels like an even more catastrophic drop than it may seem.
Consider a few of his stats from this stretch (17 games total, with raw numbers prorated for 16 games): 58% completion percentage, 3,737 yards, 28 TD passes, 10 INTs, 84.3 passer rating, and 61.4 QBR. That completion percentage is in the range Cam Newton's 2015 season —  a year in which he won MVP.
The yardage and passer rating fall right around the 2015 season of Sam Bradford — a guy right there with players such as Drew Brees in PFF's grading system for that season — which was by far the best season of his career to that point. The TD-INT combination lands in the range of Philip Rivers' and Kirk Cousins' 2015 years; for Rivers (annually a top-10-or-better QB) that is in-line with his average during his 10-year starting career, while for Cousins that was by far the best showing of his career. The QBR is in-line with the 2015 seasons of Newton and Rivers.
I say all of that not to give Rodgers a pass for his relative failings in that time, but before we act as if the sky is irreparably falling we should take note that even with how bad he has been recently, he's still producing at a level others would be championed for reaching/maintaining — but while they have hit their ceiling, he is merely at his floor.
Now in terms of this game, I think it is about time we got to see a performance more indicative of his insane heights, and there is a ton of factors lining up in his favor.
The Bears are a middling defense at best (#15 in Weighted Defensive DVOA through six weeks), and they have few consistently dangerous players to worry about on their defense, especially in terms of their secondary (none of their CBs are ranked higher than #42 in PFF's grading system).
Also, the Packers have been hit hard by injuries at running back (Lacy and Starks are both out for likely multiple weeks, and new additions Knile Davis and Don Jackson are expected to shoulder the load), putting more emphasis on passing the ball. While there are also injuries there (a concussion likely will keep Davante Adams out of the contest), the team is deep with receiving options.
Everything is setting up for a decent passing night for Rodgers, and I think he'll produce enough to quiet the wolves for at least one week.
Week 7 Prediction:  
275 passing yards, 2 passing TDs, 20 rush yards; 20.00 fantasy points
Verdict: (Finally) finding a groove
RB – Knile Davis, Don Jackson

Week 6 Statistics:
Davis – 0 carries, 0 rushing yards; 0.00 fantasy points
Jackson – 0 carries, 0 rushing yards; 0.00 fantasy points
This position has seen a dramatic turnover in the past couple weeks.
Leading into last week, Eddie Lacy was a hardly a lock to play due to an ankle injury, but then we came to find out that James Starks was going to be missing the game — and as it turns out, multiple weeks — due to his own injury.
Now, we have been hearing many conflicting thoughts around Lacy again. The past few days I've seen the news on Lacy traverse in so many directions: he's playing, he's missing the game, he's likely missing multiple games, he needs to go on IR, no wait he might actually be playing, oh nevermind he's out. It's hit every box on the possibility checklist. Due to what else has come to fruition this week though, I'm inclined to believe the third and sixth notes are the ones to take stock in for right now.
A couple days ago, we saw something that hasn't happened since 2010: an in-season trade by Ted Thompson! He gave up a conditional draft pick with the Chiefs for Davis, who now looks to be the immediate starter. With him is practice-squad call-up Jackson to form one of the more unknown backfield duos we've had in a long time.
Though the lack of time with the team probably doesn't bode well for fantasy production, I think there will be opportunities on the ground: Chicago ranks #20 in Run Defense DVOA so far this year, and will likely try enticing the Packers to run the ball with this new group rather than risk giving Rodgers an opportunity to find himself (though I expect that part to fail them regardless).
If he is actually given a decent amount of usage right off the bat, I think Davis could have a decent day. It's really hard to discern at this point who will be the focus of the backfield (right now, there are four guys — Davis and Jackson, plus wideouts Cobb and Montgomery — all could/should see chances in the backfield), but  it would seem things are lining up well for Davis to get first crack at it.
If he does, Davis had shown to be productive in spurts with the Chiefs (four games with 75+ yards — including two 100+ yard games — and a total of 14 TDs in limited action across 2013-2015) and could possibly do so again. The only worry would be his penchant for fumbles dating back to college (in the pros: 6 fumbles — 3 lost), which is probably a major reason he was overtaken by Spencer Ware and Charcandrick West on the Kansas City depth chart and was even available in the first place.
Should this unfortunate fumbling trend rear its ugly head again, Jackson could see a larger role in this game. If it doesn't, he should still get a handful of opportunities anyway — Green Bay doesn't really have many other choices for runners right now — and could make a decent impact.
Something to watch for: outside of Rodgers on scrambles, Green Bay doesn't yet have a single rushing TD. Those trends don't tend to hold up this long, and against a defense likely to mostly ignore the running game I wouldn't be surprised to see somebody carry the ball over the goal line.
Week 7 Prediction:
Davis – 65 rushing yards, 2 catches, 20 yards, 1 TD; 14.50 fantasy points
Jackson – 35 rushing yards; 3.50 fantasy points
Verdicts: Great Opportunity, Talented Option (Davis); Hard To Judge (Jackson)
Week 6 Statistics:
Nelson – 5 catches (7 targets), 68 receiving yards, 1 fumble lost; 4.80 fantasy points
Cobb – 7 catches (11 targets), 53 receiving yards, 1 TD; 11.30 fantasy points
Montgomery – 10 catches (12 targets), 98 receiving yards, 3 rushes, 6 rushing yards, 1 fumble lost; 8.40 fantasy points
When you're right, you're right, and I was pretty spot on with my overall thoughts regarding this position last week.
I thought we would see a lesser effort out of Jordy; though he did slightly better in terms of pure statistics, a fumble put him 0.2 points away from my expected fantasy output for him. I thought Cobb would end up as the main focus of the offense; though he didn't lead the team in receptions, he did receive double-digit targets and had three optimal chances to score if his quarterback had done a better job with his ball placement.
I also said to keep an eye on Montgomery; though I kept my expectations low in my prediction, the gist of my thinking actually ended up underselling him, with Montgomery garnering double-digit catches and leading the team in receiving yardage.
This week, I think we'll actually see a much more diverse usage of the offensive weaponry at the Packers' disposal. I could see this being the kind of game where Rodgers makes completions to 10 different people, spreading the wealth and glory, even if Davante Adams cannot play.
These three would be the only receivers to watch for fantasy purposes, however.
Nelson has had a rough couple weeks, with his fumble this past week pairing with drops and tipped balls which caused INTs. He's obviously still fully finding himself after his knee injury from last season, but he showed through most of this season he can still be productive in the meantime. With his QB needing to discover some level of rhythm to get out of his own funk, he'll likely look for his favorite receiver a decent number of times even in a spread-it-out mindset; given those chances, I expect Nelson to respond with positive production.
After his own slow start to the season, Cobb has been on a decent roll the past couple games. Against the Giants and Cowboys, Cobb saw 11 targets in each game and combined for 16 catches, 161 yards, and his first TD catch of the year.
His stats were close to being even too: he had a TD catch against the Giants waved off due to off-setting penalties, and then he also had those three different pass plays against the Cowboys which would have been TDs with better throws. He should continue carving out space against the Bears.
Montgomery looks set to be the new #3 option here with another strong week, acting as a dynamic Cobb clone of sorts out there. With only one big game to his name, I'm still somewhat leery of anointing him so soon, but with Nelson and Cobb likely taking the top options on, Montgomery will have the chance to have another huge day.
For now, I would say playing him on your fantasy team only if you need to, but he's definitely worth picking up at least while he shows us if he is more than a one-game wonder in terms of great production. If he keeps getting some carries in the running game — and actually makes something of them as he receives more — he could become the sort of X-factor to put your team over the top as the weeks go on.
Week 7 Predictions:
Nelson – 5 catches, 70 receiving yards, 1 TD; 13.00 fantasy points
Cobb – 8 catches, 75 receiving yards, 10 rushing yards, 1 TD; 14.50 fantasy points
Montgomery – 4 catches, 35 receiving yards, 25 rushing yards; 6.00 fantasy points
Verdicts: Return To Decency (Nelson); Slot Maven (Cobb); Pick Him Up (Montgomery)
Week 6 Statistics:
Rodgers – 2 catches (3 targets), 15 receiving yards; 1.50 fantasy points
I miss Jermichael Finley.
That's all I can think when it comes to this particular Rodgers. I'm not sure how (or even if) I ever talked myself into thinking he might be a worthwhile successor to Finley, but it continues to prove to be foolish thinking. This is even worse than it sounds by the way. Finley frustrated the hell out of me, with his constant penchant for maddening drops perplexing me to no end.
With him though, there was at least a certain level of play-making ability to make up for his faults, and his dynamic athleticism over the middle gave Green Bay a dimension few teams could even hope to prepare for, especially considering he was only one of a multitude of deadly pass-catching options on the Packers' offense.
With Rodgers, we have none of that.
He is much slower and less athletic than Finley, unable to give his quarterback any sort of zone-busting option in the middle. We can see this in part with the way defenses have resorted to tons of simple two-deep safety looks. If Finley (or someone with some semblance of his abilities; in theory, Jared Cook can do this when healthy) were around, he would be able to devour the defense in the middle of the field between those safeties. Rodgers can't do that, so defenses don't even have to plan against this possibility.
Finley also was powerful; he could shake off would-be tacklers to turn even short catches into huge gains — and huge gains into touchdowns. With Rodgers, I'm still waiting to see him break a single tackle, and we're nearly halfway through his third season.
The one area Rodgers was supposed to have a huge advantage over what Finley was are his hands. As I said before, that was my biggest issue with Finley, and was enough to make me wonder far too often how much better the offense could be with a player who had more consistent catching ability. Not only has Rodgers not had the kind of hands I was hoping for (despite that area being his supposed best trait coming into the league), but it turns out his have actually been much worse than Finley's!
In Finley's 6 seasons with the Packers (2008-2013), his catch rates were: 50%, 76%, 81%, 60%, 70%, and 74%. Here's Rodgers in his career so far (2014-2016): 67%, 68%, and 50%. Finley wasn't nearly as bad as his perception it seems, but Rodgers is much worse than his, to the point where he's putting up the same catch rate as the lone starter right now which Finley did as a little-used third-string rookie.
Suffice to say, Rodgers is giving the Packers little reason to trust him out there on the field beyond not having any other options (at least until Cook comes back from injury) — and given fantasy owners even less reason to consider turning to him.
He can't live off that Hail Mary goodwill forever, and if he doesn't find a way to play better he may not (or at least he shouldn't) be long for this team, no matter his how strong his so-called reputation for good hands is.
Week 7 Predictions:
Rodgers – 2 catches, 20 receiving yards; 2.00 fantasy points

Verdicts: Stay Away
Week 6 Statistics: 1/1 PATs, 3 FGs (37,43,34); 11.00 fantasy points
Ah…that's better.
After going through the frustrations brought on by the failings of Rodgers at the tight end spot, it is always nice to dive into the reliable embrace of Crosby's leg.
With injuries and underwhelming-or-worse play striking so many other positions on a weekly basis, Crosby is the reliable mainstay we can turn to without worry. He practically never misses when he lines up for a kick, putting up points even when the offense has looked like hot garbage incarnate.
He's not quite as reliable on a weekly basis in fantasy as he is on the field, but that has just about nothing to do with him; if the offense isn't moving, he's not going to get opportunities. Still, as the offense has been multiple shades of "ugh" for most of the year, they have moved it in spurts just enough to let him have a few opportunities. Case in point: in the past three games, he's managed to score at least 11 fantasy points despite the offense mostly drifting further off the metaphorical cliff of effectiveness.
As the previous sections would surmise, I expect the Packers to a better job with their offense against a defense ripe for destruction, but I doubt they will have all their kinks worked out. When it comes strictly to kickers in fantasy football, the best situations usually revolve around being connected to an offense that can move the ball but struggle to finish off drives. I expect Green Bay to move the ball much better as a whole here, but as they work towards fully rediscovering their formerly potent selves I could see a few drives stopping early on the way to the endzone.
With that in mind, you can probably bank on another excellent showing from Crosby.
Week 7 Prediction: 3 FGs (1 20-29, 1 30-39 yards, 1 50+ yards), 3 XPs; 14.00 fantasy points
Verdict: Reliable Leg
Green Bay Defense

Week 6 Statistics: 30 Points Allowed, 2 Sacks, 1 INT, 1 Fumble Recovery; 5.00 fantasy points
With the issues on offense holding back their potential, the burden of securing victory has continued to fall heavily on the defense of Green Bay. Through the first few weeks they undoubtedly held up their end of the bargain, holding teams to historically low rushing totals while rushing the passer with aplomb to keep scores low.
That didn't happen in Dallas.
The run defense was ground into dust and the unit gave up key plays at terrible times to allow the Cowboys to turn the game into a blowout. Of course, their offense did them no favors, but the unit must perform better than what we saw this past weekend or they'll be giving away games even when the offense is performing well.
Lucky for them, they have an excellent opportunity to wash away the awful taste left in their mouths with a quick turnaround in this Thursday night contest.
Chicago comes in with the #24 Rush Offense DVOA, so the run defense should be able to get back on track immediately. The Bears are more threatening in the passing game (#13 Pass Offense DVOA), but even with the weapons at their disposal (Alshon Jeffery, Eddie Royal, Zach Miller), taking away the balance of a team's attack can sink their ability to be efficient.
Also, their quarterback is Brian Hoyer. He seems to be playing pretty well right now (four straight 300+ yard games and 6 TD passes since taking over for an injured Jay Cutler in Week 2), but those numbers are fool's gold. In those four games, the Bears have scored 17,23,17, and 16 against the Dallas (#20 in Pass Defense DVOA), Detroit (#31), Indianapolis (#29), and Jacksonville (#8) while going 1-3. So far he's avoided mistakes, but his previous two stints as a starter are litter with examples of awful play.
As a 14-game starter for Cleveland in 2014, he threw more INTS (13) that TDs (12). With Houston last season, he managed a 19-7 TD-INT split in the regular season, but fumbled six times; he also managed to get benched for a month following a poor showing in Week 1 and then in the playoffs threw 4 INTs during one of the worst quarterbacking performances in recent memory against Kansas City.
Hoyer may look good in the box score, but against a productive hydra of a pass rush — 16 sacks in five games, led by Nick Perry's 4.5 sacks and having 3 other players (Clay Matthews, Julius Peppers, and Kyler Fackrell) with at least 2 — that will be able to pin its ears back without fear of the run again, he's probably in for a long night.
Green Bay has been pretty steady in terms of fantasy production (5, 7, 5, 7, and 5 points in their five games); this could be their breakout performance.
The final score may appear better for the Bears than we might expect due to garbage-time production, but this should be a mauling that can boost your fantasy team in a major way.
Week 7 Prediction:
17 Points Against, 6 Sacks, 2 INT, 1 Fumble Recovery; 13.00 fantasy points
Verdict: Lock Them In
This article originally appeared on