Green Bay Packers: Stock up, stock down following loss to Redskins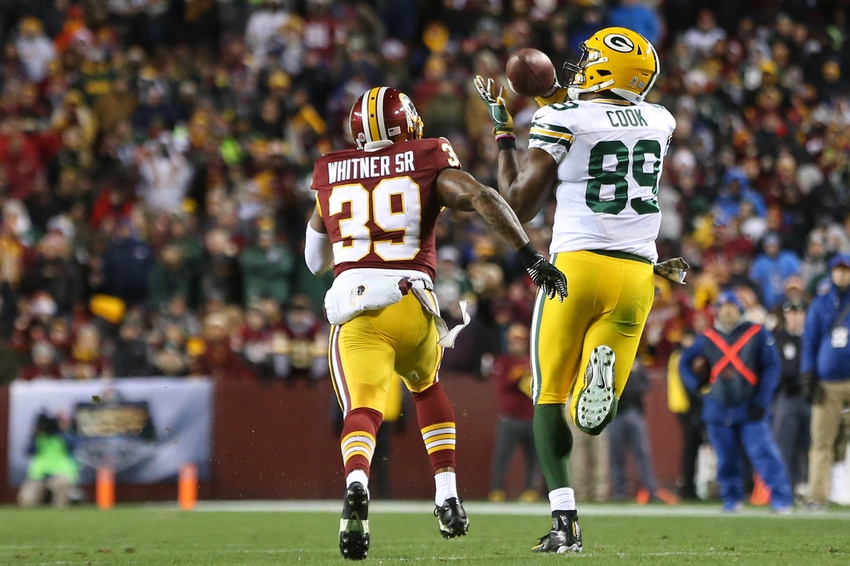 Although there are six games left to play, it's time for loyal supporters of the Green Bay Packers to come to terms with our reality and concede that this proud franchise has hit rock bottom on the heels of a fourth-consecutive loss in which a decimated group couldn't stop the profuse bleeding resulting from an utter bludgeoning administered by the Washington Redskins.
There is no shock value in the fact that this 4-6 outfit couldn't keep up with an ascending opponent equipped with an intoxicating assortment of offensive weapons in the passing game since most of us from Lombardi Ave —not to mention countless others—have accepted the dire fate and circumstances surrounding the 2016 Packers; but what is enough to truly drive any devoted fan to the brink of insanity is the inability of this club to be competitive in a parity-driven league.
Yesterday's prime-time massacre saw our green-and-gold gladiators following the all-too-familiar script of falling behind early and spending the rest of the game pointlessly chasing their tails in trying to catch up to the opposition.
As expected, Aaron Rodgers put up his numbers and made great use of his supporting cast, including tight end Jared Cook, who made a triumphant return in his first game after an eight-week absence. A languishing defense, however, repeatedly nullified any achievement earned on the other side of the ball.
PACKERS REACTION: Five takeaways from loss at Washington
ANALYSIS: Ranking potential replacements for Mike McCarthy
PACKER PERSPECTIVE: Where is Ted Thompson?
Although the visiting Packers held serve with their foe in the first half by trailing 13-10 at halftime, the defensive unit continued surrendering an inordinate amount of big plays that ultimately brought the unit down to its knees, as they were victimized by five completions of 20-plus yards —three of which went over 40 yards—and three running plays that generated 10 or more yards, including a nail-in-the-coffin 66-yard scamper that set up Washington's final score of the evening.
The disparity between the amount of formidable targets Redskins' quarterback Kirk Cousins had at his disposal and an ever-shrinking Green Bay secondary that keeps losing pieces at every turn was enough to make any exasperated onlooker want to run onto the field and woefully wave a white flag in a show of resignation.
Jordan Reed, DeSean Jackson, Jamison Crowder and Pierre Garcon took turns in searing a shell-shocked defensive backfield that received negligible support from their peers at the line of scrimmage.
The much-anticipated return of Clay Matthews, moreover, didn't come close to producing anything resembling a consistent pass rush and never forced Cousins into committing a turnover that might have inspired a rally.
The effort was there, for the most part, but like a club fighter facing Mike Tyson is his epic prime, this punch-drunk unit could do nothing more than blindly flail their open palms supported by a pair of rubber knees on the verge of buckling with every glancing blow.
Blake Martinez and Demetri Goodson are the latest casualties that can be added to a long list of injury-riddled components that have hampered a defense that must continually go down the depth chart in order to put 11 men on the field.
While several arrows have justifiably been tossed in the direction of Mike McCarthy in recent weeks over his general mismanagement of the offense, it's time to call GM Ted Thompson to the carpet for his legendary reluctance to reinforce player personnel with veteran free-agent additions.
Injuries have hit this Packers' squad harder than most organizations due to Thompson's overreliance on inexpensive draft picks and undrafted free agents to fill the roster. Many of them cannot come close to replacing the production of key components in times of need.
Changes are in order and there will be plenty of time to suggest what measures should be implemented to turn things around in 2017. But for now, we continue to assess the weekly performances of this withering band of gridiron warriors that are dragging their carcasses to the finish line.
Here is the Week-11 Stock-Up, Stock-Down Report.
Stock Up
James Starks: There are still too many plays where the 30-year-old ball carrier tries to reach the perimeter only to be met by oncoming tacklers that limit him to minimal gains. Starks must come to terms with the fact that he isn't going to make a living with his speed and acceleration, but rather with his size and patience to attack open running lanes.
After gaining all of two yards in the first quarter, Starks began running harder and smarter in the second quarter by following his blockers, putting his head down and pushing forward for extra yardage on his carries.
He bounced back from an inexcusable drop on a screen that could have netted the offense at least 10 yards in the second quarter by making a 4-yard reception in which Starks worked hard to get himself open by running across the field on 3rd-and-6. Rodgers wound up converting the subsequent 4th-down play by scrambling for 7.
No. 44 was at his best on a second-half, 6-play, 75-yard scoring drive where he used his instincts to start, stop and lunge for positive yardage on one 3-yard run followed by another play where Starks summoned all his strength to plow ahead in the trenches for 4 yards.
On the last snap of the series, Rodgers found a wide-open Starks in the left flat, as the running back practically walked into the end zone on the 31-yard connection.
Due to the Packers once again playing from behind, the former sixth-round pick only carried the ball 9 times and, in fact, gained more yardage (46) as a pass catcher.
Starks will continue to see the majority of the backfield touches for now given his ability to play on all three downs. He gets high marks for his workmanlike effort in Week 11.
David Bakhtiari: Often matched up against outside linebacker Preston Smith, Bakhtiari held him in check by limiting the second-year man to 2 tackles and zero impact plays.
Overall, the Packers' bookend was flawless in pass protection by allowing nary a pressure, as all of the pocket breakdowns were coming from the right side.
The Colorado product's low center of gravity and ability to cover lots of ground on his side make him hard to get around for opposing rushers.
On the year, Pro Football Focus (PFF) ranks Bakhtiari as the second best pass-blocking lineman behind only Cincinnati's Andrew Whitworth.
A holding penalty on a run play was the blindside protector's only blemish in the Sunday-night tilt.
Jason Spriggs: The rookie came to the rescue of a battered, bruised and beaten Don Barclay early on in the third quarter by replacing him at right guard and adding a bit of stability to the offensive line.
Spriggs was an immediate upgrade in pass protection despite being a perimeter lineman by trade and also contributed in the ground game by serving as Starks' lead blocker on an 8-yard run on a 2nd-and-2 play in the fourth quarter.
The 22-year-old wasn't immune to error, as evidenced by a false-start infraction on his sixth snap, but Spriggs looked like he belonged and was immeasurably better than Barclay, who offered his quarterback zero security.
Jared Cook: The pass-catching tight end made an immediate impact in his return game by using his surprising foot speed to gain extra yardage by running past smaller defenders, as he did on a 47-yard hook-up in which Cook raced past a helpless Donte Whitner.
The 6-foot-5 weapon later lined up wide and beat Washington's other safety, Duke Ihenacho, on a 29-yard catch that required Cook to run straight upfield and fade to the sideline while adjusting to a ball that Rodgers floated in his direction.
The one-time Tennessee Titan and St. Louis Ram made another adjustment to reel in a 6-yard touchdown pass and narrowing the Redskins' lead to 29-24. Cook displayed uncommon agility for a player his size while beating former Packer Will Blackmon on the score.
The 29-year-old veteran wasn't always on the same page with Rodgers, demonstrated by his failure to turn his head quickly enough on a ball thrown to him in the end zone on Green Bay's first scoring drive of the contest.
On the day, Cooks secured 6 of his 11 targets for 105 yards. It was a tremendous outing indeed.
Julius Peppers: The 15th-year edge defender was one of the few consistent and effective players on the defensive side of the ball. His second-quarter deflection of a Cousins' pass on 3rd and 15 could have resulted in an interception if one of his teammates had better positioning.
The 6-foot-7 North Carolina native was strong against the run by using his length and quick get-off to get through traffic and bring down Rob Kelley for a 1-yard loss in the third quarter.
That was followed by Peppers later building up a head of steam in beating right tackle Morgan Moses to the outside before sacking the quarterback.
The grizzled veteran has been critical of how the team has managed his snaps all year and thinks he can handle more. It's hard to argue with him based on his still elevated level of play.
Blake Martinez: The rookie inside linebacker wasn't out of this world, but he made solid reads and generally carried out his assignments without committing any glaring mistakes outside of one pass-interference call due to early contact that was negated by a Redskins' infraction on the same play.
Martinez racked up 8 tackles while lending a helping hand in pass coverage, as was seen on the timely hit he applied on DeSean Jackson on a first-quarter incompletion.
His best play of the night, though, came on a 1st-and-10 tackle in which Martinez penetrated the backfield and jumped all over the Kelley before the ball carrier had a chance to change directions on the 4-yard loss.
The promising youngster left the game with an apparent knee injury. Stay tuned on his status for Week 12.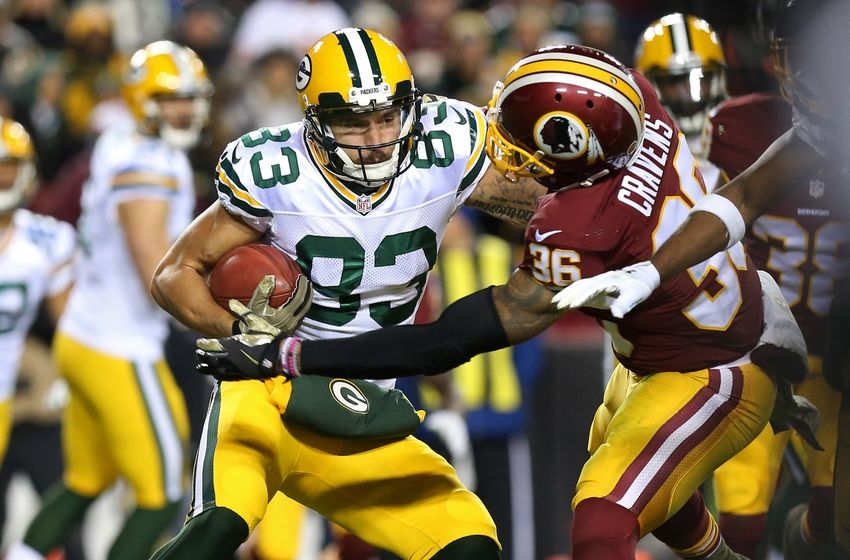 Stock Down
Don Barclay: This one-man dumpster fire was no match for nose tackle Chris Baker and had to continually resort to grabbing whatever part of his uniform he could latch onto in order to keep him from collapsing the pocket.
Barclay's desperate pulldown on Cullen Jenkins wiped out a Rodgers-to-Ty Montgomery touchdown pass in the second quarter that No. 12 quickly made up for on the very next play with a 13-yard scoring pass to Jordy Nelson.
A miscommunication between Barclay and Bryan Bulaga allowed Ryan Kerrigan to notch a 3rd-and-5 drive-ending sack in the second quarter.
The fact that Rodgers was constantly running for cover finally forced McCarthy to replace the struggling guard with Spriggs, who looked like a Hall-of-Famer compared to his heavy-footed fellow lineman.
One can argue that Barclay is the worst player on the roster given the rarity with which he makes even the slightest positive contribution. It's time to move on from the fifth-year pro since he has nothing left to give.
Corey Linsley: The Ohio State product has been a downgrade from J.C. Tretter, who started the year as the starting center and is currently out with sprained MCL.
Linsley is a heady blocker, but lacks any kind of explosiveness off the snap and isn't blessed with the agility to make plays at the second level.
The 301-pound trenchman was exposed on the second play of the game with the 325-pound Baker getting around by utilizing his sheer quickness on a play that resulted in a 1-yard loss for Starks.
Jeff Janis: The mistake-prone Janis mishandled a punt in the third quarter and then waited for it to go out of bounds at the risk of the kicking team recovering the fumble. Luckily for him, Richard Rodgers recovered the football.
The Janis judgment error put his team in the tough spot of starting their drive at their own 2 yard line.
It's come to the point where the first things that come to mind when you hear Janis' name are his mental lapses.
Joe Thomas: One of the defense's pleasant surprises during the early part of the season seems to be running out of gas. Thomas was particularly vulnerable in pass coverage where Jordan Reed put a move on the inside linebacker in space and converted a 2nd-and-5 at the end of the first half.
Three plays later, Thomas showed his warts in defending the run by getting totally decleated by backup tight end Vernon Davis, who served as the lead blocker for (Rob) Kelley who hit pay dirt from 10 yards away.
A 53-yard Cousins-to-Jamison Crowder completion with a little over four minutes left in the fourth quarter saw Thomas get torched on the mismatch during a curious play which called for a safety blitz while the helpless 230-pound defender was essentially left on an island.
This was easily Thomas' worst game of the year.
Clay Matthews: A reeling Packers squad needed their tone-setter to be great, but CM3 was a non-factor that was kept in check throughout the contest by backup left tackle Ty Nsekhe.
In addition to failing to provide any impact plays as a pass rusher, Matthews was also unable to properly set the edge on a 18-yard (Rob) Kelley run by leaving the stout back a cutback lane that he exploited for a big gain.
Claymaker looks like just another guy out there and it's fair to speculate if he's playing at well under 100-percent capacity.
Micah Hyde: The versatile defensive back is in the middle of a disastrous campaign that has seen him give up big plays on a weekly basis.
Hyde apologists point out that due to several injuries in the secondary, the former Big-Ten standout is being asked to play a lot of reps as a slot corner instead of lining up as a safety, which is exposing him to more difficult matchups.
Yet the pride of Fostoria, OH was also getting regularly beaten when he was being asked to cover tight ends as a pure safety earlier in the season (see Week-3 game versus Eric Ebron).
Opposing quarterbacks are consistently keying in on Hyde just as Cousins did on Washington's first score by finding an open Jackson on a 17-yard post route that No. 33 had no chance on.
Hyde didn't fare any better when covering (Jordan ) Reed who faked going inside, cut back in and then proceeded to ran past his disoriented cover man for 26 yards.
The veteran defensive back similarly struggled in run support by getting blocked out of the play on a 6-yard surge on 1st and 10 during an 11-play, 81-yard drive that put the Redskins ahead 35-24.
Hyde's instincts are not there for him this year, as he's been constantly late in reacting to the action in front of him.
Ladarius Gunter: After making some strides as a starting cornerback—the Thursday-night game versus Chicago immediately comes to mind—the young cover man seems to be going backwards.
For much of the game, Capers seemed content to let Gunter play plenty of off-man coverage to keep his opponents in front of him.
But the Redskins challenged the tall corner deep by running (Pierre) Garcon right at him on a 70-yard touchdown. What made this play so egregious is the fact that the Washington receiver is by and large a possession guy that does nothing but run underneath routes for the most part.
Not only does Gunter lack speed, it appears as if he is completely devoid of any second gear the further he runs downfield, which makes him a liability on deep balls. It was pretty obvious that head coach Jay Gruden and his staff did his homework on that.
Quinten Rollins: Unlike Gunter, at no point this season has Rollins shown the ability to be a reliable defender on the back end.
Thompson probably needs to take a hit here for selecting the former basketball player in the second round back in 2015. Though the 5-foot-11 defensive back has impressive physical tools, he is proving to be utterly deficient in pure cover skills and overall technique.
Rollins showed no semblance of balance or deep speed in defending (Jamison) Crowder in man coverage on a 49-yard touchdown.
Maybe Rollins should move to safety and focus solely on covering tight ends or, better yet, he can maybe try to make a better effort  of running harder on game day. Keep an eye on him next time and notice how he often jogs through plays that he isn't directly involved in.
This article originally appeared on